Moneybox - Save and Invest
By Digital Moneybox Limited
This app is only available on the App Store for iOS devices.
Description
Moneybox is the simple way to save and invest. Round up your card purchases to the nearest pound and invest the spare change into thousands of leading companies such as Netflix, Unilever and Disney via three tracker funds. Sign up in minutes and get started with as little as £1.

* Winner of The Techies FinTech Innovator of the Year 2017. We won this award for creating an app which helps to make major improvements to existing financial processes using technology, significantly improving the way people manage their finances.

* Featured by BBC, ITV, TechCrunch, The Times, The Telegraph, The Financial Times, The Daily Mail, Fortune Magazine, This is Money, Citywire, Tech City News, Investment Week and Finextra. *

Smart saving

• Moneybox helps you to save as you spend by enabling you to round up your everyday card purchases to the nearest pound e.g. when you buy a coffee for £1.80, you can choose to 'round up' to £2 and set aside the 20p to invest.
• You can also set up regular weekly deposits and make one-off deposits into your Moneybox.
• However you choose to set money aside, your savings will be collected once a week via Direct Debit and invested a few days later.

Investing made easy

• Investing can be a great way to grow your money, and can offer higher returns in the long term than current or savings accounts.
• We've worked with experts to put together three simple starting options – cautious, balanced and adventurous. All you need to do is pick one!
• The option you choose determines how your savings are split between three tracker funds – a cash fund, a global shares fund and a property shares fund. Via these funds, you can invest into thousands of leading companies from around the world including Apple, Facebook, Netflix, Nintendo and Disney.
• Your investments are held within a Stocks & Shares ISA or General Investment Account (GIA). You can open either an ISA or a GIA in minutes.

It is important to bear in mind that there is risk involved in investing. The value of your investments will rise and fall at times and you could get back less than you invest.

Fees

• Our fees are structured to make it possible for you to invest little and often.
• We charge a monthly subscription fee of £1 and an annual platform fee of 0.45% of the value of your investments per year. To help you get started, we do not charge the subscription fee for the first three months.

Peace of mind

• You can withdraw your money at any time, free of charge.
• Moneybox is authorised and regulated by the Financial Conduct Authority with reference number 712935.
• Your investments are covered by the UK government's Financial Services Compensation Scheme in the unlikely event that a fund provider is declared bankrupt.
• We use bank level 256-bit TLS encryption for all your personal information.

Ready to get started? Install Moneybox for free today.

Please note that the app is not optimised for iPad or iPhone 4. Whilst you can still use the app (with iOS 9 or above), the experience may not be optimal.

If you have any questions or would like to find out more, please get in touch using support@moneyboxapp.com - we'd love to hear from you!
What's New in Version 3.5
- We've been working on new ways to show you how your savings could add up over time… Keep an eye out for in-app messages.
- Improved flow for users who wish to make a withdrawal or delete their Moneybox account.
iPhone Screenshots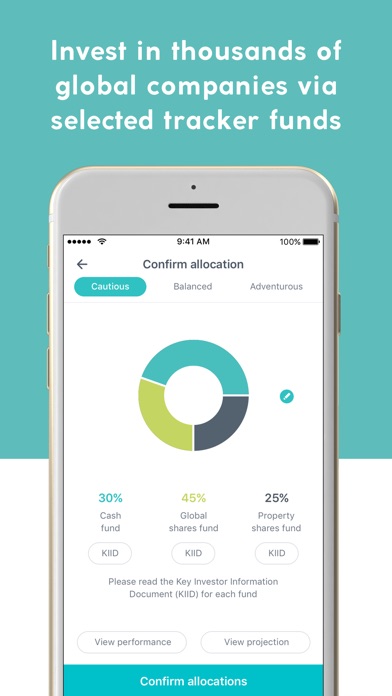 Customer Reviews
Good but isn't as invisible as I'd hoped
I really like this app, I haven't had a chance yet to assess the performance of my investments but to be honest that doesn't matter so much to me as just knowing that I am saving small amounts consistently.

However for me the appeal was that it would round up purchases I was making anyway and I would not notice the extra pennies going out. However in practice how it works is that it counts up a total and debits it en mass once a week. It also automatically configures to "top up" your weekly savings by £20 and to "round up" whole number purchases by £1. So I absolutely do notice the money going out and it hasn't taken the strain out of saving at all.

But it's a good tool for being disciplined, and now that it's set up I will keep using it. You can change the auto settings and also tell it not to round up certain transactions.
Are you investing my money in Blockbuster??
I have invested hundreds in this app over just a few month. I cannot knock this app in terms of idea and follow though with the implementation. But the point of this app is to watch my money grow, however I have only ever seen it go down.

To this day I have put in about £1500 and lost £15, that really defeats the point of putting that money away. I might as well get a train to the other side of the county and hide my money in a hole, as it costs me in train fares to hide it, and also it takes a hell of a long time to get it back. 2 weeks to get my money out is ridiculous! I know there are different levels of investing so I started with the 'adventurous' and moved to 'cautious' but I have lost more with the cautious mode. I don't know how this money is invested, but it's poorly done.
App works well but...
I can't knock the actual app, it's works well and does what it's supposed to.

The issue I have is with the results I'm getting, basically this is an app that appears to be aimed at those wanting to save small amounts, using the "top-up" idea. In the last 10 months any gains I've made have been wiped out by the fees. If your only saving small amounts then your unlikely to see and real gains as the fees wipe it out.
I'm aware that when investing things can go down as well as up but if you only have a small amount invested the fees are going to gobble up any potential gains.

I'm going to keep going till I've done 12 months and re-evaluate, as I like the top up gimmick, but there are other services that do similar things to this one but don't charge the fee's. (I'm also using them too as I'm trying out various options)
View in iTunes
Free

Category:

Finance

Updated:

25 September 2017

Version:

3.5

Size:

74.5 MB

Language:

English

Developer:

Digital Moneybox Limited
Compatibility: Requires iOS 9.0 or later. Compatible with iPhone, iPad and iPod touch.
More iPhone Apps by Digital Moneybox Limited