SleepBot - Smart Cycle Alarm with Motion & Sound Tracker
Di SleepBot
Questa app è disponibile solo sull'App Store per dispositivi iOS.
Descrizione
SleepBot, the critically acclaimed sleep cycle tracker and smart alarm and is finally available for iPhone, iPad, and iPod Touch! Featured in WIRED, Lifehacker, Gizmodo, Mashable, and more!

SleepBot is an intuitive smart alarm and beautiful sleep cycle tracker that lets you record movements and sounds throughout the night.
Customize how you want to sleep and wake up gently each morning during your lightest sleep phase. Listen to soothing ambient soundtracks as you fall asleep.

SleepBot is the most complete sleep tracker, smart alarm, and ambient sound machine in the App Store:

- Smart wake up: Gradual alarm based on movements and noise within 30 minutes before first alarm!

- Multiple alarms capability: Only smart alarm that lets you set multiple alarms as alerts or precautions

- Movement tracking: Adjustable sensitivity, easily compare with sound graphs

- Sound tracking: Detailed sound graphs let you play back noise with a tap

- 10 custom designed alarm soundtracks designed for Smart Wake-up

- Background mode: sleep tracking continues even in the background

- Long-term Trend graphs: length, sleep/wake times, pattern for sleep quality over time

- Statistics: Analyze any time range to see sleep debt, average sleep, etc.

- Ambient Noise: Soothing soundtracks to help you gently fall asleep

-Sleep Help: Find out how to fall asleep or stay awake from quick action lists

-Automatic Sync: backup and restore sleep data, and view it online!

-Export: Share sleep entries, graphs, and stats as images or csv

-----------

SleepBot is recognized by the United States National Institute of Health and the National Academy of Engineering. Simple to use and understand, SleepBot utilizes the most accurate tracking algorithm of any sleep app on the App Store (dare to compare!)
Use SleepBot to see what disturbances are causing you to wake up at night, or to help you fall asleep. Share your sleep stats for fun online, or even for diagnostics with doctors.

"This SleepBot alarm clock is awesome. I have a final today and I don't even feel groggy." - Pablo

"Really customizable with lots of great features. Beautifully designed and works flawlessly." - Thomas

"Amazing! I didn't know I was woken up so often! This app really delivers and does what it says!" – Arden

"Downloaded this just for fun and now I find myself using it all the time." - Kevin

"An app can change your life. Hard to believe but it did." – BJ

Thanks for your patience to our users—after launching SleepBot 2 years ago, we are finally here for our iOS users. We couldn't have done it without your support! Please let us know if there are any problems and how we can improve. Again, thanks to our users and look out for great updates soon! :)

Email us: support@mysleepbot.com
http://twitter.com/sleepbot
http://facebook.com/sleepbot

Novità nella versione 1.3
Bug fixes for iOS 9.3
Istantanee iPhone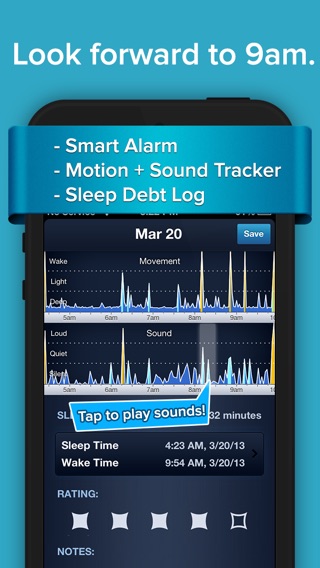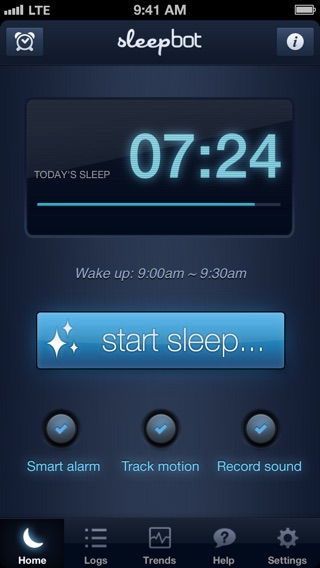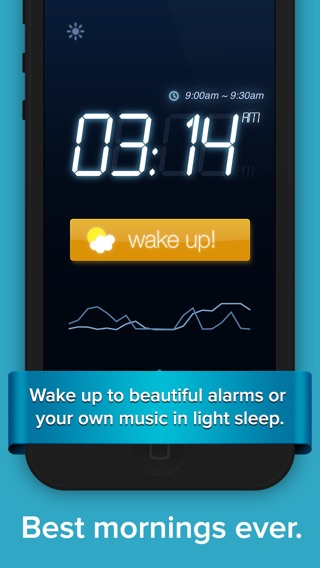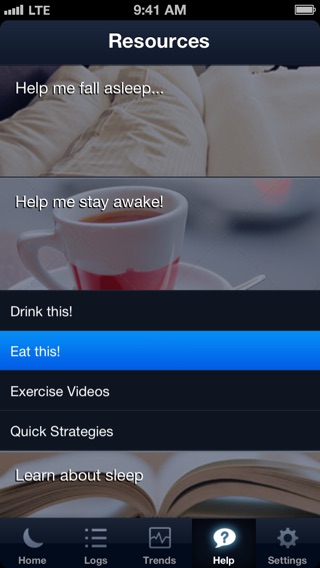 Recensioni clienti
Quasi perfetta!
Bellissima, la musica che parte alzando gradualmente il volume, morning dew che ti sveglia rilassatissimo... oppure ogni altra canzone del telefono a tua scelta, tutte le opzioni di monitoraggio del sonno... praticamente perfetta!
Ma: devo ogni sera impostare la sveglia, nn si puo' impostarla per giorni predefiniti (tipo lun-ven)!!!
It looked like it had been abandoned...
But they finally came out with an update to fix the bugs! Good job!
Great app but...
No support for health. No support to all language include Italian.
Vedi in iTunes
Gratis

Categoria:

Salute e benessere

Aggiornato:

11/04/2016

Versione:

1.3

Dimensioni:

18.0 MB

Lingue:

Italiano, Arabo, Bokmål Norvegese, Catalano, Ceco, Cinese Semplificato, Cinese Tradizionale, Coreano, Danese, Ebraico, Finlandese, Francese, Giapponese, Greco, Indonesiano, Inglese, Malese, Olandese, Polacco, Portoghese, Rumeno, Russo, Slovacco, Spagnolo, Svedese, Tedesco, Thai, Turco, Ucraino, Ungherese, Vietnamita

Sviluppatore:

SleepBot LLC
Compatibilità: Richiede iOS 7.0 o versioni successive. Compatibile con iPhone, iPad e iPod touch.