Microsoft To-Do
By Microsoft Corporation
Open iTunes to buy and download apps.
Description
Microsoft To-Do is a simple and intelligent to-do list that makes it easy to plan your day. Whether it's for work, school or home, To-Do will help you increase your productivity and decrease your stress levels. It combines intelligent technology and beautiful design to empower you to create a simple daily workflow. Organize your day with To-Do's smart Suggestions and complete the most important tasks or chores you need to get done, every day. To-Do syncs between your phone and computer, so you can access your to-dos from school, the office, or the grocery store or even while you're traveling around the world.

You can quickly add, organize and schedule your to-dos while you're on the go. With important to-dos that you really shouldn't forget you can add reminders and due dates—we'll remember them for you. And if you have to-dos that you need to tick off on a daily, weekly or yearly basis you can set up recurring due dates to remind you each and every time.

You can also use To-Do as a note-taking app, adding detailed notes to every to-do—from addresses, to details about that book you want to read, to the website for your favorite café. You can collect all your tasks and notes in one place to help you achieve more.

What areas of your life do you want to be more productive in? You can have a color-coded list for each. Now you can quickly add your homework to one list, your groceries to another, your packing list, your work projects and your home DIY projects to yet more lists. You can create as many lists as fits your lifestyle. And if you follow a productivity system such as GTD (David Allen's Getting Things Done Methodology) then you can create a Someday list or a Follow-up list. To-Do is here for you, whether your goals are for this week or in 5 years time.

Plan what you want to focus on each morning and give yourself a powerful productivity boost for the day. This simple to-do list app is free to download and use. It includes customizable themes, notes, reminders, due dates, smart Suggestions, and syncing across multiple devices. In short, everything you need to manage your life and accomplish more. Completing your tasks or chores has never been so easy. Errands just got a little more enjoyable with To-Do. It is the task management tool you need to add to your daily arsenal.

Learn more about To-Do at http://todo.microsoft.com.

By installing Microsoft To Do, you agree to these terms of use: https://go.microsoft.com/fwlink/?linkid=842575
What's New in Version 1.3.1
Welcome to the brand-new Microsoft To-Do!

Here are a few of the features we'd love for you to try out.

* Add to-dos that you'll focus on today to My Day, every day it wipes clean so you can start afresh.
* See your to-dos from yesterday and what we think you should work on today with our intelligent Suggestions.
* Set due dates and reminders so you never forget a thing.

* Color-code your lists so you can easily separate work from home, and everything in between.
* Quickly capture to-dos with 3D Touch on your iPhone
* Sync your to-dos with Outlook Tasks

We want to hear your feedback! We've made it super easy for you to tell us what you think – just head to the in-app settings and you can easily suggest a feature or get in touch with us from there.

In this latest update, we've done a little artisanal nudging of your Suggestions card to move it over a few pixels in My Day, to make sure it looks just right. We've also done some fine-tuning to our 3D Touch Quick Action shortcut and Work account sign in to make sure everything runs smoothly.
iPhone Screenshots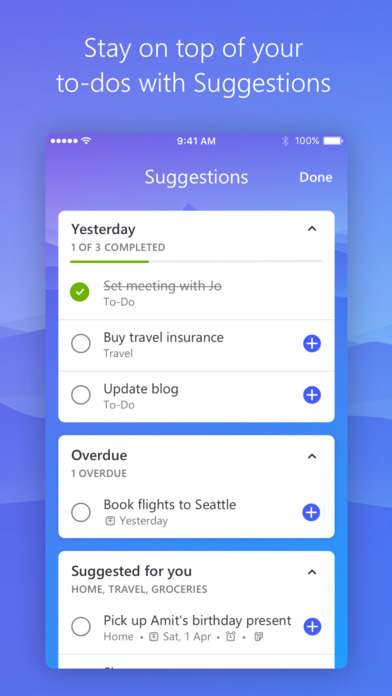 Customer Reviews
My Day is what I've been looking for
I so far am enjoying the simple My Day feature because what I need the most out of a simple to do list is the ability to quickly prioritize the next tasks in my day. Some of these tasks may become irrelevant tomorrow and I may wind up removing them entirely. That is why having a daily list that resets is actually more valuable for me than being able to customize my tasks to great levels of detail. I appreciate being able to easily add the previous day's tasks to the My Day list on a case-by-case basis.

I understand that many other reviews focus on this app's limited feature set in comparison to Wunderlist. Indeed, if you have those kind of needs it probably falls short. However if this app continues to be treated as a completely separate solution, I think it serves a different use case very well. Specifically one that most complicated todo apps fail to address in an elegant way.
Good Start; Needs Work
This app is very simple and clean, which is quite nice, but it does need a good bit of work. Daily, weekly, and monthly calendar tasks views would be far more useful than My Day - especially when tasks have to be manually added to My Day to been seen in that category, even if you set them to a due date of today. Otherwise, to see what's due for a day you have to go list by list. It doesn't make much sense. Additionally, it would be really nice to have a default inbox or unassigned tasks list where you can quick-add tasks without having to worry right that moment what their due date will be, or what list they need to go in, etc. Finally, there's no ability to type a due date in manually; you must choose a date from a calendar, which can get annoying of the due date is very far off. On the bright side, the integration with Outlook's task list is great! I was really missing not having that feature on the Outlook mobile app. Hopefully as this app becomes more robust it may even be able to fully integrate into Outlook and replace tasks altogether.
Not a Wunderlist replacement, not even close
If this app is supposed to replace Wunderlist, it needs A LOT of things. First of all, I need to be able to share things to the app, and select which list to share it to. Second, it's a to do app and it doesn't have subtasks? Dumb. Third, photos don't show up in the notes?? Cmon Miscrosoft, I LOVE Wunderlist, and if you're gonna take that wonderful app away from us this better be a good replacement. Which it's not, yet. That said, it's well designed and has nice animations, so it's a solid start. Also when making a new To-Do from the main screen, the "My Day" screen, I would like to be able to select which list the task is going under, just like in Wunderlist
View in iTunes
Free

Category:

Productivity

Updated:

Apr 20, 2017

Version:

1.3.1

Size:

66.6 MB

Languages:

English, Afrikaans, Albanian, Amharic, Arabic, Azerbaijani, Basque, Belarusian, Bengali, Bulgarian, Cambodian, Catalan, Croatian, Czech, Danish, Dutch, Estonian, Filipino, Finnish, French, Galician, German, Greek, Gujarati, Hausa, Hebrew, Hindi, Hungarian, Icelandic, Indonesian, Italian, Japanese, Kannada, Kazakh, Korean, Laotian, Latvian, Lithuanian, Macedonian, Malay, Malayalam, Marathi, Norwegian Bokmål, Persian, Polish, Portuguese, Punjabi, Romanian, Russian, Serbian, Simplified Chinese, Slovak, Slovenian, Spanish, Swahili, Swedish, Tamil, Telugu, Thai, Traditional Chinese, Turkish, Ukrainian, Uzbek, Vietnamese

Seller:

Microsoft Corporation
Compatibility: Requires iOS 9.0 or later. Compatible with iPhone, iPad, and iPod touch.