CarTrack
By Richard Shearman
This app is only available on the App Store for iOS devices.
Description
===================================
Application Languages: English, French, German, Danish, Spanish, Dutch, Portuguese
===================================

Take your car for a test drive and let your iPhone or iPod Touch show you the results.

CarTrack tells you real-time how fast you are going, how much acceleration (g-force) you are feeling and what your test time is. After the test, you can look at detailed, zoomable graphs of the entire test run. They measure horsepower and distance traveled, in addition to speed, acceleration and g-forces. All of them in metric units (meters, km/h) or imperial units (yards, mph) as you desire.

CarTrack can save your test runs so you can look at all the graphs and details again. Compare the test with your other runs - before and after tweaking your engine - or with your tests in other cars. A state-of-the-art calibration routine gives you maximum accuracy with any car mount you use to fix your device.

You can do a 0-to-60, quarter mile, 10 second and other types of test, or just keep recording until you hit Stop.
This is a full-featured application, made by a community of car enthusiasts!

Now at a REDUCED PRICE introduction offer.

Features:
- Real-time performance display: speed, forward and sideways acceleration monitor, top g-force of the run, time passed
- Auto-stop test runs: 0-60, 0-60-0, 0-100, 0-100-0, 5 seconds, 10 seconds, 1/4 mile
- Unlimited test run: monitor performance for as long as you wish
- Zoomable (to 3x) performance graphs: Speed, Acceleration, G-forces (front, back, right and left), Horse Power, Distance traveled
- Results reported in metric units (km/h, meters) or imperial units (mph, yards) as you desire
- Results can be saved for later review
- Memory for details of different cars
- Customizable interface, 5 themes included
- Uses the built-in accelerometers of the iPhone or iPod Touch, in ways comparable to what Dynolicious, Spore Origins and Super Monkey Ball do
- Fix your iPhone or iPod Touch in your car in any way you want
- High accuracy, boosted by a full calibration routine
- Free updates with new features
- Currently on introduction sale at REDUCED PRICE.

Visit the CarTrack website for more information: http://www.CarTrackApp.com/

===================================
Please email CarTrackApp@gmail.com for Technical Assistance and Queries
===================================

What's New in Version 1.15
Added Portuguese Language Support
iPhone Screenshots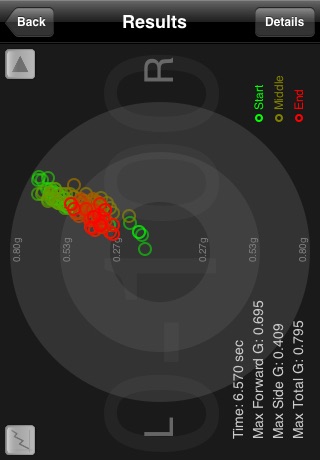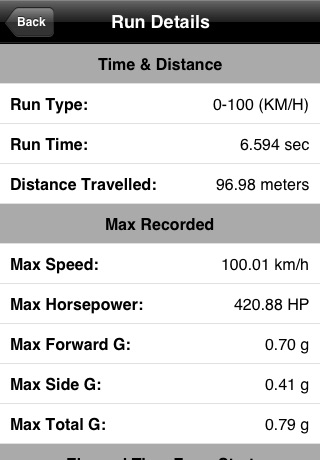 Customer Reviews
Worth it, but need realistic expectations
I appreciate the work that's gone into this app. It has a nice appearance. I've worked with it for a while and like the graphs it provides, and the ability to overlay graphs of different runs. Someone who expects they're going to get high accuracy with the noisy accelerometers in the iPhone needs a reality check. This app does the best it can, and is a bargain at its price. Keep in mind the difference between absolute and relative accuracy. Of course it's not going to be absolutely accurate, but if I drive with the same acceleration twice, I get the same results. That's very useful, because then you can compare different runs, different shift points and accelerations. If you really want your hp, go to a real dyno! Verdict, well done, gives interesting infomation.
Very nice for such a low price!
Richard, I would like to give you my respect and thanks for your work. CarTrack is fantastic! It works! And works pretty well. I've tested my new Ford Focus ST 2.5 Turbo Euro. Guys, 7,05 sec to 100 km/h. Nice! And very accurate, because the official info is - 6,8 sec. Also have tested my friend's Ford Focus 2.0AT (10,06 sec) and another friend's Porsche Cayenne GTS. ;-) Oh my! It's one of the best apps, I've ever seen. Beautiful design, unbuggy and quite usefull. TY! P.S. I have some difficulties with finding the aerodynamics specifications for somy types of cars, that's why the horsepower rating lies a bit sometimes :D P.P.S. Ребята, прога реально рулит! Качайте ;)
Save your money! Don't buy this app
This is a really bad app. I bought this app thinking I was going to measure my car's horsepower, but unfortunatelly this app is so badly built that many functions causes the app to crash and reboot and some other just don't work, like the speed level. I spent my money for nothing! I still don't know my car's horsepower and the only alternative I have is to buy another app.
View in iTunes
$3.99

Category:

Sports

Updated:

Mar 02, 2009

Version:

1.15

Size:

0.9 MB

Languages:

English, Danish, Dutch, French, German, Portuguese, Spanish

Seller:

Richard Shearman
Compatibility: Requires iOS 2.0 or later. Compatible with iPhone, iPad, and iPod touch.
More iPhone Apps by Richard Shearman