3-IN-1 Bundle Pack #2! | AmbiScience™ • Binaural & Isochronic Ambient Mind Utility
By Tesla Audio Sciences
This app is only available on the App Store for iOS devices.
Description
--- WOW! 3 Apps in 1 just 1.99! ---
*** The Best Selling Line of Brainwave Apps on the Store - Since 2008. ***

"...worthwhile set of apps for both Android and Apple" - NY Times

GET OUR BUNDLE #1 WITH 4-LAYER PRESETS!!! COMING SOON TO BUNDLE #2.

PRAISED BY APPLE, MACWORLD.com, TUAW.com, iPHONE LIFE, INFORMATION WEEK AND 148APPS.com SEEN IN PUBLICATIONS AROUND THE GLOBE. OVER 600,000 USERS WORLDWIDE.
** Type 'Tesla Audio' in search today **

Let AmbiScience™ take you on a sonic journey with a combination of ambient electronica and a variety several effective programs that attune your brain to desired states of mind using the BEST entrainment frequencies. Tune your mind to help you sleep, relax, focus or meditate.

HOW DOES IT WORK?
Once you choose a particular frequency, such as the 'sleep' frequency, this state is then more quickly achieved than normal. This is done by a mixing of tones sent to each ear - the difference between the two tones, that your brain creates, is called binaural entrainment. We also include isochronic entrainment, which is a different form, using a single pulsating tone in each ear - people who don't respond to binaurals, often respond to isochronics.

THE ONLY APP
AmbiScience is the only app, which includes binaurals and isochronics in ONE.

PROGRESSIVE ENTRAINMENT
This app also offers Progressive entrainment, which is a gradual inducement to your chosen entrainment, and this is done by starting at the waking state frequency and gradually moving the user down to his/her chosen frequency.

THIS APP INCLUDES the Best Selling apps: Pure Meditation, Galactic Chill and Pure Yoga in ONE.


FEATURES:

- 35 LONG Professional Ambient Tracks
• 3 Noise Tracks
• 20 Entrainment Tracks:
-- 10 Isochronic Entrainment Tracks
-- 10 Binaural Entrainment Tracks
• Create your own custom programs
• MULTITASKING background audio available!
• PERFECT Seamless Loops
• Full-Featured presets / Multi-Track Save
• Countdown timer with fader
• Countdown end chime
• Alarm with Snooze option
• Auto Quit/Exit feature
• Adjustable independent volumes
• The smallest available files
• Highest quality audio
• Easy Instructions & Free updates

BRAINWAVE/ENTRAINMENT PROGRAMS
(headphones/earbuds or 2.1 speakers are RECOMMENDED - the iPhone/iPod speaker is not able to produce some of the frequencies below)
- 20 Entrainment Programs:
• Shamanic Meditation (Isochronic & Binaural)
• Shamanic Meditation Low Pitch (Isochronic & Binaural)
• Medium Meditation/Active Relax (Isochronic & Binaural)
• Deep Meditation/Relax (Isochronic & Binaural)
• Light Meditation (Isochronic & Binaural)
• Schumann Resonance (Isochronic & Binaural)
• Schumann Resonance Low Pitch (Isochronic & Binaural)
• Sleep (Isochronic & Binaural)
• Power Nap (Isochronic & Binaural)
• Deep Sleep (Isochronic & Binaural)
• Isochronic - headphones not required.
• Binaural - requires headphones.
-- Full instructions in app.

AMBIENT MUSIC TRACKS:

• Obsidian
• Alabaster
• Pearl
• Amber
• Lapis Lazuli
• Fire Opal
• Blue Topaz
• Orange Topaz
• Moonstone
• Evening Rain
• A Calming Stream
• The Android's Dream
• Surf to City
• Leaving Terra
• A Visit to Olympus Mons
• Through the Wormhole
• Suspended Animation
• Passing Orion
• The Horsehead Nebula
• The Island Universe
• The Journey Onward
• Angel Acension
• Tesla at Twilight
• Night Calm
• Himalaya
• The Northern Chimes
• Saturday Morning
• A Gentle Tunderstorm
• A Moonlight Melody
• The Zen Garden
• Desert Sunrise
• Buddhist Rain

Plus, as a BONUS, 3 NOISE TRACKS:
• Brown, White and Pink Noise

AUTO-LOCK must be set to 'Never' for alarm to function, and be sure to enable
AIRPLANE MODE to avoid interruptions.

NOTE: If you experience performance issues (missing tracks, no sound etc) email us.

Go to teslasoftware.com for a VIDEO tutorial.Follow us at http://twitter.com/TeslaSoft
What's New in Version 1.1
*NEW* Interface
*NEW* Features - Presets, Alarm etc.
*NEW/IMPROVED* Binaural Entrainment Tracks

Enjoy!
Type 'Tesla Audio' in Search today for a list of our newest products!

Follow us on Twitter!
www.twitter.com/TeslaSoft
iPhone Screenshots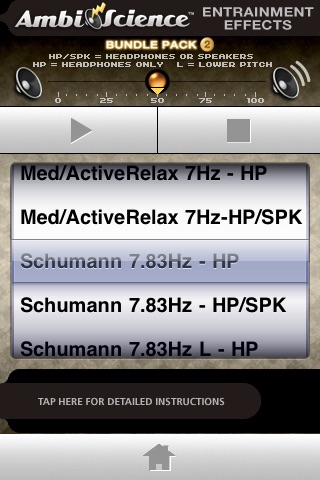 Customer Reviews
Really Good App, But NEEDS UPDATE, Confusing Overlap
Can't believe this is still in App Store since it's not supposed to work with iOS 11! PLEASE UPDATE - I use this app every day for yoga and meditation, don't want to lose it. I have several of the Tesla apps & I like the selection of tracks on this one by far the best of all. They are great for sleeping, exercising, meditating, background noise, etc. Unfortunately, this hasn't been updated in many years & could use a refresh update. Opening the app prompts the Apple slowdown warning & the interface is looking old, not reflecting newer, larger phones. Another problem is that they have several versions with a lot of poorly reconciled overlap in the audio tracks so you can end up buying the same things over & over again. Since the apps are quite large it wastes a lot of space if you have more than one loaded. If there was a new version of this particular collection, I'd gladly pay for it but don't want to buy any more of their apps only to find they don't have the tracks that I like best.
My Favorite AmbiScience App
Out of the 11 AmbiScience apps I've purchased, this one is the one that I get the most use out of. I use this one twice a day for meditating, and it's awesome. A number of these tracks (what I would call the "mineral" tracks, such as Obsidian, Orange Topaz, etc) come from the AmbiScience Pure Meditation app, but there are also some great additions here that I haven't found in their other apps yet. ("Night Calm" is a personal favorite.) And with the different types of entrainment effects, ranging from light to deep meditation in both binaural and isochronic flavors, there's always something to suit my mood when I'm ready to sit.
Best app of it's type!
This app is just great, there's a degree of polish that went into this and the many other AmbiScience apps which is why I keep coming back. These apps are perfect for all occasions, I personally enjoy their bundle packs, you get a great blend of everything, and you're not let down. The music tracks are great, and the entrainment tracks are perfect too. I've seen other apps fail at trying to do Binaural entrainment, AmbiScience got it right! I enjoy this app while at work, it helps me to focus and concentrate with the great entrainment tracks and there's plenty of music tracks to pair it with. Great job!
View in iTunes
$1.99

Category:

Health & Fitness

Updated:

Sep 27, 2010

Version:

1.1

Size:

195 MB

Language:

English

Seller:

Tesla Software, LLC
Compatibility: Requires iOS 3.0 or later. Compatible with iPhone, iPad, and iPod touch.