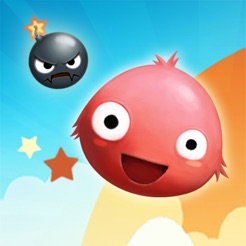 Description
Check out the latest iBlast Moki 2! New bombs, more blast and more fun!!!

iBlast Moki is the 5th best rated game all time based on a metacritic of 94/100 (source: http://www.metacritic.com/games/ios)

★ IGN 2009 Awards - iPhone Best Puzzle Game 2009 ★

★ Best Mobile Game European Milthon Award 2010 ★

★ Now with Retina display and Gamecenter ★

--------------------------------------
- IGN.com - 9/10 - iPhone Best Puzzle Game 2009 Award - IGN Editors' choice awards

- macworld.com - 4.5/5 - iBlast Moki is an outstanding game you're sure to be enjoying for months to come.

- Touchgen.net - 5/5 stars - Best iPhone game of the year and best puzzle game 2009 - "I absolutely love iBlast Moki, and have awarded it my first ever 5 star review"

- TouchArcade.com - 4.5/5 stars - Best physics game 2009

- Gizmodo.com - Listed in 10 Best iPhone Apps of 2nd week of October

- 148Apps.com - 5/5 stars - "Physics-based puzzle games are numerous on the App Store, and luminaries such as the Enigmo series, Tiki Towers, and the Perfect Balance series have proven the iPhone to be a haven for the genre. iBlast Moki stands above them all with challenging gameplay and almost unlimited replay value."

- Appsmile.com - 5/5 stars - "iBlast Moki is a well honed, gorgeous platformer that will keep you playing for days."

--------------------------------------
For gameplay videos, please go to http://www.youtube.com/kroukicity

--------------------------------------
Do you love bombs, creating contraptions and solving physics puzzles?
iBlast Moki is an original physics puzzle game where you blast cute little Mokis with the help of bombs and other crazy items.

--------------------------------------
FULL Version Features

EXPERIENCE HOURS OF FUN AND DISCOVERY
- 85 levels, including several boss levels
- Enjoy the visuals of 7 completely different worlds with their own gameplay mechanics

EXPERIMENT WITH THE PHYSICS OF TONS OF DIFFERENT ITEMS
- Realistic physics when you blow things up
- Lots of different items to manipulate like ropes, rising balloons, and rotating wheels

SHARE YOUR CREATIONS
- Fully featured level editor included to create more puzzles
- Share your levels online, play and rate levels created by other players

GAMECENTER ENABLED
- Add friends, race to the top of global leaderboards for high scores glory
- Earn achievements on Gamecenter.

DO YOU BLAST MOKI?
- Visit our website, www.godzilab-games.com, check out existing trailers, follow us on Twitter (twitter.com/godzilab) and leave comments on our forums

iBlast Moki is presented by Godzilab exclusively for iPhone and iPod Touch
Easier to finish a world (just need the number of level -2 to be finished)
Latest version of Plus+

Ratings and Reviews
Not a good puzzle game. Don't buy.
I LOVE puzzle games. I know enough about game design to say with confidence that calling this app a "puzzle" game is like calling rap music, I don't know, ska. If you love ska you'll be disappointed, you know? The level design is sloppy and random. There is no elegance, no grace present that makes you smile and think, "Ooh that's clever!" Any neat elements in the game design are totally drowned out by its innumerable flaws and poor level design. The challenging levels do not require measurable thought... just repetitive behavior a vegetable could perform. (Get Where's My Water instead. THAT is a puzzle game.) Positives: the music was appropriate and charming, and the artwork (mostly) cute.
My New Favorite Game
I downloaded this game cause it was free for a limited time, and I'm so glad I did! Normally I wouldn't pay $3 for a game app but this one is more than worth that price. It's very entertaining and challenging. I've played it a ton and still have plenty of content to work through. Once I do, I definitely want to get the sequel. Great game - cute characters, original concept, fun, challenging, and packed with content. I'd definitely recommend this for fans of Angry Birds as well.
Alright
This would be three stars, but I grabbed it when it was free. Solid game, but pretty easy, as I seem to be blowing through it. I thought I would have more things than bombs to lay out by now. Not enough new content through the levels to keep me interested much longer.

Haven't tried the user created levels yet, but judging by the game so far, they will either be too simplistic or a complete headache.

If it's still free, give it a try. You have nothing to lose.
Information
Seller

Godzilab

Size

17.5 MB

Category

Compatibility

Requires iOS 3.1 or later. Compatible with iPhone, iPad, and iPod touch.

Languages

English, French, German, Italian, Spanish, Turkish

Age Rating

Rated 9+ for the following:

Infrequent/Mild Cartoon or Fantasy Violence

Copyright

© Godzilab, Inc

Price

$2.99
Supports
Family Sharing

With Family Sharing set up, up to six family members can use this app.