SCRABBLE for iPad
By Electronic Arts
Open iTunes to buy and download apps.
Description
CONNECT WITH FRIENDS. PLAY WITH WORDS. Get a game of SCRABBLE going with just about anyone – or play solo against the computer! Plus, now you can play SCRABBLE in English, French, Italian, German, Spanish, or Brazilian Portuguese.

WHO WILL YOU PLAY?
• Challenge friends via Facebook and more
• Find an instant opponent with a single touch
• Play solo against the computer to improve your skills
• Get numerous games going at once – more than any word game on the App Store

SHOW OFF YOUR SKILLS
Connect to Facebook and share your best scores. You can even talk a good game with enhanced chat and notification features.

IMPROVE YOUR SCORES WITH THE TEACHER
Become a SCRABBLE master with the exclusive "Teacher" feature - see what your best word could have been after every turn.

LOSS FOR WORDS?
Use the in-game word list, built-in official SCRABBLE dictionary, or the exclusive Best Word feature to see your highest scoring choices.

THINK FAST
Want to recreate the feeling of a real-time in-person game? Try the new Speed Play mode where you and your opponent agree to 2 or 5 minute turns. If words aren't played in time, nudge and forfeit options are unlocked.

LOOK SHARP!
View every detail on the board with HD-quality graphics made to maximize the Retina display.

Ready for the first and last word in word games? Don't accept imitations. Just say, "LET'S PLAY SCRABBLE!
What's New in Version 3.8.0
Hey SCRABBLE fans! We've made some behind-the-scenes changes to improve the overall gameplay. Update now and play against a computer or challenge friends with Speed Play. As always, thanks for playing.
iPad Screenshots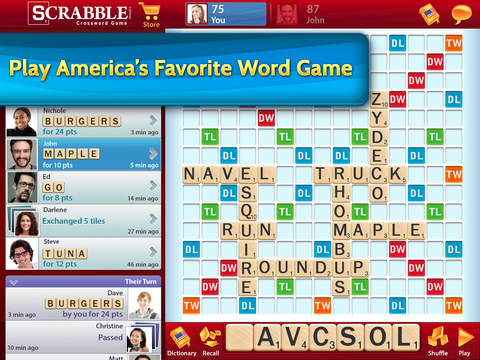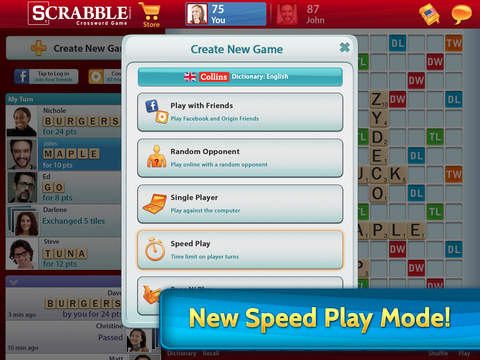 Customer Reviews
Great, however...
First of all, this is an excellent app. I've wasted far too much of my time playing this game. I thought I would write this review in hopes that they can update the application to solve the problem I'm having currently. I have an iPad air 2 with the latest iOS update. I also have an iPhone six with iOS 8 .3. The app works flawlessly on my iPhone, however I have numerous problems with the iPad. Currently, I cannot even get the games to update on my iPad even after rebooting the iPad on numerous occasions. I've also experienced issues with the speed play game on the iPad when it was working. If you leave the game while waiting for an opponent, and then come back it won't refresh even though you have an opponent. The opponent then nudges you and eventually force forfeits the game. Last thing, with regard to speed play. After nudging your opponent, they should only get another 30 to 60 seconds maximum. Allowing them another two minutes is like watching grass grow, certainly not what I would consider speed play. Keep up the good work though, it's a great app.
As compared to Words With Friends
-- quicker play time, as players cannot wait two weeks to make their next play as they can in WWF
-- love the Teacher feature, which allows me to see moves I could have made and therefore makes me a better player
-- I grew up with Scrabble, I like that they have official lists and dictionaries that they use and that I can download, there is lots of online support from regional Scrabble clubs like lists of all the two and three letter words
-- there have been perfectly legit words that I've tried to play in WWF that it would not take, one was "realtor"
-- my only critique of Scrabble app is that it crashes a great deal when I am trying to play timed games with random opponents, and when it does I lose the game and so it brings down my ranking ; I am better off playing random opponents in u timed games, as they move very quickly and without computer glitches, must remember to hit Refresh button from time to time
Annoying rip off
This is an update to my old review. The pop up ads on the paid version are gone for now, so I have added several more stars to my rating.

There are several minor issues that still need work. i was unable to play with friends outside the USA last time I tried. The licensing folks need to work some sort of deal to allow this. Notifications and player status do not always automatically update for some reason. I do not understand the "muting" of the chat feature, this is lawyer stuff I am sure, but I told the app my age so the mute should not be on be default.

The dev team seems to break as much stuff as they fix, the design team seems to improve about as much stuff as they ruin. But after years, they finally have a fairly well polished app. I will give it five stars in hopes that they leave it alone!

------

The app itself is quite good. I like the teach mode, computer game play is good, I like the ability to select dictionaries and I love playing with friends, family, and even random opponents. I wish it had the ability to bluff, but I understand the difficulty of implementing such a feature.

The reason for the low rating is the pop up ads that started with the last update. I bought the paid version to avoid the pop up ads. I feel cheated.

I would also add that it has recently been unavailable for two weeks.
View In iTunes
$9.99

Category:

Games

Updated:

Mar 27, 2015

Version:

3.8.0

Size:

39.4 MB

Languages:

English, French, German, Italian, Portuguese, Spanish

Seller:

Electronic Arts Inc.
Compatibility: Requires iOS 7.0 or later. Compatible with iPad.