Progressive Alarm Clock for iPad
By Spotlight Six Software LLC
This app is only available on the App Store for iOS devices.
Description
Progressive Alarm Clock will wake you up gently and gradually using the beautiful sounds of the Tibetan singing bowl. At the specified alarm time, the bells will begin to ring in a pre-defined pattern - starting out softly and slowly and gradually getting louder and more frequent. You'll come out of your slumber slowly and peacefully. No more being jolted awake.

+ After setting the alarm, the app can be put in the background - allowing you to use other apps. At the specified alarm time, the alarm pattern will begin.

+ Choose from five pre-defined patterns with varying bell schedules and escalation lengths.

+ Choose from six different bells of varying size and metal compositions - from bright and clean to deep and complex with lovely overtones.

+ Edit the patterns to create your own bell schedules or modify the defaults. Make the patterns as long or as short as you want, escalate the volumes as you please - you have complete control over the pattern definitions.

+ You may enter journal notes upon awakening - great for recording your dreams before the memory fades. You can then go back and review your journal entries and you may export the journal via email. For privacy, you may set a password to prevent unauthorized access.

+ To save battery, you may lock your iPad's screen and the alarm will still work. Either start the alarm and press the lock (sleep) button, or turn on the "Auto-Lock" setting.

+ Optionally hide the time display until the screen is tapped.

+ Optionally use your own photo as a wake up image that will gradually fade in as the alarm pattern escalates.

+ These bell sounds are simply amazing - here are some app store comments pertaining to the bells:

"Best sounding bells of any meditation app so far" - sibergrrl

"The bell samples in this app are gorgeous" - LairBob

"Several different bell sounds to choose from and they all feel 'live'" - VaderPi

"Great Sound Quality" - KarlAgathon

"The tones are stunning" - hellsleeve

"Beautiful bell sounds" - Wolf94114

"Wonderful digital bell sounds" - zenji

"The bell sounds are lovely" - pngwen

Other Features:

- Six wake up colors

- Snooze from 1 minute to 30 minutes

- Sure Wake: Optional LOUD backup sound to ensure that you cannot sleep through the alarm

- Seven colors available for time display

- Optionally keep device from sleeping
What's New in Version 5.1.1
+ iOS 8 Support
+ Bug Fixes
iPad Screenshots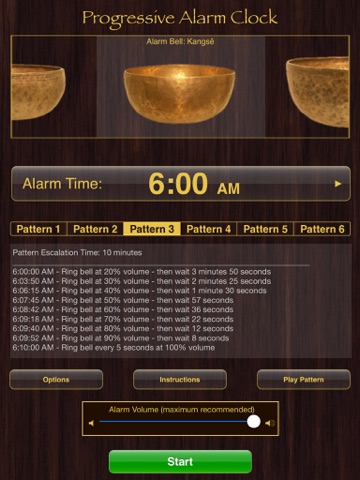 Customer Reviews
Fantastic Alarm Clock
I wrote my original review after I first purchased the App. Everything in it still holds true for this latest version. This is the best Alarm Clock period.

After the IOS update broke the volume control I was very happy to see an update come out to fix the issue. I still have the two items on my wish list and hope they are accommodated one day. I would even purchase a new version if it provided the extra functionality.

**********below is my original review***********

This Alarm clock is great. The numbers are easy to see. The gradual increase in the loudness of the bells works perfectly and it's ease of use can't be beat. I use this app as my primary alarm clock even when I am on the road.

Only two options I would like to see added.

1. I would like the ability to disable the alarm and simply use this app as a clock without having to worry about the alarm going off needlessly.

2. I would love to be able to occasionally select one of the songs on my iPad to use instead of the bells. The slow increase in volume would work perfectly for some "new age" soundtracks. Sound of rain forests, waterfalls, songbirds, etc. would be perfect to use in this app.

Even without the two items on my wish list I still rate this app 5 stars.
My go to "Alarm"
It's not alarming at all!!! It IS a great way to be gently woken up, especially on those days when you have to get out of bed a bit too early. I think the very quiet start allows the unconscious to get the body ready to wake up before I consciously hear it. On days when I really need a few extra minutes to get it, I just start to hear it 2-4 minutes later than normal. I mostly use pattern 4, and it takes about four minutes to wake me. When I do hear it, I generally think "Did I just hear something?" Then it rings once more and I realize I am awake.
It has a snooze, I rarely use. It has features and functions I know little about. Check other reviews for the other uses.
I am a happy waker.
Great alarm but ...
I've been using this alarm for years, and like most of the reviewers say, it is great and a subtle way to wake up. However on multiple occasions the alarm didn't go off and I just assumed I'd made an error because instead of saying 7am, it had been set to 7pm.

What I eventually discovered is that if I set the alarm to 6am and get a phone call, when my iPad rings as a secondary notification that there is an incoming call, the alarm switches the time to PM! So this morning I needed to get up at 4:30am. Someone called around midnight. My alarm reset to 4:30pm and I didn't wake up until 7:20am!

Other than turning off the feature where my iPad rings when I get a call on my iPhone, I don't know what to do. But this glitch is going to force me to use a different alarm app unfortunately! :(
View in iTunes
$0.99

Category:

Health & Fitness

Updated:

May 29, 2015

Version:

5.1.1

Size:

50.2 MB

Language:

English

Seller:

Spotlight Six Software LLC
Compatibility: Requires iOS 8.0 or later. Compatible with iPad.
More iPad Apps by Spotlight Six Software LLC