Little Uzu
By Colordodge Labs
Open iTunes to buy and download apps.
Description
Little Uzu for the iPhone/iPod Touch is based on the the award winning Uzu for the iPad. A re-imagined control scheme allows for Little Uzu to have all the fun and complexity of Uzu for the iPad, but in a smaller space. Little Uzu has most of the animation modes from Uzu along with 3 brand new modes exclusive to the iPhone/iPod Touch!

****** DESCRIPTION ******

Technically speaking, Little Uzu is a kinetic multitouch particle visualizer. Really it's a sort-of math-physics-art-toy for anyone who ever loved spirographs, fireworks, planetariums, lava lamps, light sabers, pen lasers, tesla coils, christmas lights, or graphing calculators.

Points of light will shoot across the screen and fly to your command, twirling in a vortex of color and motion. Freeze and move Little Uzu in 3d space while contorting spirographic curves with your fingers. Little Uzu lets you quickly switch between 11 different modes of real-time animation by simply changing the number of touches you're using. You can spend countless hours discovering the many unique ways of playing and interacting with Little Uzu.

****** CONTROL ******

Little Uzu will respond to up to 5 touches. The 1, 2, 4, and 5 touch modes are always the same. In order to have more than five total modes, the 3 touch mode is comprised of eight different modes that cycle each time you lift all your fingers off the screen. This means that you can change to a different 3 touch mode by lifting all 3 fingers and putting them back down. Switching from 3 touch to 1, 2, 4, or 5 touch will keep the same 3 touch mode active.

****** ANIMATION MODES ******

0 Touch: Brownian motion and boundary wrap
1 Touch: emanate and radiate
2 Touch: pinch attraction and boundary bounce
3 Touch: (a)vortex, (b)inverted vortex, (c)radial vortex, (d)dual oscillator, (e)spiral, (f)spring points, (g)radial spokes, and (h)oscillator spokes
4 Touch: 3d freeze and translate
5 Touch: change color and particle size


****** UZU ON TWITTER ******
http://twitter.com/uzufortheipad

****** UZU ON FACEBOOK ******
http://www.facebook.com/#!/pages/Uzu-for-the-iPad/117462304963357


****** SUPPORT ******

If you have any problems, questions, or stories you would like to share, please feel free to email me, and I'll answer as soon as I can.

jason@uzumotion.com
www.uzumotion.com
What's New in Version 1.0.1
* Retina Display Support
* iOS 4.1 Tested
* Added 1,500 particles for iPhone 4 and Gen 4 iPod Touch.
* Added 1,000 particles for 3Gs and Gen 3 iPod Touch.
* Optimized particle count for older devices.

iPhone Screenshots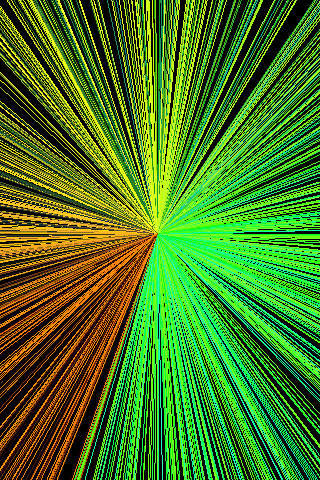 Customer Reviews
Most impresive app I have seen!
Alright I counted how many apps I have just for this review. 93 apps. And this I'd one of my favorites. With the new retina support it's about 500 stars but apple won't let me put that many stars for a review. :( If only. This is 100% my favorite app. Out of all 93. No joke. Get it now. I'm not kidding stop reading the reviews and thinking should I or should I not get this. Get it. You won't be sorry. What are you doing reading this review just get it already. Come on go get it!!!!!!!!!! NOW!
Cute
I have uzu for iPad. Little uzu is cute. I would like to see presets and auto-play like on iPad. And for iPhone 5, full use of the screen rather than cut at top and bottom. It's difficult enough to do 3 fingers on a phone, let alone 4 or 5. Better use of screen real estate and addition of presets with auto play would make this much improved.
Thank you.
P.s.: I should not have had to pay twice...once for each device :( When you merge, I want a buck back.
Pretty cool
(I'm a application reviewer this is my job)

This is a great relaxing therapeutic application but it's much better on the I pad I'm using my I phone for this and when I played it I could barely fit 7 of my fingers on it....... But it's a great game I used to use I before I went to sleep and it relaxed me and got me tired which is great! You should probably get it if you have a hard time going to sleep.
-review tech Inc
View In iTunes
$0.99

Category:

Entertainment

Updated:

Sep 29, 2010

Version:

1.0.1

Size:

1.2 MB

Language:

English

Seller:

Jason K Smith
Compatibility: Requires iOS 4.1 or later. Compatible with iPhone, iPad, and iPod touch.