Relax & Sleep Well
By Diviniti Publishing Ltd
This app is only available on the App Store for iOS devices.
Description
Relax & Sleep Well is a high quality hypnosis and meditation app by best-selling self-help audio author Glenn Harrold. This fantastic app consists of 4 free hypnotherapy and meditation recordings and over 80 in-app purchase options covering insomnia, stress, anxiety, mindfulness, sleep, weight-loss, confidence, self-esteem, the solfeggio frequencies, binaural beats, spiritual healing and much more.

Now helping well over 2.5 million people to sleep well every night!

# Number 1 Grossing Lifestyle App in New Zealand
# Number 1 Grossing Lifestyle App in Ireland
# Number 1 Grossing Lifestyle App in South Africa
# Number 1 Grossing Lifestyle App in Denmark
# Number 1 Grossing Lifestyle App in Israel
# Number 1 Grossing Lifestyle App in Peru
# Number 1 Grossing Lifestyle App in Norway
# Number 1 Grossing Lifestyle App in Jordan
# Number 1 Grossing Lifestyle App in Ecuador
# Number 1 Grossing Lifestyle App in Kenya
### And over 50 more……………..

Download Now to find out why this app has been number 1 in over 50 countries!

Relax & Sleep Well Free by Glenn Harrold was placed 1st in Healthline's list of the Best Insomnia Apps of 2015! "Healthline's editors carefully selected each winner based on quality, usability and contribution to the community."

The free tracks include Relax & Sleep Well, which is a full 29-minute hypnotherapy session that will take you on a relaxing journey into the deepest levels of self-hypnosis. The subtle soundscapes supporting Glenn's calming voice will help you connect with a profound feeling of relaxation and mindfulness. It will also help you to alleviate stress and anxiety, overcome insomnia and encourage healthy sleep patterns.

The next free track is a 30-minute lite version of the stunning 639 Hz Solfeggio Sonic Meditation, which is based upon the ancient Solfeggio musical scale. When you experience this powerful healing meditation it will give you an idea of what the full range of Solfeggio Meditation titles sound like. Overcome insomnia stress and sleep well with this dreamy, relaxing meditation recording.

The latest free track is a lite version of the Mindfulness Meditation for Releasing Anxiety. This meditation will put you in a very present state and help you to feel mindful.

This app also includes Glenn's free guide to self-hypnosis eBook, which shows you how to use self-hypnosis to help you in many areas of your life. The in-apps list now includes over 80 of Glenn's highly acclaimed healing hypnosis and guided meditation recordings.

Glenn is one of the world's most successful hypnotherapists. His recordings have sold millions and he is a published author of 7 self-help health books.

On each hypnosis recording you will hear special background sound effects, which have been recorded in specific keys and frequencies to help guide you into a deep state of mental and physical relaxation. At the deepest point in the session you are given a number of post-hypnotic affirmations and direct suggestions to help you with the healing process relating to the title of the recording.

You will also hear a number of background affirmations, which echo and pan from left to right across the stereo range. This deeply relaxing and powerful method of delivering multiple suggestions simultaneously to the unconscious mind can facilitate positive changes very quickly.

All of Glenn's Hypnosis and Meditation Recordings Feature:

* The very latest hypnotherapy, mindfulness and healing meditation techniques combined with state-of-the-art recording technology.
* Glenn's highly acclaimed hypnotic vocal techniques guiding you into a deeply relaxed state.
* Background sound effects recorded in specific musical keys and frequencies to compliment the hypnotic suggestions and deepen the relaxation effect.
* Stereo-echoed affirmations, which pan from ear-to-ear across the stereo range - a deeply relaxing and unique effect.
Glenn has 20 years of hypnotherapy experience and has worked with many celebrity clients.
What's New in Version 6.58.11
Minor content changes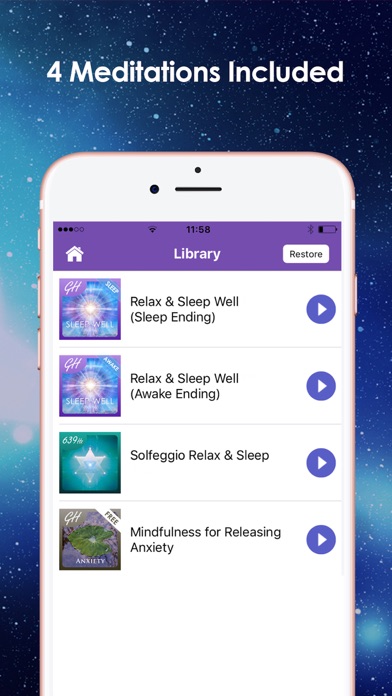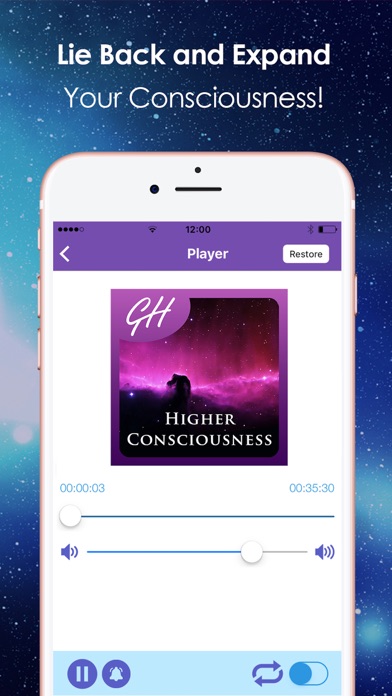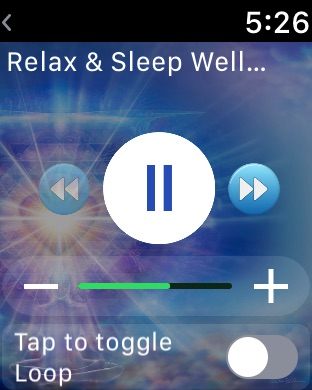 Customer Reviews
Won't recognize me AND PRIOR PURCHASES
December 2017- I did want to say that the recordings for sleep and relaxation are very good. Don't bother with weight loss..

Every hypnotist I've checked out assumes all fat people are fat because they eat too much all the time and must be guzzling sweets and sugary sodas like crazy. Nothing could be further from the truth for me. The truth is, after 51 years of alternating strict calorie reduction and normal consumption the body (especially women's bodies) learns to be very efficient at storing and holding onto calories. Maybe the programs need to account for that and maybe they need to help overcome magical thinking that not eating enough will make the fat person lose weight. Maybe there could be a program to help people believe it is safe to eat more, but in smaller amounts at more frequent intervals. But no one does those programs well, and Glenn's is no worse than anyone else's. So if the problem is that you just eat too much all the time, his program might help. Otherwise, abandon hope of finding anything effective unless you pay $1500 for a custom program.

December 2016 Sells in bad faith! I bought several sessions last year and apparently they get ditched from memory if you don't use them. I was able to restore purchases before if I'd already bought them. Now it says "In app purchases not allowed, so apparently I have to do repurchase them. NOT GOOD!
Glenn Harrold apps
I've tried a lot of different hypnosis, subliminal message, and binaural & isochronic programs. Glenn Harrold's are my favorite. I downloaded this free sleep app and, soon after, received a free solfeggio meditation as a "gift from Glenn Harrold." I really liked it, and ended up purchasing several more of his solfeggio series. I think they are my favorite of all his apps. I went on eBay and found a set of soft headband headphones, so I can sleep with them on--even on my side. Then I bought more of the headphones for several family members to whom I'd already recommended these apps. We all enjoy them!
Love this app!
I have recommended this app to so many friends that have difficulty sleeping. That is the main reason I use it though I have also used a few of the others. It rarely fails to help me sleep and stay asleep.
View in iTunes
This app is designed for both iPhone and iPad
Offers Apple Watch App for iPhone
Free

Category:

Lifestyle

Updated:

Oct 16, 2017

Version:

6.58.11

Size:

113 MB

Apple Watch:

Yes

Language:

English

Seller:

Diviniti Publishing Ltd
Compatibility: Requires iOS 8.2 or later. Compatible with iPhone, iPad, and iPod touch.
Top In-App Purchases
Deep Sleep$2.99
Relax & Sleep Well FREE (Awake)Free
Solfeggio Relax & Sleep Meditation FREEFree
Lose Weight Now$2.99
Relax & Sleep Well Full$2.99
Heal Your Body$2.99
Overcome Anxiety$2.99
Lucid Dreams$2.99
Complete Relaxation$2.99
Mindfulness for Deep Sleep$2.99