Mini Golf Scorecards
By Dustin Kirk
This app is only available on the App Store for iOS devices.
Description
Blazingly Fast Score Entry!!!!

Mini Golf Scorecards for the iPhone and iPod Touch allows you to score your putt-putt adventures with out little pencils and small pieces of paper. Track your scores throughout the game with this super simple and easy to use score card, and when you are done, email your scores to your friends right from the app. Mini Golf Scorecards even formats the scores so they are easy to read and will look good when your friends see your stunning victory.

- Speed, Speed, Speed!!!!
Enter scores blazingly fast! Double-tap on an empty par value to set it to 3. Double-tap an empty score to set it to the par value for that hole. And if you play the same course twice, simply duplicate a previous game and the title, hole count, and par values will all be set for your new game.

- Export Scores to .CSV files
Export your scores in CSV (spreadsheet) format via email and view them in Excel or any other spreadsheet application.

- Score How You Want
The flexible scoring in Mini Golf Scorecards allows you to keep score the way you normally do. You are not forced to adapt, but score however you'd like. For example, you can set the par for each hole and track the difference positive or negative or simply total up all of the strokes. It is your choice. We don't make the rules, you do!

- Save Your Scores
Track all of your miniature golf epic adventures with unlimited game saves. Mini Golf Scorecards will automatically save your game data after each score is entered so it is always easy to retrieve. It even tracks the date and time of each game too. It's one smart little cookie. Should you ever have a disastrous round, don't worry, we won't tell. You can delete your games too!

- Email Your Golf Scores
Don't let those holes in one during your latest round of putt-putt go unnoticed to all of your friends. Brag a little, it's OK!

- Supports up to 27 Holes Per Game
The golfing elite can add an additional 9 holes to the standard 18 hole game, making this app ideal for those who play tournament disc golf or those who simply make up their own extreme courses.

- Unlimited Stroke Count
There is no limit enforced on the stroke count. If your mom took 150 strokes, show no mercy. You have the reigns and stroke limits are for weenies.

- No Paper Needed
The environment loves you, show it some love too by reducing paper and pencil use. Also, stop searching for a surface to write on. You look like a fool writing on your buddy's back, get this app be a superstar.

- Math Made Easy
Mini Golf Scorecards does all of the addition and subtraction for you. Never get blamed for cheating or be embarrassed for failing at simple arithmetic, Mini Golf Scorecards has your back. With sub-totals for the front-9 and back-9 as well as the total game scores, you will always know who is in the lead and who needs to get some private lessons before returning to the green.

- Supports 6 Players Per Card
With the latest advancements in technology we are able to place 6 players on a score card while other apps only support 4. So bring a extra friend or two with you for your next round, you'll be all set to go. If your group is larger than 6, consider splitting up the group out of consideration for the folks behind you. You can also split the score keeping between multiple devices, or use a second score card to track additional players.

---
Designed and developed by Dustin Kirk in San Diego, California
http://www.dustinkirk.com

Download: http://itunes.apple.com/us/app/mini-golf-scorecards/id427443197?mt=8&ls=1
What's New in Version 1.7
Fixes 'crash on startup' bug for iOS 3.0+ devices
iPhone Screenshots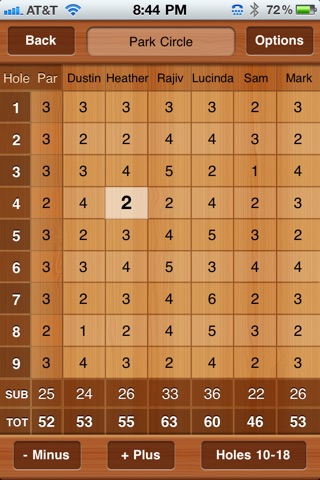 View in iTunes
$0.99

Category:

Sports

Updated:

Jul 17, 2012

Version:

1.7

Size:

2.5 MB

Language:

English

Seller:

Dustin Kirk
Compatibility: Requires iOS 3.0 or later. Compatible with iPhone, iPad, and iPod touch.