Pain & Depression Relief | AmbiScience™ Body and Mind Utility
By Tesla Audio Sciences
This app is only available on the App Store for iOS devices.
Description
*** The Best Selling Line of Brainwave Apps on the Store - Since 2008. ***

>> THE ONLY APP WHICH ALLOWS THE USER TO SLEEP, USING OUR ENTRAINMENT, WITHOUT HEADPHONES. <<

PRAISED BY APPLE, MACWORLD.com, TUAW.com, iPHONE LIFE, INFORMATION WEEK AND 148APPS.com OVER 600,000 USERS WORLDWIDE.
** Type 'Tesla Audio' in search today **

"...blows me away are the scientifically crafted progressive sessions..." - ReaderRabid
"These apps are both easy to use...full of functionality and quality." - Ron Studd Jr.

Let AmbiScience™ take you on a sonic journey with a combination of ambient electronica and a variety several effective programs that attune your brain to desired states of mind using the BEST entrainment frequencies. Tune your mind to help you with pain or depression.

HOW DOES IT WORK?
Once you choose a particular frequency, such as the 'sleep' (brainwaves) frequency, this state is then more quickly achieved than normal. This is done by a mixing of tones sent to each ear - the difference between the two tones, that your brain creates, is called binaural entrainment. We also include isochronic entrainment, which is a different form, using a single pulsating tone in each ear - people who don't respond to binaurals, often respond to isochronics.

THE ONLY APP
AmbiScience is the only app, which includes binaurals and isochronics in ONE.

PROGRESSIVE ENTRAINMENT
This app also offers Progressive entrainment, which is a gradual inducement to your chosen entrainment (brainwaves), and this is done by starting at the waking state frequency and gradually moving the user down to his/her chosen frequency.

FEATURES:

- 20 LONG Professional Ambient Tracks
- 13 Nature Sounds and Sound Samples
- 6 BRAINWAVE/ENTRAINMENT PROGRAMS:
-- 3 Isochronic Entrainment Tracks
-- 3 Binaural Entrainment Tracks
Includes 2 Progressive Entrainment Tracks
• Create your own CUSTOM programs
• MULTITASKING background audio available!
• PLAY YOUR iPod MUSIC with entrainment!
• PERFECT Seamless Loops
• Full-Featured presets / Multi-Track Save
• Countdown Timer with fader
• Countdown end chime
• Alarm with Snooze option
• Auto Quit/Exit feature
• Adjustable independent volumes
• Highest quality audio
• Easy to use interface
• Easy Instructions & Free Updates

BRAINWAVE/ENTRAINMENT PROGRAMS:
(headphones/earbuds or 2.1 speakers are RECOMMENDED - the iPhone/iPod speaker is not able to produce some of the frequencies below)
- 6 Entrainment Programs
• 25min. PAIN Relief Program
• 20min. DEPRESSION Relief Program
• (2) Sleep Programs: Binaural and Isochronic
• (2) Relax Programs: Isochronic & Binaural

• Isochronic - headphones not required.
• Binaural - requires headphones.

AMBIENT MUSIC TRACKS:
- 20 LONG BEAUTIFUL Ambient Tracks:
• Time Heals
• Naturally Neuro
• A Simple Fix
• Drips and Drains
• Chaos Cured
• Machine Language
• Senses Working
• Dimension R
• The Healing Devices
• Medicinal Ceremony
• Playground 101
• Repair in Progress
• Bells and Breathing 1
• Bells and Breathing 2
• The Orb of Raw
• Breath of Comfort
• Breath of the Sea
• The Shoreline

BONUS TRACKS FROM
100 Beats and Tones Premium:
• The Harmony Wheel
• Hide and Seek


13 SOUND SAMPLES:
• Rain
• Waves
• Stream
• Birds
• Chimes
• Night
• Waterfall
• Thunder
• Wind
• White, Brown and Pink Noise
• OceanSurf 3D (amazing 3D sound!)

AUTO-LOCK must be set to 'Never' for alarm to function, and be sure to enable
AIRPLANE MODE to avoid interruptions.

Go to teslasoftware.com for a VIDEO tutorial. Follow us at http://twitter.com/TeslaSoft
iPhone Screenshots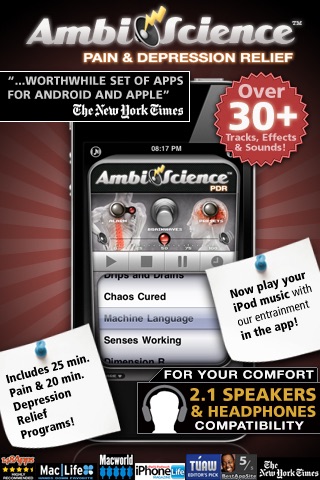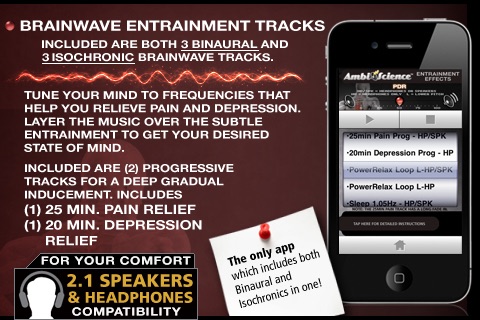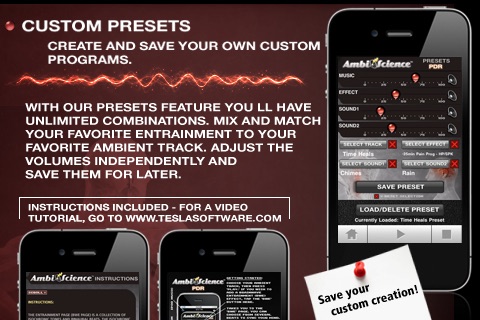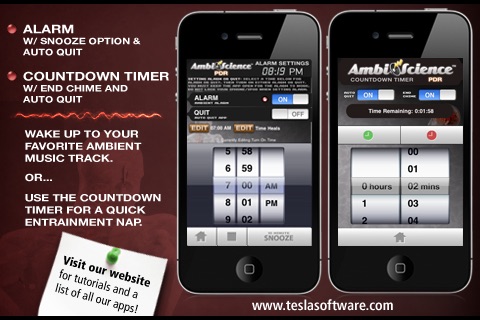 Customer Reviews
Can't live without this version.
In 2011 I was t-boned while riding a motorcycle by a driver who was so self-entitled that he put using his phone above the safety of other drivers. Two bilateral femur breaks in three places with twisted fragments on both sides, compound right Tib/fib fracture and shattered ankle. Plus a year of telling docs that something was wrong with my neck (my helmet shattered from me being thrown 6ft vertical 2horizontal) to finally get one who did an MRI and discovered that I had two bulging discs).
All that plus nerve pain, I'm on methadone, tramadol, and gabapentin all to manage my chronic pain. With all my breakthrough pain we had to find something that would help. Ambiscience pain and depression app uses my own brainpower to stem the ever pressing tidal wave of debilitating pain. Tesla labs you've enabled me to push forward when without your app I would just be suffering. Thank you!
If you're reading this and are still unsure about it, let me put it this way; how much would you spend on exotic drugs to be pain free for just five minutes? $5 for this app is less than it truly deserves because it is a lifesaver and I would've paid $20 easily for something this helpful.
Amazing and Useful Progressive Entrainment!
I can't believe how useful and amazing this app is. All the entrainment beats and music pieces are new, so if other sleep or relaxation beats didn't work for you, try these new ones. But what blows me away are the scientifically crafted progressive sessions, especially the one for depression. A progressive session takes you from your probable current brain state and slowly changes the binaural beat or isochronic tone, making it more likely that your brain will follow the entrainment to achieve the desired state. The 20 minute Depression progression is designed to stimulate beta activity in the left hemisphere (sent to the right ear to stimulate the left brain), while soothing the right hemisphere with alpha rhythms (sent to the left ear to stimulate the right brain). So I guess it's important for this one to make sure your headphones are on the appropriate ear.

I have all the Tesla apps (I think) and have had great success with them, but this app really takes the pain and depression progressions to a new level of effectiveness, and the music is my favorite of all the apps. I discovered that music tracks with the word "Breath" in the title have a breathing sound that I can follow along with to increase my relaxation, quiet my mind and get the benefits from the entrainment beats even more easily.

Amazing!
Better than others I've used
I've had insomnia frequently either trouble getting to sleep, staying asleep or going back to sleep. This app has resolved it all since I started using it. I go to sleep quickly. If I wake up from pain, to go to the bathroom or the dog wakes me up, I can tell I've been in a deep sleep, and I go back to deep sleep quickly. Used to have to take sleeping pill but no more. I leave phone plugged in all night and have it at very low volume, playing through the night.
I prefer the sound track Breath of Comfort w/ the Sleep tone at HP/SPK. I've also used the deep relaxation and pain tracks.

The one suggestion I have for all of their programs is to make it easier to tell visually if the program is off or on. If I'm a passenger in a car or in a noisy atmosphere it's almost impossible to tell. This is important if you want to use some of the tracks for something other than sleep or deep relaxation.
View in iTunes
$1.99

Category:

Medical

Released:

Jun 07, 2011

Version:

1.0

Size:

247 MB

Language:

English

Seller:

Tesla Software, LLC
Compatibility: Requires iOS 3.0 or later. Compatible with iPhone, iPad, and iPod touch.