ScaleViz - Visual Guitar Fretboard Shape Trainer
By ShaneHogan
This app is only available on the App Store for iOS devices.
Description
ScaleViz was designed to burn the Major, Minor and Dominant, Chord, Arpeggio, Pentatonic and Scale Modes into your mind, so they become part of you, visualising the various patterns will become second nature and in turn your brain will transfer the information to your fingers as muscle memory.

The Shape Trainer shows you visually how Fretboard mastery works, you will not even have to think to link the chords, arpeggios and scales together, you will see it happen right in front of your eyes simply by browsing the virtual guitar fretboard in the Shape Trainer…

You will see how the Major, Minor and Blues Major pentatonic scales fit together. How the relative Minor chords and the Major, Minor and Dominant arpeggios fit inside the Ionian, Mixolydian and Aeolian Scale Modes, which all wrap around the Pentatonic's, and how all of these sit on top of Octave patterns and the CAGED system, and hear any pattern or shape played for you by simply tapping the push pins in the main menus.

Best of all… This will all happen without you even realising, as ScaleViz shows you how all of these patterns combine to create a unique map of your guitar fretboard, VISUALLY!

Tap the ScaleViz Logo from the welcome screen to get to the info section, where you can find out how to use just five patterns to get to any mode in any key or find out more information on the features included...

Tap the Major, Minor or Dominant Picks from the welcome screen to get to the main menus...

Tap the sticky notes to go to the shape trainer, while in the Shape Trainer tap your device left or right to cycle between, Octave, Chord, Arpeggio, Pentatonic and modal patterns in position. Tap the middle of your device to browse your selected shape up your fretboard.

ScaleViz has been described as one of the most in-depth guitar guides available for the iPhone and now this amazing app is truly universal, after 5 years in development and a life times study the iPhone version has been updated and the Apple TV version comes as a Universal purchase, ScaleViz gives discount for educational facilities and supports family sharing.

Simply browsing through the Virtual Guitar Fretboard for just a few minutes a day will save you hundreds, if not thousands of hours of study, guaranteed.

Mastery of ScaleViz will give you the knowledge you need to master your fretboard, and immediately know which notes to use over which chord, you will learn the relationships between the chords and see how they are built visually, how modes work, how Major, Minor and Dominant chords are related to each other and much, much more…

This version is for iPhone and Apple TV.

Not got an Apple TV v4 yet? Are you looking for the Universal version? Simple You can find this in another Store Listing called ScaleViz Universal.

Any questions, suggestions, comments, support or general enquiries please feel free to contact me, my mail box is checked frequently.

dev@scaleviz.co.uk
What's New in Version 2.0
ScaleViz has been re-developed from the ground up and is now available as a universal purchase, so you now can enjoy mastering your fretboard on all of your devices including Apple TV. I have also added sound so you can hear the shapes being played in the Major, Minor and Dominant menus as well as see them, so you can connect the shapes to your ears and your eyes. Simply tap the push pins, which will also update the selected patterns information, showing the degrees, notes, intervals and more. If you enjoy using ScaleViz please consider taking a few minutes to write a review.

You can contact me via the App if you have any questions or suggestions, also please remember the review process is one way, I cannot respond to reviews, so if you are unhappy in anyway, do not hesitate to contact me and I can resolve any issues.

A lifetimes work has gone into creating ScaleViz and I am positive your fretboard knowledge will increase dramatically by simply using this App to study your fretboard, once again thank you for your continued support.

Code Updated for Swift 3.0
iPhone Screenshots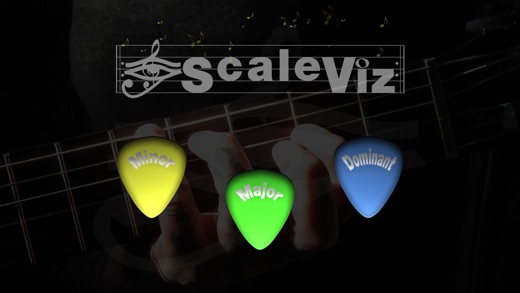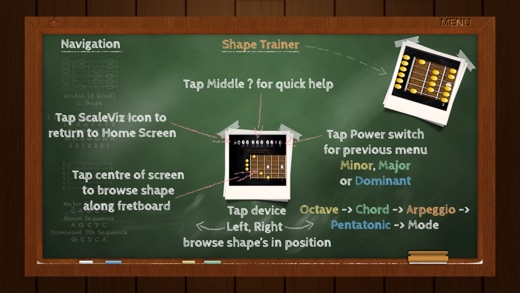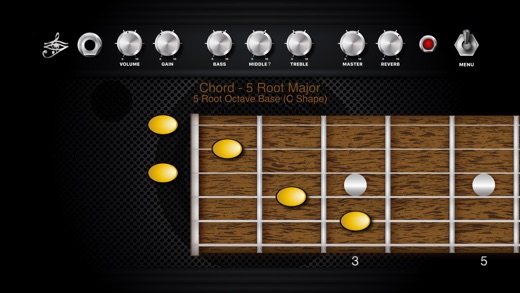 View in iTunes
$4.99

Category:

Music

Updated:

Dec 12, 2016

Version:

2.0

Size:

84.0 MB

Language:

English

Seller:

Shane Hogan
Compatibility: Requires iOS 9.3 or later. Compatible with iPhone, iPad, and iPod touch.
Apple TV:
Yes