Basil: Smart Recipe Manager. Save and Organize Your Recipes!
By Kyle Baxter
Open iTunes to buy and download apps.
Description
Discover great new recipes from the web, add your own masterpieces, and get cooking tonight with Basil! Basil helps you find recipes, organizes them for you, and makes cooking easier.

WHAT OTHERS SAY

"Basil has reinvigorated my love for cooking."
- Mike Vardy, Productivityist.com

"Recipes I save from the web are scattered across Pinboard, Instapaper and Simplenote. But Basil… might just change all that."
- Charlie Sorrel, Cult of Mac

"It is clear that Kyle designed every single detail of this app for practical simplicity."
- Patrick Rhone, Minimal Mac

Favorite features:

DISCOVER
◆ Search the web's best recipe sites all at once and save recipes from them with just one tap!
◆ Add your own personal recipes, too, so your favorite recipes are all in one place!
◆ Add recipes from Safari on your iPad with the "Add to Basil" bookmarklet
◆ Recipes are stored on your iPad offline

COOK
◆ Beautiful interface made for cooking. Big, readable text so you can read at a glance in the kitchen
◆ Smart ingredient scaling: Scale your recipes, and Basil will handle it all for you
◆ Time-based directions magically become instant cooking timers
◆ Auto unit conversion. Choose your preferred units (American or metric) and Basil will convert recipes for you. If you're in the UK and save American recipes, Basil will convert all those pesky cups and teaspoons to metric units for you!
◆ Cross off ingredients as you cook, and Basil will turn them gray so your eyes are drawn to the ingredients still left to use.
◆ Take notes! Add your own adjustments and notes to each recipe so you know exactly what to do each time you cook.

ORGANIZE
◆ Organizes your recipes for you! Recipes are automatically tagged by ingredients and setting the meal and cuisine type is quick too, so you can do things like see all of your breakfast recipes with bacon, or see your Chinese recipes. No need to spend time making folders!
◆ Filter your recipes by favorites, meal and cuisine types, tags and sources
◆ Browse your recipes by big, beautiful photos! It'll get you inspired to cook (and hungry!).


Basil makes it easy to find new recipes with its special quick-search feature, and organizes them for you. Each new recipe is tagged with its main ingredients, and adding cuisine and meal type is a snap. You can find just the recipe you're looking for by sorting according to favorites, cuisine type, meal type, or main ingredients. Or you can just search them, using full-text search.

Basil even makes cooking easier. Directions and ingredients are easy to read at a glance, and any time-based directions ("sauté for 5 minutes") are turned into buttons which start a timer, so you don't have to fumble with a separate timer. You can cross off ingredients as you cook, and Basil even converts units for you automatically.

Supported Sites For Instant Save:

marthastewart.com
food.com
gourmet.com
loveandoliveoil.com
bbc.co.uk/food
bbcgoodfood.com
taste.com.au
lifestylefood.com.au
bestrecipes.com.au
allrecipes.com
myrecipes.com
epicurious.com
seriouseats.com
bonappetit.com
tastykitchen.com
foodnetwork.com
foodandwine.com
chow.com
thepioneerwoman.com
eatingwell.com
cookinglight.com
inspiredtaste.net

Thank you for your support! If you love Basil, please consider leaving a review.

If you have any issues, please email support@basil-app.com. We have no way to contact you if you explain an issue in a review.
What's New in Version 2.0.3
Addresses major issue where recipes are not displayed.
iPad Screenshots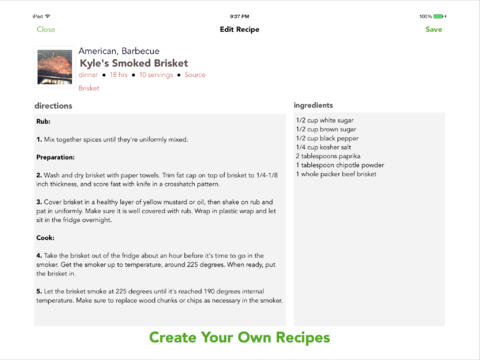 Customer Reviews
Great start for recipe app
I love the UI and the ability to automatically show weight measurements from a recipe that is in volume measurements. No other recipe management app I've found will do this automatically. Would be great if it would do meal planning and shopping lists too. Calculating nutrition info would be a plus as well. Overall a really good start.
Great recipe organizer!
Clean, easy-to-use interface. I like that the recipes stay on the ipad and not online. Recommend it!
Needs some work to get my 5th star
I really like this recipe app. I looked at a bunch of them, and Basil is by far the best I've seen: clean, easy and straightforward. It's everything I need and nothing I don't need. It supports a decent variety of sites, and usually imports recipes perfectly. It's very easy to add my own recipes, and it's simple to edit or add notes to what I import.

That said, it has a few bugs that need squashing, and I have a couple of suggestions to make it more intuitive.

Bugs:
- imported recipes sometimes list "gin" in the tags list, even when gin isn't anywhere to be found in the recipe itself. I can edit the tags and remove it, but I shouldn't have to.

- one recipe that I removed "gin" from now shows "n" as a tag, and it will not let me erase it from the list. I can click edit and erase it, but after I save, it's still there. Annoying, but not life threatening.

- the manual add function is quite buggy. If you want to import a recipe from a site that isn't supported (or sometimes, even on sites that ARE supported), Basil offers you a manual add. You simply highlight the title and click the "Title" button, and so on. This fails more often than it works. What NEVER works is the "Photo" selector. Either the photo isn't selectable on the web page, or when you touch the photo it opens another page without the manual add icons, and wiping out your work so far. I work around this by snapping a photo of the page first, adding and saving the recipe sans photo, then editing the recipe and adding the cropped image later. It's a PITA, but it works. Also, sometimes the instructions list is imported with numbers, but then Basil adds its own numbering, so you end up with, e.g.,
1. 1) Do this
2. 2) Then do this

Interface suggestions:
- List view - The thumbnail view is pretty, but not when you don't have images on some recipes. The app really needs a list view, sortable by name, date added, date modified, cuisine, etc.
- Folders - Also nice would be a folders capability, so I can group recipes in a way that makes sense to me apart from what's offered. The list view would let me open and close folders and see my groupings from "afar" if you will.
- Recipe Count - There needs to be a recipe count somewhere. I would like to know how many recipes I have. How hard can this be to add?!
- Fix Add From Web - The add from web process is clunky. From the supported site, you find a recipe and hit "Save," then choose "lunch/dinner/dessert/etc" and Cuisine type, such as "African, American, Mexican." Then you hit "Done" - but then you're still looking at the same page, with the only options being "Cancel" or "Save." The user thinks, "Do I want to cancel this Save (no, I don't!), or do I hit Save again? (Well, I guess so...)" In other words, there's no indication if the recipe has saved successfully or not. I find myself saving it again just to make sure, then I have to delete one of the two copies I just made. A simple popup with "Save Successful!" after hitting "Done" would make sense here.
- Save search results - Also, after saving, if you want to look at the recipe to see if it's OK, you have to hit "Cancel", which wipes out your search results. How about a way to show me the recipes without losing my search? I often want to add the next one I saw in my search, but the app makes me type out my search term and search the web again. Annoying but not fatal.
- Mutli-add - Speaking of which, why not offer a multiple add capability? If a search returns multiple listings I like and want to add, why not show me a check box to add 5 or 10 at a time? Would save me a lot of time.
- Cooking mode - I've seen this asked for elsewhere, and I concur: it's really annoying when my iPad shuts down after I haven't touched it for a few minutes. Basil could offer a "cooking" mode that keeps Basil running even when not touched (by my grimy cooking fingers!).
- Edit Cuisine List - It's tiresome to have to "roll" through a long list of cuisines I don't have to get to Mexican. Why not let the user edit this list?

Overall, though, the pluses outweigh the minuses. This is now my "recipe book." I'm ditching all my cookbooks and clipped paper recipes, and adding everything to Basil, and I sleep well at night knowing they're backed up to Dropbox.

It's really good as is, and I hope the author keeps making it better.
View In iTunes
$2.99

Category:

Food & Drink

Updated:

Feb 21, 2014

Version:

2.0.3

Size:

7.5 MB

Languages:

English, French

Seller:

Kyle Baxter
Compatibility: Requires iOS 7.0 or later. Compatible with iPad.