AnyList
By Purple Cover, Inc.
This app is only available on the App Store for iOS devices.
Description
AnyList is the best way to create grocery shopping lists and collect and organize your recipes. Easily share a list with your spouse or roommates, for free. Changes show up instantly on everyone's iPhone or iPad.

AnyList has been featured in the App Store as "New and Noteworthy", a "Great Free App", and one of "10 Essential" productivity apps.

"AnyList makes shared grocery lists simple and intuitive." —Lifehacker

"AnyList sets the standard for grocery shopping list apps." —AppStorm

"I don't recommend going to the grocery store without it." —Today's iPhone

==== FEATURES ====

== LISTS ==

• Quickly add and cross off items. Autocomplete suggests common items as you type.
• Add items by voice with Siri and our Reminders Import feature.
• Add notes to list items to indicate quantity, brand, coupons, etc.
• Create multiple lists to organize items by store or occasion.
• Grocery items are automatically separated into categories.
• Create your own custom categories.
• Reorder categories to match the layout of your local store.
• Save items as favorites, then browse your favorites and add them to your current shopping list.
• View recent items from your past shopping trips, then add them back to your current list.
• Easily share lists. Just enter the email address of your spouse or roommate and your list is shared. List changes instantly show up on everyone's iOS device.
• Lists can be shared with as many people as you'd like.
• Everyone creates their own AnyList account, so you can share some lists, while keeping others private.
• Optional push notifications let you know when a shared list has been modified.
• Optionally badge the app icon with the number of items remaining on your lists.
• Choose a color for each list to help distinguish lists.
• Move or copy items between lists.
• Print lists, or send via email or SMS.

== RECIPES ==

• Enter your own recipes, or copy & paste them from another source.
• Add ingredients from your recipes to your shopping lists with a single tap.
• Organize recipes into collections by type or occasion.
• Search your recipes by name or ingredients.
• Print recipes, or send via email.
• Share your recipe collection with a trusted partner. Any changes to recipes will be instantly visible to both of you.

== SYNC / BACKUP ==

• Sync all of your lists and recipes across all of your devices. Sign in to your AnyList account on your iPhone and iPad, and any change made on one will instantly sync to the other.
• All of your lists and recipes are securely backed up in the cloud as part of your AnyList account. If you get a new device, just sign in to your AnyList account to retrieve your data.

== ANYLIST COMPLETE (PREMIUM FEATURES) ==

All of the features above are available for free. We also offer an optional in-app purchase called AnyList Complete that unlocks the full power of the app with these great features:

• AnyList for Mac & AnyList for the Web. Use AnyList on your Mac or PC.

• AnyList for Apple Watch. Quickly access your lists on your wrist.

• Recipe Web Import. Save recipes you find on the web to AnyList

• Meal Planning Calendar. Plan your meals and shopping for the coming week.

• List Item Photos. Add a photo to list items. For shared lists, photos can be viewed by everyone sharing the list.

• Recipe Photos. Add a photo to your recipes, instead of being limited to icons.

• Recipe Scaling. Quickly scale ingredient quantities up or down.

• Item Prices. Stick to your budget by adding prices to items.

• Stores & Filters. Assign items to stores and quickly filter your list by store.

• List Themes. Apply themes to your lists, with custom fonts, textures, and color.

• List Folders. Create folders to organize lists and reduce clutter.

• Location-Based Reminders. Get reminders when near a store or other location.

• List Passcode Lock. Protect your lists from casual snooping.

==== CONTACT US ====

We'd love to hear from you: team@anylistapp.com

AnyList includes icons from icons8.com.
What's New in Version 5.7.4
AnyList v5.7.4 fixes a few bugs and supported devices now provide haptic feedback for certain actions, such as crossing off or uncrossing items in a list.

AnyList v5.7.3 added support for the iPhone X.

If you enjoy AnyList, please consider writing a review on the App Store. Positive reviews improve our ranking and help new users learn about the app, so we greatly appreciate them.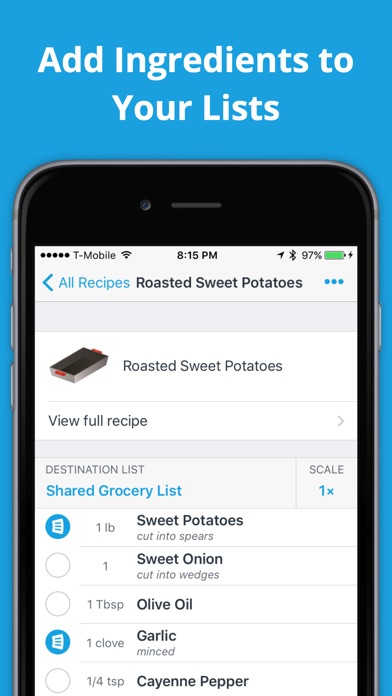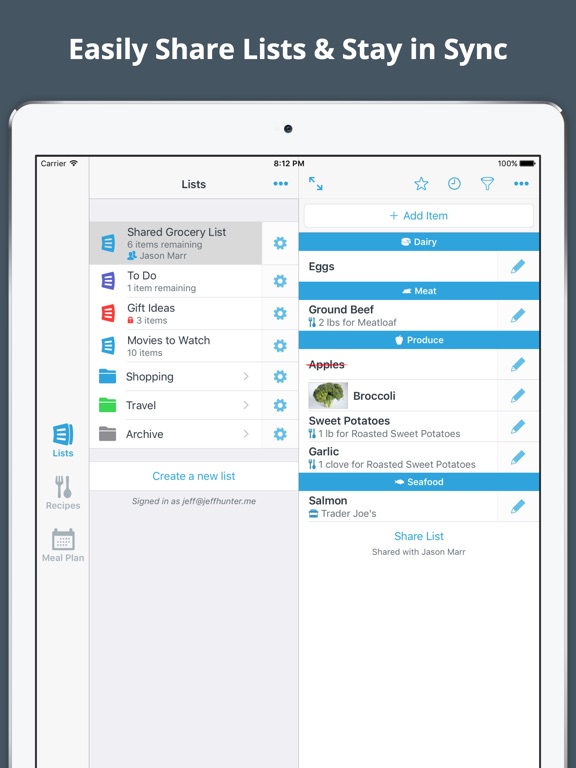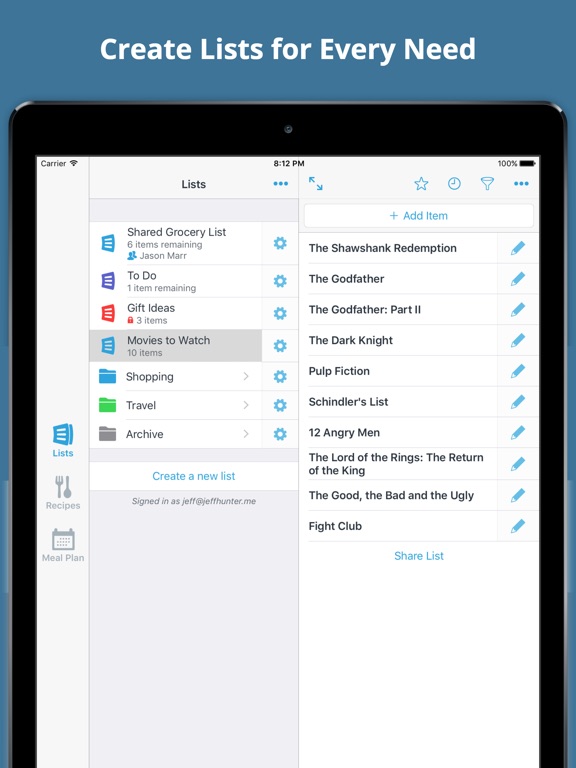 Customer Reviews
Essential : makes life easier & marriage saver!
This is the one app on my phone I use almost daily. I have many lists and a main grocery list my husband and kids all share. ANYONE can stop by the store on the way home and have the list. I pay the annual fee, just having the photo option has saved my marriage! LOL (ok, that's a little dramatic.) But seriously, no more "why did you buy that flavor/brand? We've bought xyz for ten years because the kid gets a rash with that stuff. You know what I'm talking about if you are married.

My sisters and I share a medication list for my aging dad. And a grocery list to help him with shopping.

And the recipe component?!! You need this in your life. Stop at the store and need a dinner idea? I have actually done this. Popped open my app, chose a recipe and with a touch the items I need are added to my list. It is really magical.

I decided to start keeping my recipes here, adding them as I used them and now I have a whole collection. I put the browser extension on my computer (Mac) and can easily put online recipes right into the app. Adding them by hand is easy too. I have them categorized. Slow cooker, main dish, Italian, Mexican, poultry, beef, soups, breakfast, Thanksgiving, etc. (a single recipe can be in more than one category. Really. Do yourself a favor and just try it. It is life changing. I started with the free lists. And now it is my pleasure to pay an annual fee in gratitude for such a helpful tool.
Best there is at what it does
I use a lot of other list apps for todos and such, and they work ok for shopping lists, but are never really great. Most critically, they're largely not designed to handle the way grocery shopping lists repeat, since its frequent but not predictable.

AnyList has solved all these problems for me and my family. It's a specialized tool - I use it for shopping lists and only shopping lists - and that allows me to not muddle up my task management system with a lot of noise. Plus, as a (very happy) paid subscriber, my whole family can see and update the grocery list.

While I use it for my grocery list 90% of the time, the ability to create secondary lists is also very useful. We have used it for projects, like home repairs, where we had a list of things we needed from a number of different locations. Yes, that could probably have been done in something like Todoist or Omnifocus too, but it worked smoothly enough that if a project is to just go buy things, AnyList is my go to choice.

(Oh, and it has watch integration too. I don't use it much, but it helpfully throws an alert if someone back home adds to the shopping list while I'm at the store. This has saved my bacon at least once.)
Game Changer
My husband and I have been using this app for a little over a year and it has been wonderful. We have six kids so you can imagine the massive task involved in planning meals, prepping for grocery shopping and the actual shopping event itself; but this app makes everything so easy. We add our recipes in the app, a sign them to the days we plan on making them and add items from the recipes to the grocery list with just a few taps. At the grocery store my husband and I each take a side of the store and meet in the middle. This app updates so quick, I can real thank me see what my gas and has picked up. Great and useful app for efficiency.
View in iTunes
This app is designed for both iPhone and iPad
Offers Apple Watch App for iPhone
Free

Category:

Productivity

Updated:

Nov 20, 2017

Version:

5.7.4

Size:

43.8 MB

Apple Watch:

Yes

Language:

English

Seller:

Purple Cover, Inc.
Compatibility: Requires iOS 9.3 or later. Compatible with iPhone, iPad, and iPod touch.
Top In-App Purchases
12 Month AnyList Complete Individual Subscription$7.99
12 Month AnyList Complete Family Subscription$11.99
More by Purple Cover, Inc.