Auria
By WaveMachine Labs, Inc.
Open iTunes to buy and download apps.
Description
Currently 50% off!

Auria - the 48-track digital audio recording system for iPad.

"This is the first mobile mixing (AND recording AND post production) app that I've ever used that is truly professional. Just Wow !" - David Kahne (Grammy winning producer/engineer for Paul McCartney, Tony Bennett, Stevie Nicks, Sublime, The Bangles, Ingrid Michaelson, Regina Spektor)

•TEC Awards 2012 Nominee•
•Computer Music Innovation Award•
•Computer Music Performance Award•
•Sound on Sound 2013 Awards Nominee•
•Electronic Musician Editor's Choice Award•

The mobile DAW you've been dreaming of has arrived. Auria is a 48-track digital recording system designed from the ground up for the iPad. With professional-level features like AAF import/export, and optional third-party plugin support from names like PSPaudioware, Overloud, Fab Filter and Drumagog, Auria clearly sets a new standard for mobile recording.

"Prepare to be amazed." – Computer Music Magazine

"...I was immediately convinced that this is the hottest musical app to make it to the iPad so far..." – Recording Magazine

FEATURES:
• 48 tracks of simultaneous playback of stereo or mono files. (24 tracks on iPad 1)
• Up to 24 tracks of simultaneous recording when used with compatible USB audio interfaces (Camera Connection Kit required)
• 24-bit recording
• Vintage-inspired ChannelStrip on every channel by PSPAudioware includes Expander, Multiband EQ and Compressor
• MasterStrip on all subgroup and master channels featuring PSPAudioware BussPressor, EQ and Mastering Limiter
• 64 bit double-precision floating point mixing engine
• Third party plugin support available via in-app purchase
• MIDI Sync support with MTC Chase, MIDI Clock and MMC
• MIDI Remote Control (Mackie MCU and HUI protocol)
• Supports sample rates of 44.1KHz, 48KHz and 96KHz, at 24 bits (iPad 1 only 44.1KHz and 48KHz)
• AAF import and export allows transferring complete sessions between popular DAWs like Logic, Pro Tools, Nuendo, Samplitude and others
• Convolution reverb plugin with included IR library by MoReVoX
• ClassicVerb reverb plugin included
• StereoDelay and StereoChorus plugins included
• 8 Assignable subgroups and 2 aux sends
• Time Stretching using ZTX technology
• Real-time audio scrubbing
• Ripple Edit mode
• Tempo sync and side chain support for plug-ins
• Powerful waveform editor with features like cut/copy/paste, crossfade, duplicate, separate, gain, normalize, dc offset, reverse, and more
• Flexible snapping tools allow snapping to events, cursor, bars, beats and more
• DropBox, SoundCloud and Audio Copy/Paste support
• Inter-app Audio support (IAA)
• Audiobus support
• Track freeze for minimizing CPU usage
• Full automation support on all controls with graphical editing
• True 100mm faders when used in Portrait Mode
• Adjustable pan law
• Optional video import feature allows sample accurate sync of video to an Auria project
• Timeline ruler options include minutes:seconds, bars:beats, samples and SMPTE time
• Auto-punch mode
• WIST support for wireless syncing of other compatible music apps
• AuriaLink allows two iPads running Auria to play and record in sync, allowing for 96 tracks of playback and 48 tracks of recording
• Full delay compensation on all tracks, subgroups, and aux sends
• Adjustable metering modes, including pre or post fader, RMS and peak
• Sample accurate loop function
• Automatic sample rate conversion
• Built-in metronome

Includes a demo song mixed on Auria by Grammy winning producer/engineer David Kahne.

REQUIREMENTS:
iPad 2 or later recommended
Compatible with all iPad models (iPad 1 has only 24 tracks, 44.1KHz and 48 KHz)
iOS 5.0 or later
USB audio interfaces require Camera Connection Kit

Pro Tools is a trademark of Avid, Inc.
Logic is a trademark of Apple, Inc.
Nuendo and is a trademark of Steinberg, GmBH
Samplitude is a trademark of MAGIX.
AudioCopy and AudioPaste are trademarks of Sonoma Wire Works.
Mackie is a trademark of LOUD Technologies, Inc.
What's New in Version 1.155
Various bug fixes - see our forum for more info
iPad Screenshots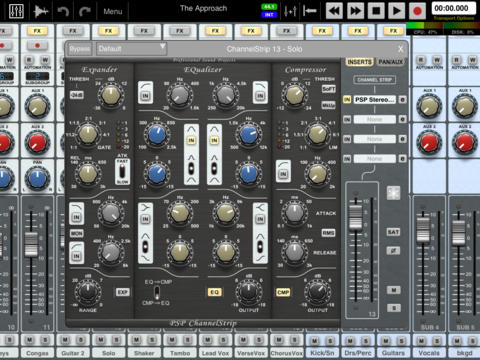 Customer Reviews
Peerless in the iOS world
I wish people would cease with the negative reviews of Auria. Common complaints of lack of midi and bugs are from frustrated people who fail to see the bigger picture - Auria is without peer in the world of iOS recording. While midi support is on the way and will further cement Auria's place as the king of iOS music production apps, it is sadly overlooked that Auria is the only truly pro-grade option for multi-track recording on the iPad. As for bugs, they are mostly related to apps used in conjunction with Auria, and are not the fault of the developer. Bottom line, I have done dozens of simultaneous multi-channel recordings with Auria; performed rock-solid every time. If you have experience with a desktop DAW you'll find Auria refreshingly familiar, yet unique in its own way. And it only costs $25; seriously, what other app, desktop or tablet, gives you this kind of quality for that low of a price?
It's also worth mentioning that Rim, Auria's developer, is one of the good guys, sincerely cares about user feedback, and deserves much more support than some of these reviews are giving...
An incredible tool for professional quality music production...unreal!
Perhaps my perspective is a bit different considering I began recording over 20 years ago in 1993 with a Tascam 424 cassette four track. Either way, to me the ability to record and mix full productions with incredible clarity, with the versatility and tools of a full DAW, on a tablet (!) is incredible. Complaints about no MIDI and various nitpicking completely miss the point. This is a pro level tool that excels in creating complete multitrack recordings and mixes...it is not a "press this button for killer drums" automatic DJ music machine. It is garbage in, garbage out...talent in, talent out. I'm an analog devotee and remember fondly learning on PortaStudio's and graduating to analog multitrack machines & mixers to ADATs and the first DAW systems. I do not take for granted the wonderful tool that Auria is and the incredible times we live in. I like to look at what we have to work with, not what we don't have.
Can't please everyone...
There are quite a few complaints on this app, but I can't, for the life of me understand why.. I've been using auria for almost a year and have pushed both my iPad mini and my iPad mini 2 to the bounds of what I thought possible for truly mobile studio production. I find that my iPad mini 2 and auria can handle mixing and tracking better than most of the desktop daws I have used in the past.. And thanks to my apogee mic, I get amazing, artifact free digital recording where ever I am. Kudos to WaveMachine Labs for options like aaf, Dropbox support (saves your precious diskspace!) and (finally) interapp audio / audiobus support. You guys rock!! I don't see the issues people are having with monitoring, graphics or input levels.. I get good clean takes every time...
I will continue to support your products for the foreseeable future and im very excited for auria pro!
View In iTunes
$24.99

Category:

Music

Updated:

Dec 04, 2014

Version:

1.155

Size:

274 MB

Language:

English

Seller:

WaveMachine Labs, Inc.
Compatibility: Requires iOS 6.0 or later. Compatible with iPad.
Top In-App Purchases
Pro-Q Effect Plug-in$29.99
Micro Warmer Effect Plug-in$19.99
Drumagog Add-on$19.99
ReTune Effect Add-on$5.99
THM Effect Plug-in$19.99
Video Import Add-On$4.99
Pro-C Compressor Plugin$29.99
Echo Effect Plug-in$14.99
OldTimer Sound Processor effect Add-on$19.99
Pro-L Limiter Effect Plug-in$39.99
More iPad Apps by WaveMachine Labs, Inc.