Concepts: Smarter Sketching, Design & CAD for Architecture & Illustration
By TopHatch
Open iTunes to buy and download apps.
Description
ACCURATE, INTELLIGENT DRAWING AND DESIGN - APPLE BEST OF 2013
Concepts combines the precision of technical drawing with the elegance and style of artistic sketching. Use an infinite canvas, flexible multi-touch shape guides, after-the-fact stroke adjustments, and powerful export options to bring all your ideas to life. It's the smartest, most flexible sketchbook ever.

DESIGN WITH LINES
Precision Mode brings the power of CAD to your sketches. Use flexible multi-touch Shape Guides for creating perfect lines, arcs, angles, ellipses, and rectangles; perfect for layout and perspective, creating structure, and anything you'd use a ruler for. Snap-to Sketching - like auto-complete for drawing - enhances your accuracy, while Scale and Measurement do the math for you.

ADJUST ANYTHING
Your ink never dries. Select individual strokes or groups with a long-press, then move, stretch, straighten, or change the ink weight and color. Create objects and make copies. Delete individual strokes. Enjoy infinite layers. Concepts is designed for exploration and real-world translation of ideas.

REAL-WORLD CONNECTED
Use your favorite Bluetooth Stylus from FiftyThree, Adobe, Adonit, HEX3, Pogo, and Wacom. Export your work to dozens of professional applications for further use or send via email, web link, open-in, and cloud solutions like Dropbox and Adobe Creative Cloud. Concepts exports high-resolution (300dpi+) PNG, vector (SVG), CAD (DXF), Adobe Photoshop (PSD), and standard formats.

IT'S IN THE DETAILS
An interface that melts away. An infinite canvas with sharp zoom and rotation, gorgeous vector brushes with COPIC colors, amazing stylus support, real-scale paper size guides, layout guides and rulers, transparency, graph paper and isometric grids, and unlimited layers. Import images from anywhere for tracing or add text labels. Sketch and design to your heart's content.

SOMETHING FOR EVERYONE
• Architects, Engineers, Surveyors, and Landscape Designers - enjoy technical precision of shape guides, snap, scaled measurement, and 300dpi+ printable output options + Adobe PSD.
• Product Designers, Makers and Illustrators - sketch with natural vector brushes, tweak at stroke level, then export to SVG or DXF for laser cutting, rapid prototyping and vector workflow.
• Educators - create mind-maps and brainstorm on an infinite canvas, manipulate individual pieces, then present via AirPlay. Perfect for architecture, graphic design, business, STEAM, and more.
• Trace photos and add markup to images in the field.
• Kids love exploring ideas using Concepts' simple interface and cool tools. Learn the basics of architecture and illustration, or design the next rocket to Mars.
• Find your own unique uses — Concepts is a powerful and flexible sketchbook.

WHAT PEOPLE ARE SAYING
• Award Winning: Apple selected Concepts for the Best Apps of 2013 in 12 countries! Tabby Awards 2013: Best Creation & Design App.
• AneSharoo: "Never before has my finger been mightier than my pencil!!! Creativity has blossomed literally on my fingertips!"
• DADGBE: "...you can sum up Concepts in one word - irreplaceable."
• John: "...the ultimate design tool - the freedom to sketch with the power of vector manipulation."
• Dave: "So much power with a simple, stylish interface. A tool for makers to design and build their dreams."
• Grim: "This is the future in design."

WE'RE HERE TO HELP
Our goal is to bridge the gap between your ideas and the real world. Concepts is the design sketchbook that helps you break free from the desktop, and we're around for questions whenever they come up. Chat with us in-app, or at concepts@tophatch.com.

We're dedicated to quality and we update often. If you experience any problems or have suggestions for improvement, please contact us directly so we can quickly address them!

COPIC is the trademark of Too Corporation. Special thanks to Claudine Zafra, Ray Chen, Evan Bronstein AIA LEED GA, Nic Squirrell, and Erica Christensen for cover art!
What's New in Version 3.3
STYLUS UPDATES...

* Palm Rejection! Using any supported bluetooth stylus, you can now rest your hand on screen. **Be sure to disable "Multitasking Gestures" in the iPad Settings app before using.
* Pencil by 53. Pencil is a well-balanced carpenter's pencil with an eraser on the back side. Once connected, rest your hand on the screen to draw, then flip it around and make corrections without touching a button. It's a wonderful experience. (Of course, we still recommend you long-press your lines to adjust them. Why waste a perfectly good line?) If you don't have a Pencil, tap the link in-app and check it out.
* Change the pressure sensitivity and hand position for ultimate stylus control.
* Improvements across all styli. Notably, line-waviness in Adonit and Adobe styli has been fixed, and every stylus feels more responsive.

Don't have a stylus? See our recommendations in the Manual, or in the new Settings screen in-app.

... AND MORE

* Smoothing Presets. Set smoothing on any tool before you draw, and lines will sharpen up after-the-fact.
* New Settings Interface adds custom paper sizes, paper rotation, and unit locking.
* Improved Performance to the tune of 25%.
* Creative Cloud Market is back! Adobe has graciously provided thousands of free assets that you can use in your project. Creative Cloud account required.
* Fixed a number of bugs including image opacity and the broken eraser.

We've been working on videos, too. Follow us on Twitter/Facebook/YouTube/Pinterest/Instagram to see our latest training videos that will help you conquer your next project in less time than it takes to say "Desktop Software". Or close, anyway.

Our next update addresses your other biggest request. "I wish you had ____...". Send your guesses to concepts@tophatch.com. And if you like these updates, please leave us your glowing review!

Ben, David, Akseli, and Claudine @ TopHatch
iPad Screenshots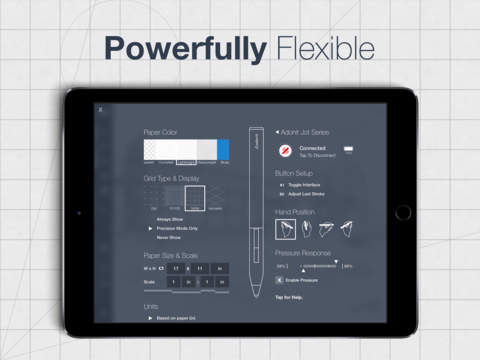 Customer Reviews
A promising mess
Been using Concepts for over a month now and am thoroughly acquainted with all its features. Control is janky and frustrating. Everything takes longer than it should. Text is an infuriating exercise in anger-management. Lack of Fill is ridiculous. Erased lines become objects that remain in the background - a cool idea that unfortunately causes more problems than it solves. The cool color wheel is attractive but annoying to navigate. Everything about Concepts, however, points to a revolutionary change in art on the iPad, but it's just not a smooth enough implementation yet to make it a replacement for anything currently available on the App Store.
Closer and closer
This app continues to improve! Many of my previous complaints have been resolved.

Consider making a multiline drawing tool (select multiple lines and the program creates a line from them all based on an average of their positioning.) This would allow quick sketching with good accuracy.

Consider creating editing tools to select and make multiple edits. Pressing to edit is time consuming. Some tools that would be helpful: nudge tool to push a line in one direction or another. Point tool, to adjust all points on a line. Expand/Shrink to adjust line thickness at specific points. Adjustable tapered ends... Tapered ends really make lines feel more natural.

Keep improving and your stars will continue to raise! I know it's a lot of work, but it is appreciated.
Concepts has the concept
I have drawing apps from Adobe, Pencil 53 and others, but I find myself very attracted to Concepts. It isn't the walk in the park app, and that makes it special. I'm in it for the long haul as the app makes some necessary improvements. I really like this app!
View In iTunes
Free

Category:

Productivity

Updated:

Jul 22, 2015

Version:

3.3

Size:

39.4 MB

Languages:

English, Czech, Dutch, French, German, Hungarian, Indonesian, Italian, Japanese, Korean, Portuguese, Russian, Simplified Chinese, Slovenian, Spanish, Thai, Traditional Chinese, Turkish, Vietnamese

Seller:

TopHatch LLC
Compatibility: Requires iOS 8.1 or later. Compatible with iPad.
Top In-App Purchases
Pro Pack$7.99
Pro Pack [Legacy]$7.99
Images & Text$1.99
Precision Toolkit$2.99
Layers & Adjust$2.99
Upgrade to Pro Pack$5.99
Sketch & Color ToolsFree