SkyView® Satellite Guide: Find space junk, space stations, and more day or night
By Terminal Eleven LLC
This app is only available on the App Store for iOS devices.
Description
From the makers of the award winning SkyView® app comes a stunning new way to discover over 20,000 satellites day or night.

Satellite spotting is now for everyone. Just point your iPhone at the sky to identify the International Space Station, Hubble, GPS satellites, and thousands more as they soar above your location.

Discover new and interesting satellites in Earth mode. Pan around the Earth, touch satellites over distant countries, zoom-in for a close-up view, and take wonderful photos to share with friends.

Features:

• Simple: Point your iPhone at the sky to identify satellites passing overhead at your location.
• Interactive: Pan around Earth to discover new satellites and zoom-in for a beautiful 3D close-up view.
• Customizable: Build a list of your favorite satellites and filter other satellites from your view.
• Sighting reminders: Quickly schedule reminders to notify you when a visible satellite will be in the sky above your location.
• Night friendly: Preserve your night vision with two easy-access night modes (red or green filters).
• Social: Capture and share beautiful images with friends and family on social networks.
• Space Junk: Uncover thousands of rocket bodies and other space debris that orbit Earth.
• Mobile: Does not require a data signal or GPS to function, take it anywhere.
• Comprehensive: Includes 20,000 satellites with thousands of facts, descriptions, tidbits, and satellite images.
What's New in Version 1.1.1
- New satellites
- Bug fixes
iPhone Screenshots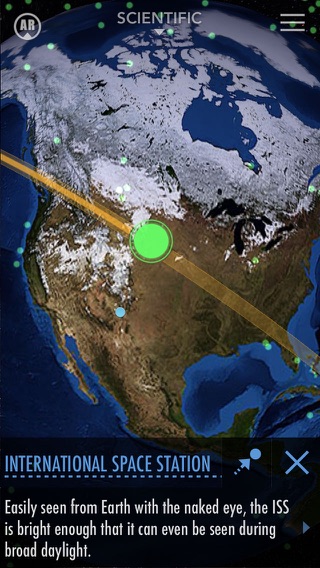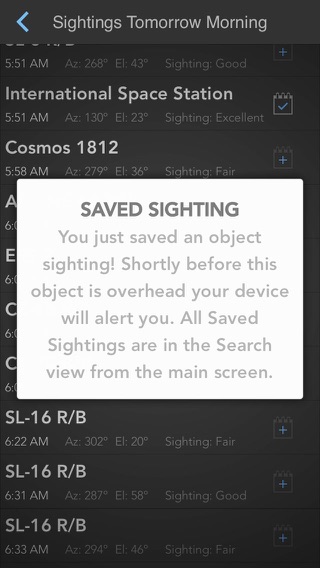 Customer Reviews
Great App for Spotting and Learning!
I've been using this for over a year to learn about and spot dozens of satellites when I'm in the Rocky Mountains away from light pollution. Automatic location and augmented reality both work flawlessly. My all-time favorite sighting was the ISS back-lit by a pre-dawn sky. While I have no complaints about design or function of the app as-is, there's always room for improvement. One suggestion would be the ability to save a log of particular sightings with notes, rather than having to switch apps. It would also be nice to have a more inclusive category (everything) so I could use AR to identify satellites that I find, but that aren't listed in Upcoming Sightings. On moonless nights at 9500ft, I can sometimes spot twelve satellites in an hour when the upcoming and brightest categories only list a couple of significant satellite sightings. If I could, I'd rate it five stars for design and function. Four stars are given because there are some obvious enhancements that I'd like to see.
Sky View
This is about the coolest app I've seen so far. I never knew you could see a satellites or space junk fly overhead with just your naked eye. I've made this somewhat of a hobby, on clear nights to go outside and see just how many satellites or space junk I can find. I think the neighbors think I'm whacked at this point be I sit in the yard looking up at the night sky with smartphone in hand. I've always been interested in science so this is just one more way of expanding that interest. To see a piece of space junk fly overhead moving at 2000 mph and 350 miles up just trips me out. The app gives you so much detail and information on what you're viewing and a detail cartoon picture of the object, makes it well worth the $5 spent.
Great app for us space freaks
great app to see what is
flying over our country. I can't
believe how many spy satellites
from different countries fly over ,plus all the space junk! I like to
watch the two space stations
( China has one too ) ,
also the Hubble telescope.
you'll be surprised how much
stuff is up there, so much that
they have to put them into
separate catalogues . they
also give you a picture of what
the satellite or junk debris
is supposed to look like! I can
see what's over the rest of the
world and what's coming towards us , all color coded
to show the different altitudes.
put what you want in your
favorites, and it will remind you
when it's closest to you and
you can see it from the ground!
there's also a setting that shows you from your ground
location up ,to see what's
directly over you! it gives you
a lot of information about the
objects you select and it will
give you links to learn more about the object in question.
well thought out and easy to use, I wish I found this app sooner! I like it a lot and I
recommend it highly!
View in iTunes
$3.99

Category:

Reference

Updated:

Mar 25, 2014

Version:

1.1.1

Size:

81.2 MB

Language:

English

Seller:

Terminal Eleven LLC
Compatibility: Requires iOS 6.0 or later. Compatible with iPhone 4, iPhone 4s, iPhone 5, iPhone 5c, iPhone 5s, iPhone 6, iPhone 6 Plus, iPhone 6s, iPhone 6s Plus, iPhone SE, iPhone 7, iPhone 7 Plus, iPhone 8, iPhone 8 Plus, iPhone X, iPad, and iPod touch.
More iPhone Apps by Terminal Eleven LLC