Cleanly On Demand Dry Cleaning & Laundry Delivery
By Cleanly
This app is only available on the App Store for iOS devices.
Description
Laundry and Dry Cleaning delivered to your door, at the tap of a button.

"Enter Cleanly...your new clothes-washing BFF!" - Brit + Co



For people who value their time and love looking great in their clothes. Cleanly is changing how we think about laundry and dry cleaning.

Choose a 1-hour window that works for you, let us know if you're sending out laundry, dry cleaning, or both, and then - you're done. Freshly cleaned clothes delivered to your doorstep in 24 hours, 7 days a week.



With early morning pickups to late at night deliveries, we're there when you need us with luxurious Cleanly laundry and garment bags so you know your clothes are in good hands.



TESTIMONIALS:



"Shouldn't getting a shirt cleaned be as easy as downloading a song?" - Wall Street Journal

"

Just think of it as the UBER of laundry" - NY Daily News

"

The website, the personal laundry bag, email updates, and ability to pay via credit card are really great features. Love this service, will continue to use it more in the future and recommend it to everyone who wants to have an AWESOME & EASY laundry experience." - Sophie E. , Cleanly Customer

"Awesome service! Very easy to use and a time saver. A must have if you have a child and no washer dryer hook up like many of the older buildings in NYC." - Kamila N., Cleanly Customer

" Was skeptical to send my laundry out, but I have to say I've been very pleased with Cleanly. I send everything from sheets and towels to delicates. They notify you when they are coming to pick up and drop off. My clothes come back smelling fresh and clean! They even fold my socks, which is cute." - Alyssa C., Cleanly Customer

Next Generation Features:

▸ Unmatched Washing Preference Options - Never worry about how your whites will be treated vs colors. Scented, Unscented, Tide brand detergent…it's all in there.

▸ Stain Mark Technology ® - Snap a photo of your stain and mark with circle, we got it from here

▸ Block Party Pricing - Get notified about discounts when your neighbors start ordering.

▸ Valet GPS Tracking - Get notified by SMS 10 minutes before your Valet is arriving, then track them on the map.

▸ Doorman Delivery - Love having everything done through your building's concierge? No problem.

▸ Cleanly Reserve - World's first membership program for dry cleaning & laundry. Get free delivery, no order minimums, free hang dry, and much more. Download app to start 30-day free trial.

You're underwear isn't going to wash itself. Download the app and get started today.



---

See if Cleanly is available in your city at https://cleanly.com

Follow us on Twitter at https://twitter.com/cleanly

Like us on Facebook at https://www.facebook.com/getcleanly


Have a question? Contact us at support@cleanly.com
What's New in Version 3.2.3
Here's an updated version of our new app to smooth out a few kinks. We're always trying to make getting clean laundry easier for you, so please always feel free to leave feedback and rate us!
iPhone Screenshots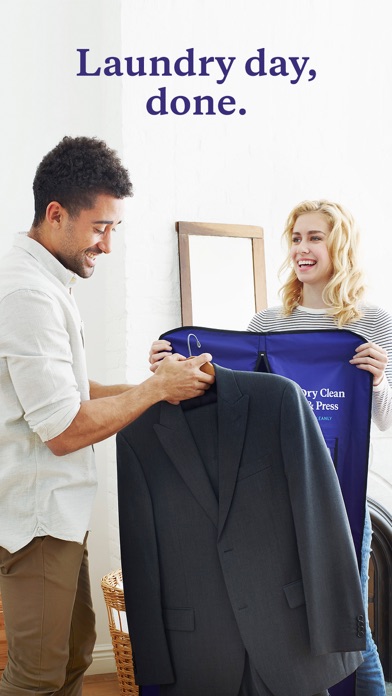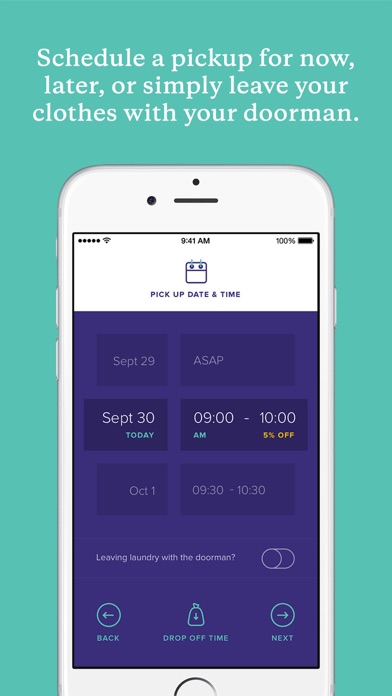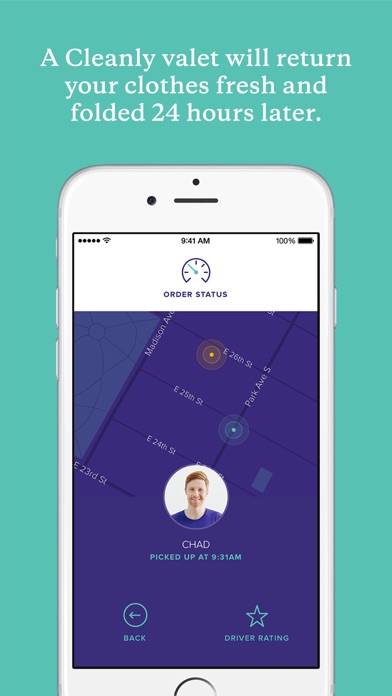 Customer Reviews
Don't use this service
I was very concerned about using this service since there were so many reviews about losing items. All it took was a haphazard pickup experience for me to cancel the order. I will never use this service and would highly advise others not to either.
When the valet arrived, they had no idea I was a first time customer. The person who came to my door didn't speak English and had to call the driver so I could explain I needed bags. The driver came up with bags and asked if I lost mine. I explained I was a first time customer and she seemed surprised. I repeatedly asked if she could show me the name tags for my laundry (I was concerned about losing my laundry based on the reviews). She kept saying yah we can get tags for you if you need. Obviously this was highly concerning- it is clearly not an "IF" I need my laundry labeled as my own.... She kept asking if I needed more bags to replace the ones I lost, which concerned me even more since I had no bags to begin with. When I pressed her about the labels she responded- do you need me to help put your laundry in bags because you need to hurry up. It became clear my bags would not get labeled, so I cancelled the order.
Damages items every time
I've tried to give Cleanly many chances but they continue to damage my items and provide incomplete service. First I ruled out their dry cleaning offering: things consistently came back dirty. Then I ruled out their hang dry option: they sent wet navy blue and white items back in the same plastic bag, on metal hangers. Needless to say, the navy blue items dyed 5 white high end pieces of clothing blue, and further, the metal hangers left rust marks on the clothing. When it came time for a refund they ignored the value of the clothing despite receipts and based the refund on the weight of the items. It didn't event cover the cost of one shirt, pitiful. I sent my down duvet and pillows to them - again returned wet, clumpy and musty inside a plastic bag - instead of taking the time to properly dry them. Rude delivery people who text you to come to the truck to pick up your bag because it's "too heavy". Had they any common sense, they would split a heavy bag into two. If you want to keep your items safe and in their existing condition, DO NOT USE THIS SERVICE.
App malfunctions and bad customer service
I have used Cleanly a couple of times with no issues. However the past time I put in an order, I realized I needed to change my drop off time. I had originally selected 8:30-9:30 PM for the same day and needed to change it to the following morning.

In the app when I went to make the switch I saw it said the delivery man was already en route to my address to drop off my clothes. This was 2 HOURS before my originally selected drop off window. Why is he already en route? I was concerned because I wasn't going to be home and didn't want to miss the delivery.

Tried calling in and no answer for 20 minutes. Finally gave up and decided to just switch the time on the app and was told I'd have to pay $5 fee for cancellation because my driver was already en route. Again, why was the driver already en route 2 hours before drop off?

Not a good idea to have non responsive customer service in a space as competitive as theirs. Will be switching services after this order.
View in iTunes
Free

Category:

Lifestyle

Updated:

Sep 15, 2017

Version:

3.2.3

Size:

168 MB

Language:

English

Seller:

Cleanly
Compatibility: Requires iOS 9.1 or later. Compatible with iPhone, iPad, and iPod touch.