Night Terrors: The Beginning
By Novum Analytics
This app is only available on the App Store for iOS devices.
Description
Augmented reality. Horror. Night Terrors: The Beginning.

**Top 5 iTunes Paid Overall Charts**
**#1 Entertainment App In More Than 33 Countries**
**Featured By Apple**

Lights Off. Headphones On. Survive.

Night Terrors is a new breed of immersive entertainment. Employing one of the most advanced computer vision systems ever built, Night Terrors: The Beginning sets out to redefine the way people think of mobile entertainment.

Question reality. Face your fears. Explore the paranormal. Night Terrors will attack every one of your senses in an effort to deliver the most heart-thumping experience ever seen on mobile devices.

*DIRECTIONS*

- Night Terrors is played indoors, at night, with the lights off, and headphones on.
- Part of the experience includes figuring out what to do.

*NOTES*

Night Terrors: The Beginning is just that - a beginning. This is a small glimpse of what is to come. We will be continually updating with new content, and fright-filled, one-of-a-kind experiences.

Step into the future of mobile AR entertainment. Make it, Reality Evolved™.

Notes:
- Compatible with iPod touch 6th Gen., iPhone 5S / 6 / 6+ / 6S / 6S+ / 7 / 7+ running iOS 9 or later.
- NOT Compatible with Bluetooth Audio.
- NOT Compatible with iPad/iPod devices.(Required LED Light)
- Players understand and assume all risks of injury or property damage while playing Night Terrors.
What's New in Version 1.6.0
-bluetooth audio
-tighten up scenes running long
-using device ids for which ones can play, fixing iphone 7's and 6's from being locked out in certain models.
-major audio fixes
-bug fixes
iPhone Screenshots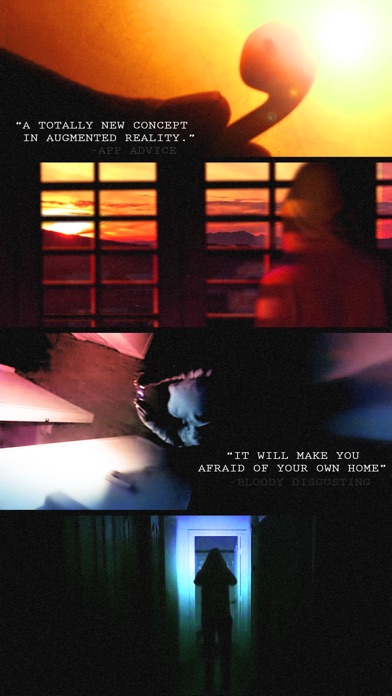 Customer Reviews
I'm gonna give it 3 stars and here's why...
I am a little to excited about horror related stuff. I wouldn't say to the point of being numb to scary stuff but as a point of reference I want to work for the medical examiner's office... so being squeamish really doesn't suit me, but I'm not balls of steel. Anyhow I tried this on campus and roughly 10-12 minutes in it mentioned the free experience is over the recording didn't end and some sound effects continued but it felt as if the scares had timed out which is frustrating as I spent a lot of time in one building to enhance my experience and I got a lot of screams/howling but no real scares as if I was chasing it down but could pin-point. My question is when the "fee experience" for lack of a better term is met is the game no longer acting on what the camera views? The reviews suggest this game is quality and I did proceed with caution when reading the warnings at the beginning I'm just hoping that I haven't experienced all there is to the app. That would be quite comparable to putting a few quarters in a dryer forgetting to hit start and the time runs out. There's gotta be something waiting... so yeah I give it 3 stars great idea and potential but without some of what I had seen in the previews I can't really speak on it being good or bad. Reminds me of the experiences with Pokémon go when no Pokémon were in the area. :(
Jumped a few times, but there's not enough
In the advertisements I saw many different ghosts, the environments being manipulated (such as a picture falling off a wall), getting weird texts, getting sent pictures. None of this was in the game except a skeleton and a spider or something and a weird orb. It would be cool if it recognized a door or a shower curtain or something and placed something behind it jump out at you when you opened it. Also I noticed I could hear my own footsteps. If you can record that audio and mimic it so it sounds like someone else is around that would be awesome. Or maybe place audio somewhere in the house so as you get closer it gets louder so you have to find out where the noise is coming from. Maybe have something persuading you to follow it and leads you through your house to something scary. Actual dialogue would be absolutely terrifying. Can you imagine a ghost standing there talking to you or yelling or screaming or a little girl crying and asking you to help her? I have a billion and one ideas for this game. Super interested to see where it goes. Pretty good so far though.
Okay so far, needs major work
Considering where the game is currently it's pretty okay. It definitely needs more content , scare wise. A spider, skeleton, and something resembling the Phoenix lights won't cut it. Considering the videos going around on the internet, I think the developers definitely advertised before they had the product, but hopefully in due time it will become that. I played the game twice, and I found the scares just repeated in the same order as the first time, which makes the game a "scary first time through" deal. It loses the intensity value a lot. Also, I noticed the developers saying the game will not work properly without headphones, which I think should be fixed if people ever want to play it as a group and use the speaker. A reviewer even mentioned using headphones and the game still not working properly, so clearly there's some kind of issue at hand. I think this provides a decent taste of what may come, but otherwise it needs some major facelifts and reworking. 5/10 game.
View in iTunes
Free

Category:

Entertainment

Updated:

May 09, 2017

Version:

1.6.0

Size:

125 MB

Language:

English

Seller:

Novum Behavioral Analytics, LLC
Compatibility: Requires iOS 9.3 or later. Compatible with iPhone, iPad, and iPod touch.