Smart Salik
By RTA-SALIK
This app is only available on the App Store for iOS devices.
Description
Smart Salik makes managing your Salik account easier and more convenient. Now new services and features are added to help you even more.

Existing features are all available, you can check your balance, Recharge your account or any other account, you can also add and remove vehicles, check your trips and violations, update you profile information and access general Salik information.

New features and services include:
• Enhanced Dashboard: get important insights about your account balance and activities in a flash.
• Countdown timer: keep you alerted about potential violations.
• Remove Vehicle: no need to contact the call center or visit a location.
• Recharge using Mobile and Plate instead of Account and PIN: even more convenient than before.
• Sign in using finger print.
• Stay logged in with a "keep me signed in" feature.
• An enhanced scanning feature to scan recharge numbers, T.C. and Tag numbers.
• 3D touch
• Wearable device support
• Manage multiple profiles for all members of your family and friends
• Happiness meter integration

Stay tuned for more exciting services..

Please note that the Smart Salik App requires the following permissions:
- Location Services:
The app will access this service to provide directions to the toll gates & customer service locations.
- Photos / Media:
The app will access these files to allow you to set your profile picture.
- Camera / Microphone:
The app will access these services to allow you to use the OCR feature when recharging. Note: on Android phones, the camera service is not separate from the microphone hence both services being accessed.
- Push Notifications:
The app will send Push Notifications regarding app updates if user agrees to accept the notifications on their device.

يجعل تطبيق سالك الذكي إدارة حساب سالك الخاص بك أكثرسهولة من أي وقت مضى. لقد قمنا بإضافة خدمات وميزات جديدة لمساعدتك بشكل أفضل.

جميع الخدمات الحالية مازالت متوفرة في التطبيق الجديد, تستطيع الاستعلام عن رصيد حسابك وتعبئة رصيد حسابك أو أي حساب آخر. تستطيع أيضاً إضافة مركبات وعرض رحلاتك ومخالفاتك وتعديل معلومات ملفك الشخصي والاطلاع على معلومات سالك الإضافية.

تتضمن الخدمات والميزات الجديدة:
• شاشة عرض محسنة: اطلع على أهم المعلومات الخاصة بحسابك عن طريق شاشة واحدة.
• عداد: ابق على دراية بآخر موعد لتعبئة حسابك لتجنب المخالفات.
• حذف مركبة: لا حاجة للاتصال بمركز الاتصال أو زيارة مراكز خدمة العملاء.
• أعد تعبئة حساب سالك عن طريق رقم الهاتف ولوحة المركبة بدلاً من رقم الحساب ورقم التعريف الشخصي.
• سجل دخولك عن طريق بصمة الإصبع.
• لا حاجة لإدخال كلمة المرور كل مرة.
• ميزة تعريف رقمي محسنة لسهولة إدخال رقم بطاقة تعبئة الرصيد ورقم الملف المروري ورقم بطاقة سالك.
• 3D Touch
• الساعات الذكية
• إدارة ملفات شخصية مختلفة لجميع أفراد عائلتك وأصدقائك
• مؤشر السعادة
•
• انتظروا مزيداً من الخدمات الجديدة

الرجاء الملاحظة أن تطبيق سالك يحتاج إلى الصلاحيات التالية:

الموقع:
يتم استخدام هذه الصلاحية لتوفير إرشادات لمواقع بوابات سالك وخدمات المتعاملين

الصور/الوسائط/الملفات:
يتم استخدام هذه الصلاحية لتوفير ميزة تحديد صورة المستخدم

الكاميرا/المايكروفون:
يتم استخدام هذه الصلاحية لتوفير ميزة التعرف الرقمي على رقم قسيمة / بطاقة شحن الرصيد عن طريق الكاميرا فقط؛ يرجى ملاحظة أن نظام أندرويد يجمع صلاحية استخدام الكاميرا والمايكروفون تحت صلاحية واحدة
What's New in Version 3.0.3
Security Certificate Update.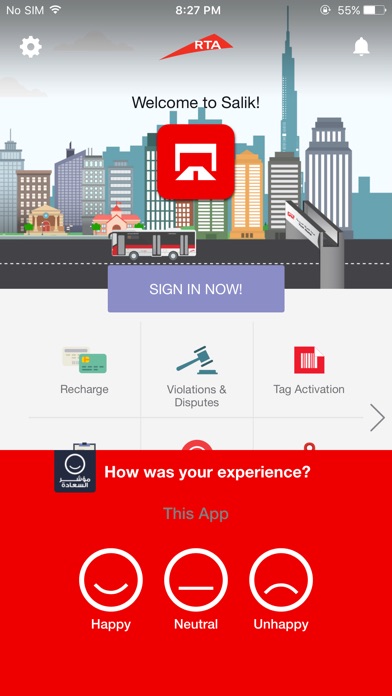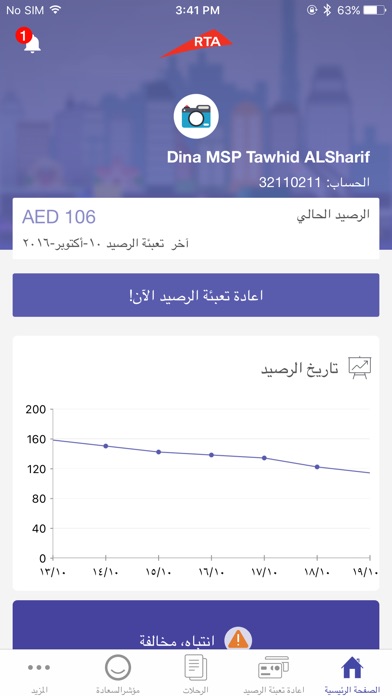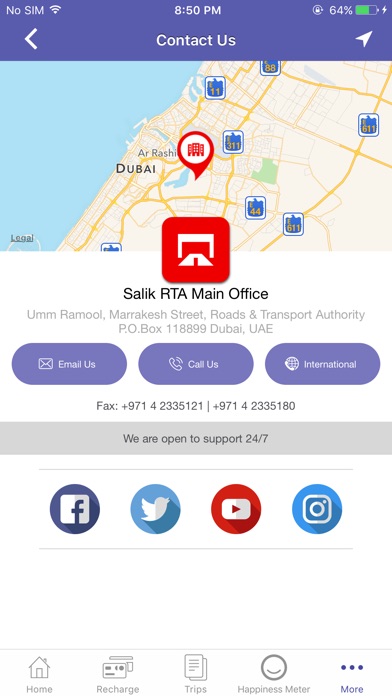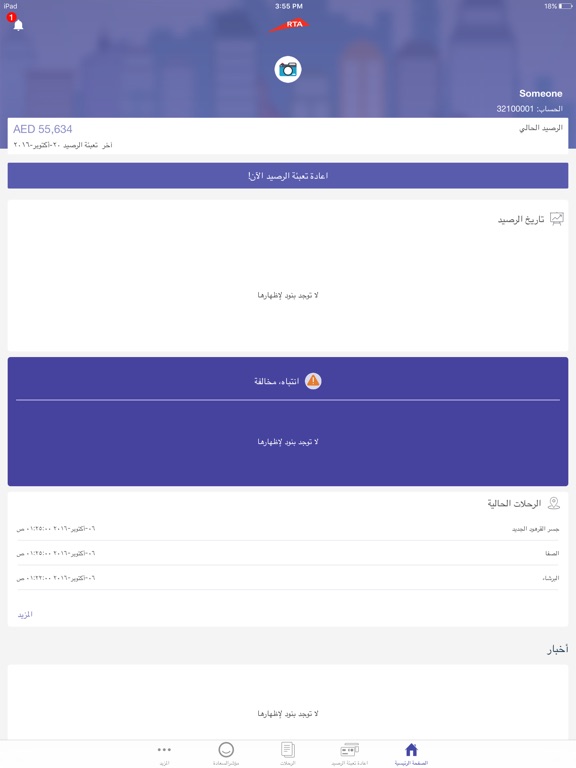 Customer Reviews
Works first time only
Please fix your application - I've been redownloading it time and time again to pay for my Salik card since May.

It is very annoying to have to redownload and renter the card details every single time.

Is the development team alive?
No Space for Activating my new Salik Tag
I am not able to find a place to link my new Salik Tag with my existing account. May be I am too novice in using the app but if i am as a new user struggling, it means the user friendliness aspect of the app can be improved.
Doesn't work
Worst app ever!!!!
Keep using the website instead of wasting battery, data and time.
Works properly for the first few times and then it never works!!!
Hope they fix it as soon as possible.
View in iTunes
This app is designed for both iPhone and iPad
Offers Apple Watch App for iPhone
Free

Category:

Utilities

Updated:

22 March 2017

Version:

3.0.3

Size:

135 MB

Apple Watch:

Yes

Language:

English

Developer:

TRANSCORE LP (DUBAI BR)
Compatibility: Requires iOS 8.0 or later. Compatible with iPhone, iPad and iPod touch.