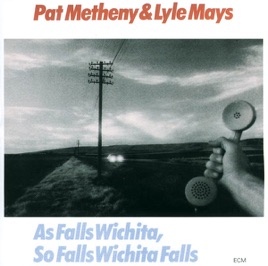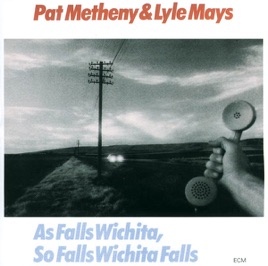 As Falls Wichita So Falls Wichita Falls
TITLE
TIME
PRICE

As Falls Wichita, So Falls Wichita Falls

Pat Metheny & Lyle Mays

20:42
Album Only

Pat Metheny & Lyle Mays

4:00
$1.29

Pat Metheny & Lyle Mays

7:42
$1.29

Pat Metheny & Lyle Mays

8:17
$1.29

Pat Metheny & Lyle Mays

2:41
$1.29
5 Songs

℗ 1981 ECM Records GmbH under exclusive license to Universal Music Classics & Jazz - a division of Universal Music GmbH
Customer Reviews
Without a doubt Metheny's best
Before life got complicated, before it got out of balance. Pat Metheny captured the essence and soul of the Mid-West in As Falls Wichita, So Fall Wichita Falls. In 20 minutes and 44 seconds you take a trip to heartland so vivid you can smell the harvest. For those fans of the movie "Fandango" you get a double treat September 15th and it's for You. For those who non-groovers, rent the movie … watch the last 20 minutes and see the best marriage of music and moving pictures in the history on film making. Metheny has very special way telling a story in all his works, in AFWSFWF he is in perfect form blending his string composition and percussions that make the music come alive. I am a big fan of Pat Metheny and if I was to be LOST As Falls Wichita, So Fall Wichita Falls would be the album I'll take to the Island.
As Falls Wichita, So Falls Wichita falls
Ozark may be the best pop instrumental I've ever heard. Fun. Catchy. Racing forward. It's got that Prokofiev thing going with a mid-West twist. And what a mad wild ride from Lyle Mays on the keyboard. The rest of the album is OK but forgetable. Ozark's kept me coming back to listen for 20 years now.
About Lyle Mays
Lyle Mays' style is difficult to describe, more atmospheric (with plenty of unique colors) than swinging and an invaluable part of the sound of the Pat Metheny Group. Mays played and composed for the North Texas State University Lab Band in the mid-'70s. He met Metheny in 1975, toured with Woody Herman's Orchestra (1975-1976), and then joined Metheny's band, continuing to play with the guitarist's group. Lyle Mays (who is also an excellent acoustic pianist) has recorded several albums as a leader for Geffen, including the excellent work Fictionary in 1992 and Solo in 2000. ~ Scott Yanow
ORIGIN

Wausaukee, WI

BORN

Nov 27, 1953