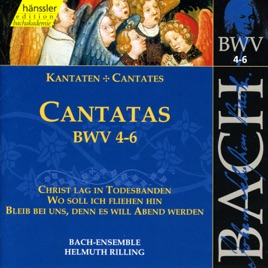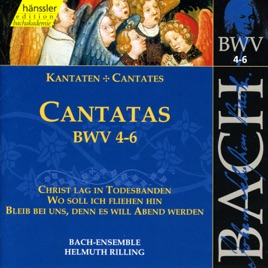 TITLE
TIME

Christ Lag In Todes Banden, BWV 4: Sinfonia

By Johann Sebastian Bach - Peter Schreier, Wolfgang Schone, Carolyn Watkinson, Edith Wiens, Stuttgart Gachinger Kantorei, Helmuth Rilling & Stuttgart Bach Collegium

0:55

Christ Lag In Todesbanden (Chorus)

By Johann Sebastian Bach - Peter Schreier, Wolfgang Schone, Carolyn Watkinson, Edith Wiens, Stuttgart Gachinger Kantorei, Helmuth Rilling & Stuttgart Bach Collegium

4:40

Christ Lag In Todes Banden, BWV 4: Duet: Den Tod Niemand Zwingen Kunnt (Soprano, Alto)

By Johann Sebastian Bach - Peter Schreier, Wolfgang Schone, Carolyn Watkinson, Edith Wiens, Stuttgart Gachinger Kantorei, Helmuth Rilling & Stuttgart Bach Collegium

3:22

Christ Lag In Todes Banden, BWV 4: Aria: Jesus Christus, Gottes Sohn (Tenor)

By Johann Sebastian Bach - Peter Schreier, Wolfgang Schone, Carolyn Watkinson, Edith Wiens, Stuttgart Gachinger Kantorei, Helmuth Rilling & Stuttgart Bach Collegium

2:19

Christ Lag In Todes Banden, BWV 4: Es War Ein Wunderlicher Krieg (Chorus)

By Johann Sebastian Bach - Peter Schreier, Wolfgang Schone, Carolyn Watkinson, Edith Wiens, Stuttgart Gachinger Kantorei, Helmuth Rilling & Stuttgart Bach Collegium

2:37

Christ Lag In Todes Banden, BWV 4: Aria: Hier Ist Das Rechte Osterlamm (Bass)

By Johann Sebastian Bach - Peter Schreier, Wolfgang Schone, Carolyn Watkinson, Edith Wiens, Stuttgart Gachinger Kantorei, Helmuth Rilling & Stuttgart Bach Collegium

2:45

Christ Lag In Todes Banden, BWV 4: Duet: So Feiern Wir Das Hohe Lied (Soprano, Tenor)

By Johann Sebastian Bach - Peter Schreier, Wolfgang Schone, Carolyn Watkinson, Edith Wiens, Stuttgart Gachinger Kantorei, Helmuth Rilling & Stuttgart Bach Collegium

1:58

Christ Lag In Todes Banden, BWV 4: Chorale: Wir Essen Und Leben Wohl (Chorus)

By Johann Sebastian Bach - Peter Schreier, Wolfgang Schone, Carolyn Watkinson, Edith Wiens, Stuttgart Gachinger Kantorei, Helmuth Rilling & Stuttgart Bach Collegium

1:30

Wo Soll Ich Fliehen Hin (Chorus)

By Anonymous & Johann Sebastian Bach - Wolfgang Schone, Arleen Auger, Aldo Baldin, Carolyn Watkinson, Stuttgart Gachinger Kantorei, Helmuth Rilling & Stuttgart Bach Collegium

4:00

Wo Soll Ich Fliehen Hin, BWV 5: Recitative: Der Sunden Wust Hat Mich Nicht Nur Befleckt (Bass)

By Anonymous & Johann Sebastian Bach - Wolfgang Schone, Arleen Auger, Aldo Baldin, Carolyn Watkinson, Stuttgart Gachinger Kantorei, Helmuth Rilling & Stuttgart Bach Collegium

1:10

Wo Soll Ich Fliehen Hin, BWV 5: Aria: Ergiesse Dich Reichlich, Du Gottliche Quelle (Tenor)

By Anonymous & Johann Sebastian Bach - Wolfgang Schone, Arleen Auger, Aldo Baldin, Carolyn Watkinson, Stuttgart Gachinger Kantorei, Helmuth Rilling & Stuttgart Bach Collegium

5:43

Wo Soll Ich Fliehen Hin, BWV 5: Recitative: Mein Treuer Heiland Trostet Mich (Alto)

By Anonymous & Johann Sebastian Bach - Wolfgang Schone, Arleen Auger, Aldo Baldin, Carolyn Watkinson, Stuttgart Gachinger Kantorei, Helmuth Rilling & Stuttgart Bach Collegium

1:37

Wo Soll Ich Fliehen Hin, BWV 5: Aria: Verstumme, Hollenheer (Bass)

By Anonymous & Johann Sebastian Bach - Wolfgang Schone, Arleen Auger, Aldo Baldin, Carolyn Watkinson, Stuttgart Gachinger Kantorei, Helmuth Rilling & Stuttgart Bach Collegium

5:47

Wo Soll Ich Fliehen Hin, BWV 5: Recitative: Ich Bin Ja Nur Das Kleinste Teil Der Welt (Soprano)

By Anonymous & Johann Sebastian Bach - Wolfgang Schone, Arleen Auger, Aldo Baldin, Carolyn Watkinson, Stuttgart Gachinger Kantorei, Helmuth Rilling & Stuttgart Bach Collegium

1:07

Wo Soll Ich Fliehen Hin, BWV 5: Chorale: Fuhr Auch Mein Herz Und Sinn (Chorus)

By Anonymous & Johann Sebastian Bach - Wolfgang Schone, Arleen Auger, Aldo Baldin, Carolyn Watkinson, Stuttgart Gachinger Kantorei, Helmuth Rilling & Stuttgart Bach Collegium

0:59

By Johann Sebastian Bach - Adalbert Kraus, Carolyn Watkinson, Walter Heldwein, Edith Wiens, Stuttgart Gachinger Kantorei, Helmuth Rilling & Stuttgart Bach Collegium

5:40

Bleib Bei Uns, Denn Es Will Abend Werden, BWV 6: Aria: Hochgelobter Gottessohn (Alto)

By Johann Sebastian Bach - Adalbert Kraus, Carolyn Watkinson, Walter Heldwein, Edith Wiens, Stuttgart Gachinger Kantorei, Helmuth Rilling & Stuttgart Bach Collegium

4:06

Bleib Bei Uns, Denn Es Will Abend Werden, BWV 6: Chorale: Ach Bleib Bei Uns, Herr Jesu Christ (Soprano)

By Johann Sebastian Bach - Adalbert Kraus, Carolyn Watkinson, Walter Heldwein, Edith Wiens, Stuttgart Gachinger Kantorei, Helmuth Rilling & Stuttgart Bach Collegium

4:26

Bleib Bei Uns, Denn Es Will Abend Werden, BWV 6: Recitative: Es Hat Die Dunkelheit (Bass)

By Johann Sebastian Bach - Adalbert Kraus, Carolyn Watkinson, Walter Heldwein, Edith Wiens, Stuttgart Gachinger Kantorei, Helmuth Rilling & Stuttgart Bach Collegium

0:59

Bleib Bei Uns, Denn Es Will Abend Werden, BWV 6: Aria: Jesus, Lass Uns Auf Dich Sehen (Tenor)

By Johann Sebastian Bach - Adalbert Kraus, Carolyn Watkinson, Walter Heldwein, Edith Wiens, Stuttgart Gachinger Kantorei, Helmuth Rilling & Stuttgart Bach Collegium

3:06

Bleib Bei Uns, Denn Es Will Abend Werden, BWV 6: Chorale: Beweis Dein Macht, Herr Jesu Christ (Chorus)

By Johann Sebastian Bach - Adalbert Kraus, Carolyn Watkinson, Walter Heldwein, Edith Wiens, Stuttgart Gachinger Kantorei, Helmuth Rilling & Stuttgart Bach Collegium

0:50
21 Songs, 59 Minutes
Released:

Jan 1, 2000

℗ 2000 haenssler CLASSIC
About Peter Schreier
Peter Schreier was one of the most highly esteemed tenors of the 20th century, particularly in German lieder, oratorio, and cantata performances as well as opera. His father was a church Kantor and gave him his first musical training. At the age of eight Peter was entered in the preparatory class of the famous chorus the Dresdner Kreuzchor.

He made his first operatic appearance as one of the Three Boys in Mozart's Die Zauberflöte in 1944, which led him to consider a musical career. At the age of 10, he was admitted as a boy soprano and rapidly rose to the position of first soloist with the choir. As such he sang on some of the first German LPs ever released, of Bach cantatas on Deutsche Grammophon's Das alte Werk imprint. He traveled to France, Scandinavia, and Luxembourg, among other destinations, on tour with the Dresden choir.

He remained with the choir as a tenor after his voice changed. In 1954, he began taking private voice lessons with Polster, while working as a member of the Leipzig Radio Chorus. In 1956, he entered the Dresden Musikhochschule, where his teacher was Winkler. Schreier studied both singing and conducting. He also studied at the Dresden State Opera's training school. In 1957, he appeared in the opera studio's production of Il matrimonio segreto as Paolino.

He graduated from the Musikhochschule in 1959, passing the State Exam, and joined the Dresden State Opera's company as a lyric tenor. His first professional appearance was there in the small role of the First Prisoner in Beethoven's Fidelio. During those years he made an intriguing concert tour to India and the African nation of Mali.

He sang a guest appearance at the Berlin State Opera and in 1963 gained a contract with that company as its leading lyric tenor. He made numerous guest appearances in the Soviet Union and other countries of what was then known as the Eastern Bloc, and appeared fairly often in the West, in Vienna and the Salzburg Festival in Austria, the Bayreuth Wagner Festival House in West German, in London (debuting in 1966), the Vienna State Opera (1967), Milan's La Scala (1969), and the Teatro Colón in Buenos Aires (also 1969).

He quickly won acclaim in particular for his portrayals of Mozart's main tenor roles and as a recitalist. He was also high praised for roles as diverse as Alfred in Die Fledermaus and Loge in Das Rheingold, and appeared in the premiere of Dessau's Einstein as The Physicist. He also sang the role of Almaviva in Rossini's Il barbiere di Siviglia, Fenton in Verdi's Otello, and Lensky in Tchaikovsky's Eugene Onegin, to name a few. He regularly sang in Bach's passions, cantatas, and other choral works, and became a treasured lieder singer. His Schubert was especially regarded for its highly expressive projection and shaping of the words.

He sang primarily on East German recordings, many of which are re-released on CD on the Berlin Classics label, and for the Philips label.
45 million songs.
Three months on us.
New subscribers only. Plan automatically renews after trial.