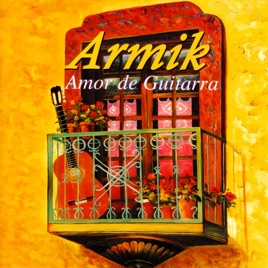 | | TITLE | | TIME |
| --- | --- | --- | --- |
| | | | 5:01 |
| | | | 4:54 |
| | | | 4:52 |
| | | | 4:53 |
| | | | 4:37 |
| | | | 4:44 |
| | | | 5:15 |
| | | | 4:55 |
| | | | 4:31 |
| | | | 4:43 |
| | | | 2:52 |
11 Songs, 51 Minutes
Released:

Jul 22, 2003

℗ 2003 2003 Bolero Records
Ratings and Reviews
Armik
This is album is great. Great music to listen when taking long drive. Keeps you upbeat.
Amor de Guitarra
Colorful symphony!! Love it!!
Good times!
This album is not only a beautiful listen, but it's a lot of fun! Put this album on while going on a road trip to get you ready for the trip!
About Armik
New flamenco guitarist Armik displayed an interest in and passion for music while still a young child. When he was just seven years old, he pawned his watch for a classical guitar, which he hid and practiced on in the basement. Formal music lessons followed and Armik completed the Rudolph Solphege program in two years; at 12, he was a professional recording artist. While his early career focused mostly on jazz, Armik discovered the beauty and passion of flamenco while visiting and studying in Spain during the '70s. He moved to Los Angeles to pursue this new direction, playing with other artists live and in the studio.

By 1994 he released his solo debut album, Rain Dancer, a critical and commercial success that he followed with 1995's Gypsy Flame. At this point, Armik's reputation as a performer and student of flamenco was such that expert Spanish luthier Pedro Maldonado created an instrument for him, the Rubia; Armik's 1996 album was recorded with and named after it. The following year saw the release of Malaga, and his fifth album, Isla del Sol, appeared in 1999, followed by Rosas del Amor in the spring of 2001. Released in 2002, Lost in Paradise showed him making a sensual and elegant album that offered a different take on his traditional flamenco.

His releases have consistently reached Top Ten positions on Billboard's charts of top-selling new age music, and during the 2004 Summer Olympics in Athens, two tracks from Armik's recordings were played during the floor exercises to accompany gymnast Daniela Sofronie of Romania. That year, Armik released his first album on his own Bolero imprint, Romantic Dreams. Releases such as Mar de Sueños and the compilation Desires: The Romantic Collection followed, and over the coming decade his output increased dramatically with a new album arriving nearly every year. In addition to more straightforward flamenco releases like 2005's Cafe Romantico and 2012's Casa de Amor, Armik issued several themed records like A Day in Brazil (2008) and Christmas Wishes (2006). A 2014 Greatest Hits collection covered various highlights from the first ten years on Bolero Records, and in 2015 he added a second volume to his popular Romantic Spanish Guitar series. ~ Heather Phares