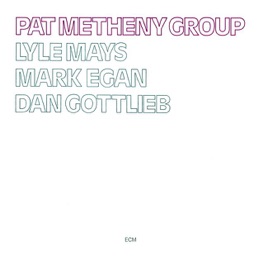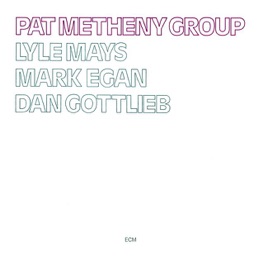 | | TITLE | TIME | PRICE |
| --- | --- | --- | --- |
| | | 10:13 | Album Only |
| | | 8:19 | Album Only |
| | | 5:36 | $1.29 |
| | | 2:09 | $1.29 |
| | | 8:13 | Album Only |
| | | 6:42 | $1.29 |
6 Songs

℗ 1978 ECM Records GmbH under exclusive license to Universal Music Classics & Jazz - a division of Universal Music GmbH
Customer Reviews
This album changed my life...
There I was, sitting on the sofa at my friend's apartment. It was a glorious Mid-Summer afternoon. I was young, out of school and expecting the same old Stones, or Dead, or Zepplin, or Deep Purple, or Santana etc... "Check this out..." he says... and then I heard the opening notes to San Lorenzo. I was astonished. It was opening day for my love and appreciation of Jazz, and in particular of the amazing and innovative work of Pat Metheny and Lyle Mays. Don't think... just get this one.
Pat Metheny Group
One of the best things about iTunes is that we can go back and get those albums that we missed. I have heard these songs several times in concert but never had the album. This is a good one. Thank goodness Pat is out there making music still. Great Album!
About Pat Metheny Group
One of the most original guitarists from the '80s onward (he is instantly recognizable), Pat Metheny is a chance-taking player who has gained great popularity but also taken some wild left turns. His records with the Pat Metheny Group are difficult to describe (folk-jazz? mood music?) but manage to be both accessible and original, stretching the boundaries of jazz and making Metheny famous enough that he could perform whatever type of music he wanted without losing his audience.

Metheny (whose older brother is the trumpeter Mike Metheny) started on guitar when he was 13. His talent developed quickly; he taught at both the University of Miami and Berklee while he was a teenager, and made his recording debut with Paul Bley and Jaco Pastorius in 1974. He spent an important period (1974-1977) with Gary Burton's group, met keyboardist Lyle Mays, and in 1978 formed his own group, which originally featured Mays, bassist Mark Egan, and drummer Dan Gottlieb. Within a short period he was ECM's top artist and one of the most popular of all jazzmen, selling out stadiums. Metheny mostly avoided playing predictable music, and his freelance projects were always quite interesting. His 1980 album 80/81 featured Dewey Redman and Mike Brecker in a post-bop quintet; he teamed up with Charlie Haden and Billy Higgins on a trio date in 1983; and two years later recorded the very outside Song X with Ornette Coleman. Metheny's other projects away from the group have included a sideman recording with Sonny Rollins, a 1990 tour with Herbie Hancock in a quartet, a trio album with Dave Holland and Roy Haynes, and a collaboration (and tour) with Joshua Redman.

Although his 1994 recording Zero Tolerance for Silence baffled his audience, Metheny retained his popularity as a consistently creative performer. In addition to recording for ECM, he has appeared as a leader on the Geffen, Warner Bros., and Nonesuch labels. Metheny has remained active in the 21st century, releasing Speaking of Now in 2002, the acoustic solo album One Quiet Night in 2003, Way Up in 2005, and Metheny Mehldau in 2006. Metheny and pianist Brad Mehldau returned to the studio the following year for Quartet. Metheny released the trio album Day Trip in 2008. Orchestrion, which featured a solo Metheny playing several acoustic instruments designed and built for him by Eric Singer, appeared from Nonesuch early in 2010. Metheny released What's It All About in June of 2011, his second solo acoustic guitar recording. Unlike any other entry in his large catalog, the set entirely comprised covers of pop songs by contemporary songwriters (from Paul Simon and Lennon and McCartney to Antonio Carlos Jobim, Burt Bacharach, and Hal David) who have continued to hold meaning for him throughout his career.

Metheny released Unity Band with saxophonist Chris Potter, drummer Antonio Sanchez, and bassist Ben Williams in June of 2012. In August the promised live The Orchestrion Project was released; it was a CD and DVD document of the one-man tour with the symphonic machine in 2010-2011. The guitarist made a compelling and independent left turn in the spring of 2013 in performing the work of composer John Zorn on Tap: John Zorn's Book of Angels, Vol. 20 on the Tzadik (owned by the composer) and Nonesuch labels simultaneously. Metheny's Unity Group continued to tour, and in 2013 reentered the studio. Kin, their second offering, was released in February of 2014.

In January of 2015, Metheny was part of a tribute to bassist Eberhard Weber, who suffered a debilitating stroke in 2007 and has not performed since. The evening featured works written and inspired by the bassist, played by various groupings of musicians and the SWR Big Band. Co-billed to the guitarist, saxophonist Jan Garbarek, and vibraphonist Gary Burton, it was released on ECM as Hommage a Eberhard Weber in September. Metheny then delivered the live album Unity Sessions and paired with trumpeter Cuong Vu for 2016's Cuong Vu Trio Meets Pat Metheny. ~ Scott Yanow & Thom Jurek, Rovi
ORIGIN

Lee's Summit, MO

BORN

Aug 12, 1954
Top Songs by Pat Metheny Group
See All
Top Albums by Pat Metheny Group
See All