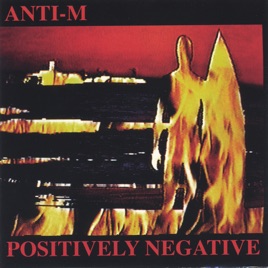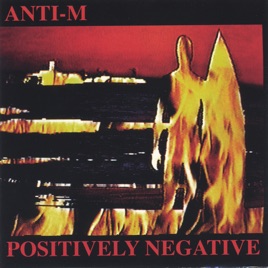 Positively Negative (Remastered-bonus Trax-w/guest Ronnie Montrose)
TITLE
TIME

Security

Anti-m & Ronnie Montrose

3:29

Television

Anti-m & Ronnie Montrose

3:24

Lonely

Anti-m & Ronnie Montrose

4:34
1:54
6:27
4:47
4:29

Iniki (instrumental)

Anti-m & Ronnie Montrose

5:11
5:52

The Saline Solution (brine)

5:27

Rap This Around Your Head

3:28
3:41
7:05
3:19

The Last Wave (extended)-instrumental

2:46

Silicone Rose (instrumental)

2:53

You Only Die Once (from the Film of the Same Title)

3:42

Security (instrumental) Bonus Track

Anti-m & Ronnie Montrose

3:25

Television (instrumental) Bonus Track

Anti-m & Ronnie Montrose

3:24
19 Songs, 1 Hour, 19 Minutes

℗ 2005 Topographic Productions
Customer Reviews
ANTI-M AND RONNIE MONTROSE
THE FOLLOWING REVIEW IS POSTED WITH PERMISSION FROM THE ANTI-M WEB SITE.
When I saw that Ronnie Montrose was involved in this project, I just had to check it out (even if it totally alluded me in its original release). After all this time, I wasn't sure what to expect from Ronnie: Would it be hard rock, a la Montrose? Would it be spacey kinda pop like Gamma or kinda jazzy like some of his instrumental releases? About all I can say is this: I wasn't expecting what I got! Anti-M is John Wardlaw, Ruston Slager, and Mark Rumer, a trio of retro-thinking futurists whose sound is very dark, not something that I would imagine Montrose would agree to playing. But... he did and the results are quite impressive! The imaginative hodge-podge that is POSITIVELY NEGATIVE was originally released in 1995; this ten year anniversary remaster features the original 17 tracks plus two bonus tunes, instrumental versions of "Security" and "Television"(BOTH FEATURING MONTROSE) Trying to nail down a musical thread in Anti-M's music is like hunting for the proverbial needle in the hay stack: Just when you think that you can put your finger on a certain style ('80s New Wave Electronica, English Goth, '70s metal, '90s hard rock, English pop, etc. ad infinitum), it's gone. The music is generally dark and crushingly claustrophobic, kinda like mid-era Depeche Mode or most of Tangerine Dream's output (even the seemingly happy and innocuous tracks, like "Why" and "Rap This Around Your Head," have an underlying menace that sneaks up and gut-punches you). The vocals by Wardlaw (known to all and sundry as "Wedge") and Slager (and I'm not really sure who's singing on what... I think that the majority of the leads are taken by Slager, though) can best be described as a synthesization of David Bowie, Leonard Cohen, Peter Steele, Peter Murphy, Greg Lake, and that guy from Rammstein. The guitars are generally crisp and up-front, though the bass and synths seem to be the forces driving the music. With Montrose only appearing on four of the original tracks (plus the bonus material), that means that the guitar has to come from somewhere. That somewhere is the supple fingers of Steve Weber who, though not an official member of Anti-M, also played on the group's debut, NO WAVES IN HELL; Wedge also adds guitar on several tracks. Trying to describe this release - other than to say that it is absolutely brilliant - has induced a headache the size of Nebraska, so I'm gonna quit trying, except to say this: I don't know if the guys in Anti-M are modern day visionaries or if they just got lucky with this record; whatever, POSITIVELY NEGATIVE is one of those rare beasts that should be in everyone's collection... no excuses! To secure your own copy of this musical masterpiece and to learn more about the band, go to the Anti-M web-site (www.anti-m.com). Do it now! We'll wait for you. - Darren Tracy, flushstl.com
Nothing Negative about Positively Negative.
So many of the songs on this album sound very 80's. But not so much like 80's pop but like 80's Electronica crossed with a bit of progressive rock. The songs are mostly short but they manage to cram a lot into each song. The bands latest album (Damage) has left most of this sound behind, but then again there always seems to be that underlying theme of techo structure on all the anti-m albums.

There is somewhat of a dark and "negative" theme to the lyrics on this album. A bit Gothic but then there are some songs with a sense of Humour (WHY). Security starts of the album with electronic rock with the keys playing point counter point with the guitars. Television is next , a bit of a joke song about the old idiot box. Lonely is almost like Tears for Fears and then in the middle it changes and goes into a jazzy bit with some cool slide guitar.

And then the album goes everywhere.

Saltation is more like metal or grunge. It is one of three songs that have this sound with THE SALINE SOLUTION being the coolest.
Nothing is a bit like Depeche Mode (but is not a cover of the song by the same name from the Masses album). The title track and Nothing are probably the darkest songs here and along with Security those three are my favorites.

I don't know what to say about Rap This Around Your Head. It's just different.

Overall a really cool mix of music I can't begin to classify into any genre. But I like it.

Enough Said.