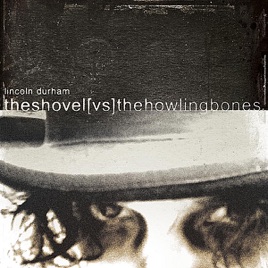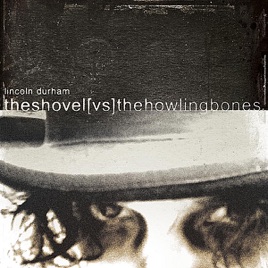 The Shovel vs. The Howling Bones
| | TITLE | TIME |
| --- | --- | --- |
| | | 4:23 |
| | | 3:10 |
| | | 3:26 |
| | | 3:22 |
| | | 3:27 |
| | | 3:10 |
| | | 2:36 |
| | | 2:57 |
| | | 3:19 |
| | | 3:23 |
| | | 4:46 |
11 Songs, 37 Minutes

℗ 2012 Lincoln Durham
Customer Reviews
He's Got The Goods
Look, do yourself a favor and buy the entire album, now. Don't pick and choose. This is songwriting and singing and playing at its best. Every song on the album is a gem. Trust me.
Worth the wait!
Couldn't wait for this album's release! Love, love, love the sound. Lincoln has a great style and talent. Looking forward to the next album…soon, I hope!
The real deal
I've seen Lincoln Durham play in and around Austin enough to know this was going to be good. I just didn't know how good. This album is what happens when someone with real raw talent gets tempered by an authentic legend like Ray Wylie Hubbard.

Imagine Tom Waits and Howlin' Wolf got into a drag-out fistfight in a whiskey bar, and you'll start to get the idea.
About Lincoln Durham
Describing himself as a "Southern-Gothic-Punk-Gospel-Revival One-Man-Band Preaching the Good Word of Depravity," Lincoln Durham is a singer, songwriter, multi-instrumentalist, and neo-country blues enthusiast. Durham was born in Whitney, Texas, but raised in Itasca, Texas. Adept at music from an early age, he was playing fiddle by the time he was four, competing in fiddle contests in Texas, Arkansas, and Oklahoma by the time he was eight, and at the age of ten, he won the Texas State Youth Fiddle Championship. Durham switched gears in high school when he discovered electric guitar, picked up a Strat, and formed a trio that specialized in Jimi Hendrix and Stevie Ray Vaughan covers. He took a break from music following high school to concentrate on his art and design interests. When he returned to playing music, it was with an old Gibson acoustic, a resonator, and a raw, sturdy slide guitar style that, given the dark, startling songs he was writing and his gruff vocals, made him sound like a cross between Son House and Tom Waits, or maybe a deep country blues version of Townes Van Zandt. Durham developed a one-man band sound that incorporated his neo-country blues leanings with stomp boards, guitar, mandolin, blues harps, and seemingly any instrument he chose to pick up, and his haunting, riveting live shows earned him a following. Mentored by Ray Wylie Hubbard, Durham moved to Austin, releasing a self-titled EP produced by Hubbard and George Reiff. A debut full-length, The Shovel vs. the Howling Bones, again co-produced by Hubbard and Reiff and including remastered versions of some of the songs from the EP, appeared in 2012 and quickly garnered rave reviews. A second album, Exodus of the Deemed Unrighteous, produced this time by Reiff alone, followed in 2013. In 2016, Durham returned with his third long player, Revelations of a Mind Unraveling. He supported the release with plenty of touring, including a string of dates opening for the Reverend Horton Heat. ~ Steve Leggett