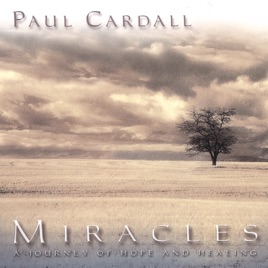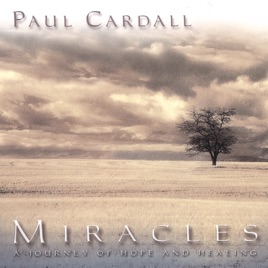 Miracles - a Journey of Hope & Healing
| | TITLE | TIME |
| --- | --- | --- |
| | | 4:47 |
| | | 5:00 |
| | | 3:11 |
| | | 6:30 |
| | | 3:31 |
| | | 4:13 |
| | | 3:45 |
| | | 3:00 |
| | | 2:54 |
| | | 4:11 |
| | | 2:04 |
11 Songs, 43 Minutes

℗ 2003 Stone Angel Music, Inc.
Ratings and Reviews
Cardall is amazing!!!
This album is sooooo uplifting! The songs are peaceful and awesome! I love all of them!
Kudos to Paul Cardall
These are amazing pieces of music. Im sure a lot of can relate to these!
This music is truly healing
This album magically appeared in my home by no accident. The melodies are so soothing and healing. This artist has assisted me in healing my heart in a very difficult time in my life. This album truly lives up to it's name. Thank you Paul for creating this.
About Paul Cardall
Contemporary jazz pianist Paul Cardall was born April 24, 1973; suffering from a congenital heart defect, he was given only days to live but defied medical expectations, enduring a series of surgeries and illnesses throughout his childhood. Finding comfort in music, Cardall began piano lessons at age eight but quit six months later, not playing again for a decade. While in high school, however, tragedy struck when one of his best friends was killed in a car accident; a grieving Cardall spontaneously composed a musical tribute, going on to write a dozen more songs and in 1995, privately pressing an album. Around that same time he took a job playing piano at a local department store during the holiday season, and selling his record to customers; one copy of the disc made its way to author Richard Paul Evans, the writer of the best-seller The Christmas Box, who invited Cardall to write and record a musical adaptation of the book. The resulting album, also titled The Christmas Box, was released in 1997; upon signing to the Narada label, Cardall reissued the album two years later in conjunction with a new effort, The Looking Glass, which, like its predecessor, drew inspiration from Evans' novels. Cardall issued two albums in 2002, Daily Devotions and Miracles: A Journey of Hope and Healing. Stone Angel has distributed many of his releases, including 2004's Christmas Hymns, Vol. 1 and 2007's Songs of Praise. His 2009 effort Sacred Piano began his relationship with Shadow Mountain Records, the label that released his 2011 effort New Life, which debuted at number one on the Billboard New Age Charts. He released two albums in 2014: Saving Tiny Hearts and New Life. 40 Hymns for 40 Days was released in 2015, and A New Creation followed in 2016. ~ Jason Ankeny
GENRE

BORN

April 24, 1973