13:20:Sync
By The RedHouse Apps
Open iTunes to buy and download apps.
Description
This app puts the Mayan Dreamspell Calendar in your pocket!
"13:20:Sync makes it so much easier to understand and integrate the calendar into every day life. Highly recommend it."


- Did you ever realize that our (Gregorian) calendar is not a harmonic calendar?
- Did you know that the moon has 13 (not 12!) orbits around the earth in 1 year?
- Why do we live with this irregular calendar?
- Are you interested in Astrology?
- Did you know the Tzolkin relates as much to organic processes on the earth as to celestial cycles in the heavens?

-> All this, and more, is explained carefully in this app. (over 15.000 words on 37 pages)


The Mayan People have described, in breathtaking precision, the cycles of both the universe and nature around us. They created a harmonic calendar that is synchronized to all those cycles. Following these cycles can help you get a stronger connection with nature around you and become conscious of your essence.

This app is a simple tool that helps us to raise our frequency and gives us a new lens to view both our day-to-day and planetary events.


In the New Time, synchronicity is the norm.




/////////////////////////////////////////////////////////////////
5 star rating across the world!
/////////////////////////////////////////////////////////////////
"Entertaining as well as enlightening"
/////////////////////////////////////////////////////////////////

MORE INFO:
www.1320sync.com


For the beginner this app is a learning tool because it contains an extensive explanation about Tones and Seals and the synchronizing order of the Mayan Astrology. You may think it's difficult at first but soon you will feel how it all connects.

"This app is great, and allows easy manipulation of dates. I spent years in books doing in hours what I can now do in seconds."

For the ones who are already familiar with the Mayan Calendar this app is a handy tool to navigate through the days, and calculate the Combined Kin for any given combination. Furthermore this app can be of great assistance to teach other people about the 13:20 cycles and is used in teachings around the world.


=== FEATURES ===

+ Kin Calendar
Shows the Kin of today by default.
Calculate the Kin for any other date.

+ Kin Picker
Select any combination of the 13 Tones and 20 Seals.
Top section can scroll to 4 pages with information.

+ Tzolkin with indication of the GAP day's and Wavespell in Kin Calendar and Kin Picker.

+ Contact Import
All contacts in your Contacts App will be automatically imported and assigned to the correct Kin. See all your friends with their Mayan Reading and your Combined Kin with them.
Possible create e-mail with a Maya Reading of your contacts.

+ 13 Moon Calendar
Full integration of 13 Moon Calendar. (doubles as a birthday calendar!)

+ 13:20 Information
Lots of information about the theory behind synchronization to help you navigate the Mayan Dreamspell Calendar. The texts are taken from the www.lawoftime.org website and provide a clear explanation of the Cycles of Time. (over 15.000 words on 37 pages)

+ Combined Kin Calculator
Calculate the Combined Kin of any combination of Kin. You can add as many Kin as you like to calculate the Combined Kin for a group of people.


# Based on the work of José Argüelles.
# This app was made with permission of and in cooperation with the Foundation of Law Of Time - www.lawoftime.org,
# Ariel Spilsbury.
What's New in Version 2.1
- Fixed issue for some users on iOS 6 that prevented contact import. Please let me know if there is any trouble with contact import after this update.
- Removed date limit in calendar.
- Minor tweaks and enhancements.
iPhone Screenshot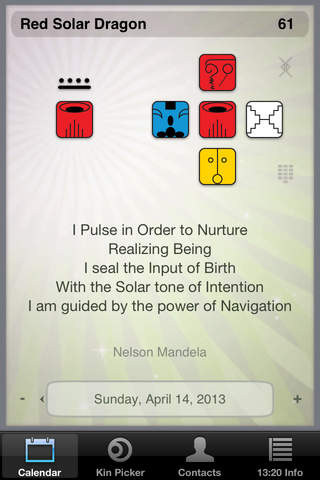 Customer Reviews
Red Spectral Serpent
Every morning at sunrise, just before or after yoga, I open this app with the intention of keeping my system in sync with the natural 13 moon cycle. To see how warped the Gregorian calendar is vs. the perfectly synchronized Mayan Calendar, touch the "13/20 info" spot, then "why sync" and scroll down to where there is a side by side comparison of the 2 calendars. You will easily and immediately see why your system wants to align with the perfect/natural 13 moon cycle/calendar. I was one of the original 144,000 people who received Jose Arguelles' original Dreamspell kit in the late 80's. This app is based entirely upon that work, which I greatly appreciate. Jose studied the Mayans, including their system of time observation and space connection. He then created the kit with individual kin pieces that could be moved around on a game-like board with an area for the wavespell and a book that translated each symbol. All of those features are in this app. But now, instead of a large board with little pieces that cats can knock around, it's just a few clicks on the phone and you are there! Thanks to the creators of this app. It's well worth $1.99
Wonderful!
Wow! What a gift this app has been for me. I have been studying the calendar for many years now and this app has taken integration to a new level. Eye opening and inspiring explanations of tones and seals. I highly recommend this app. The contact integration is genius and makes it so easy to look up someone's kin. Thanks so much for the time put into this app. I honor your dedication to sharing the deep wisdom of the Mayas.
Best Mayan Calendar
Simple, intuitive, attractive interface provides ready access to the current conditions guiding the day. Seeing my contacts appear automatically and then being able to see who I surround myself with and how they assist me...magic!
View In iTunes
$1.99

Category:

Navigation

Updated:

Mar 01, 2013

Version:

2.1

Size:

5.4 MB

Languages:

English, Spanish

Seller:

The RedHouse Apps
Compatibility: Requires iOS 4.3 or later. Compatible with iPhone, iPad, and iPod touch.