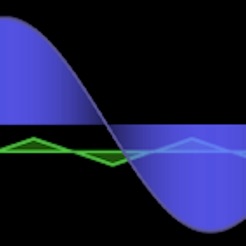 Description
The aardvark synth is a virtual analog synthesizer with a unique multi-touch interface that lets you control modulators, envelopes, and other settings simultaneously. The waveform display changes in real-time as you tweak synth parameters.



You can choose among four waveform modes (sine, sawtooth, pulse, and noise). In general, the 1st touch controls the carrier oscillator, the 2nd touch controls the modulating oscillator, and the 3rd touch controls the envelope.



The pulse wave mode includes a delay effect and the white noise mode includes a bandpass filter.





INSTRUCTIONS

You can use up to three simultaneous touches. After multiple touches have started, you can lift other fingers to focus on a specific touch.



You change the pitch of an oscillator with up and down movement. Left and right movement changes either the amount of modulation or the waveform shape, depending on the waveform mode.



The attack of the envelope is changed by left and right movement. Envelope decay is changed by up and down movement. Drag to the top left corner to turn off the envelope.





FUNCTIONALITY DETAILS

PANEL 1: Sine

- 1st finger Up/Dn: pitch of oscillator

- 1st finger L/R: changes amount of modulation (right is max, left is "negative" max, middle of screen is none)

- 2nd finger Up/Dn: pitch of modulator

- 2nd finger L/R: changes waveform shape of modulator (sine, triangle, sawtooth, random, square)

- 3rd finger Up/Dn: changes envelope decay

- 3rd finger L/R: changes envelope attack



PANEL 2: Sawtooth

- 1st finger Up/Dn: pitch of oscillator

- 1st finger L/R: changes harmonics (left is sine, right is sawtooth)

- 2nd finger Up/Dn: pitch of modulator

- 2nd finger L/R: changes amount of modulation (left is none, right is max)

- 3rd finger Up/Dn: changes envelope decay

- 3rd finger L/R: changes envelope attack



PANEL 3: Pulse

- 1st finger Up/Dn: pitch of oscillator

- 1st finger L/R: changes number of harmonics (left is sine, right is max)

- 2nd finger Up/Dn: delay feedback amount

- 2nd finger L/R: delay length

- 3rd finger Up/Dn: changes envelope decay

- 3rd finger L/R: changes envelope attack



PANEL 4: Filtered Noise

- 1st finger Up/Dn: center frequency of filter

- 1st finger L/R: "Q" of filter bandwidth

- 2nd finger Up/Dn: changes envelope decay

- 2nd finger L/R: changes envelope attack
iOS4 support.

Random modulation mode in sinewave panel.

Fixed crashes when running on iPad.

Fixed routing problems when connecting/disconnecting headset.

Fixed audio breakups after incoming call interruptions.
Customer Reviews
Interesting Toy
For iPad you can't save settings or audio clips makes this nothing more than a toy. It is fun to play around with it but that's all you can do. Pulse has a defect where a one finger touch to the left (sine) anywhere mid-screen to bottom you lose the audio and short of shutting down the app I have found no way to get it back. Does not support iPad native mode. Have to use the pixel doubler. Single portrait mode only and no landscape mode. After 15-20 minutes it really has not much to offer.
Excellent App
This is a really great app for experimenting with audio - especially for kids. Sort of a mini performance oriented UPIC. I second the feature request for a way to get data in and out of the app, but all in all a really great app.
Just a lot more than a toy
Easy, effective, direct response, great to use on stage for fast electronic sounds improvisation. The best for me!
Information
Seller

MATT INGALLS

Size

298.2 KB

Category

Compatibility

Requires iOS 3.1 or later. Compatible with iPhone, iPad, and iPod touch.

Age Rating

Rated 4+

Copyright

© 2010

Price

$1.99
Supports
Family Sharing

With Family Sharing set up, up to six family members can use this app.