All-in Yoga
By Plus Sports
Open the Mac App Store to buy and download apps.
Description
All-in Yoga is on SALE with 50% off today!

Now you can enjoy this amazing app on your MAC!

- Over 250 poses and breathing exercises with detailed instructions, photo, video and voice guidance plus special yoga tunes for efficient sessions!
- 25 ready-made programs compiled by an experienced yogi are ideal for rookies and will push the limits of pros as well.
- A special algorithm will choose the best individual program for you according to your goals, level and time limits.
- An ideal tool to create your own programs: make up and edit your own yoga routine quickly and easily!

Features:

RICH CONTENT
- over 250 poses and BREATHING EXERCISES including the most popular and those recommended by professional yoga practicers
- text, voice instructions plus PHOTOS AND VIDEOS FOR EACH POSE
- NAME VOICING in English and Sanscrit for all poses
- FULL-SCREEN for training mode

BREATHING EXERCISES
- 40+ breathing exercises for every level: learn the art of yoga breathing
- 4 pranayama programs help you relax and meditate
- clear audio and text instructions + video for every exercise showing correct techniques of breathing
- breathing timer

25 READY-MADE PROGRAMS
- 2 modes of program selection for every level
- Personal Yoga Teacher mode: a unique algorithm will choose a ready-made program according to your parameters, goals and time limits
- Quick Recipes mode: browse through the list of 25 programs created by professional yogis and choose the one you like.

DESIGN YOUR OWN PROGRAM
- fast Mode is an ideal tool to build programs of any level
- create and edit your program quickly and easily: choose from the list of poses, set the duration of each pose
- change the order of poses, delete poses from the program or add new ones
- Forward/Back buttons for switching between poses in the Training mode

EXTRA FEATURES
- interval timer: set the duration of poses and it will alert you when you need to change pose
- 3D muscle models for all poses
- Calendar: browse through the past trainings to track your activity.
- be inspired for new achievements every day: find an encouraging quote from famous yoga practicers in the Calendar.
- 6 selected tunes that can accompany every program
What's New in Version 1.3
- updated for OSX Lion
- minor technical corrections
Screenshots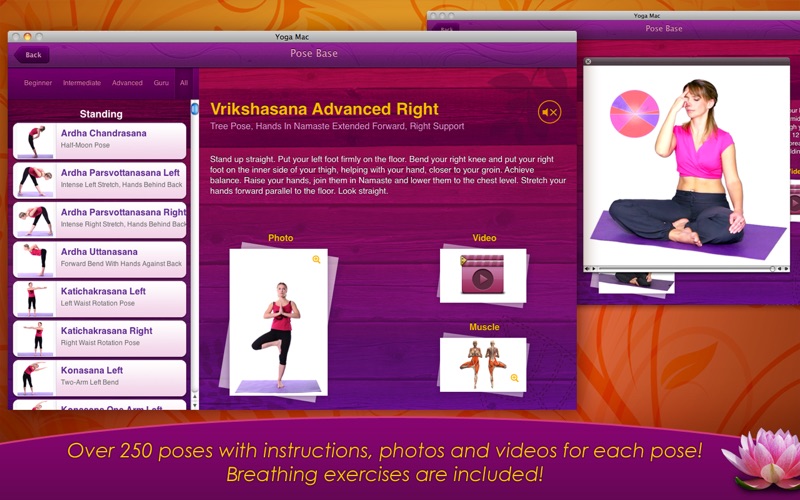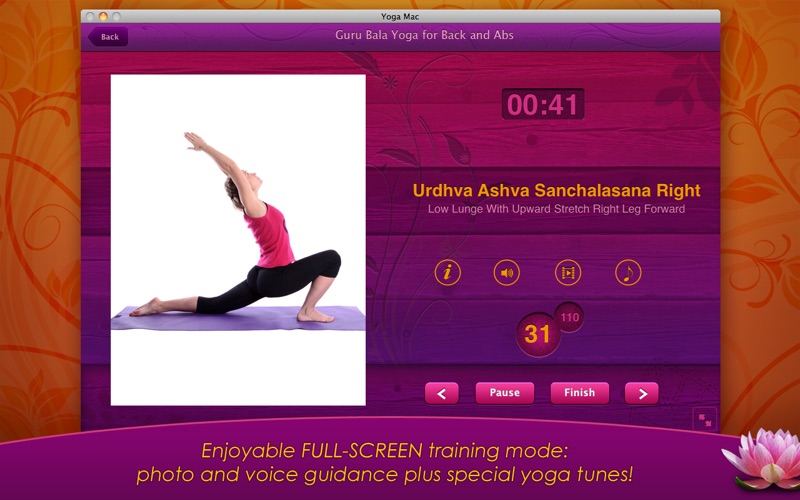 Customer Reviews
Love It!
I was stoked to start doing yoga to help me with flexibility, stretching, breath work, and general better health and awareness. After thinking critically about the cost and what is entailed in going to a yoga studio and the way that I want to practice yoga, I realized the infeasibility of that. This provides a perfect way for me to practice yoga daily, when I can squeeze in time without worrying about travel and parking time to a studio and cost-I'm a poorly paid grad student. I can just do sun salutation to get some stretching and quiet reflective time in or do sun salutation and another program. I am super excited and satisifed with this app! I have been telling friends that they should just download it. The explanations and videos demonstrating the movements and breathing techniques have been super helpful as some of them I was unfamiliar with. I haven't tried to create anything as I still think I am too young to know what to put together or why but it is nice to have that possibility. As well as being able to have the app create one for you based on some specifications. I only wish I knew what style of yoga this was. And I wish the create a program piece could do one for children. But I am happy, happy, happy! Thank you!
Could be so much better
I've only used this program a few times. I like the ability to make custom routines. However, it is difficult to search thru all the poses to construct the routine. One bug is when you look at all the poses…they're supposedly arranged according to style, e.g. sitting and twisting, standing, on your stomach, etc. The poses don't seem to fit the style categories…why not? Also, when you want to loop or repeat a set of asanas, you have to re-enter each pose individually. No way to duplicate a set. Ugh! Yoga is relaxing, but editing routines in All-in-Yoga, is not! Also, when you try to have the Personal Yoga Teacher generate a routine based on your personal preferences, I don't seem to get good results. Shouldn't gender be considered when setting up a personal routine? Just Age, weight, goal, style, and duration are offered. I'll continue to use this program, but really wish it was polished up a bit. Also, get rid of the pink/fuschia color scheme…ugly. Make it more gender-neutral, cause there are guys who need to do this too!
Pleasantly surprised
I really like this app. I havn't been consistent with my yoga practice so starting off with the pre-installed lessons has been a pleasant warm-up. Now that I'm familiar with this app, I was really excited to create my own program made up of my favorite asana sequence but it's a bit tedious. It took me a "minute" to figure out how to edit the amount of seconds for each pose & I dislike having to sroll the entire list up & down searching for the desired pose. If you include a search engine to locate asanas quickly along with filter options to segrate the right side from the left side poses; standing; sitting & twisting; lying on stomach/back (rather than scrolling the entire list from top to bottom), this app would be perfect. I hope you incorporate the search engines along with the filter options in an update. Seriously, this app is awesome. I like the videos & explanations… overall thumbs up.
View in Mac App Store
$4.99

Category:

Health & Fitness

Updated:

Nov 18, 2011

Version:

1.3

Size:

1.43 GB

Language:

English

Seller:

NELURRA HOLDINGS LIMITED
Compatibility: OS X 10.6 or later, 64-bit processor