American Dominoes
By Rogobete Christian
This app is only available on the App Store for iOS devices.
Description
Throw some 'bones' with American Dominoes!

Gamers can play the 3 most popular versions: Five-Up (Spinner), Draw and Block. Learn how to play american style dominoes through the help tutorial, a training mode and in-game hints.

Compete against the computer, a friend or against other players from all over the world by sending your best score to our online high scores server.

Get now the first and only full-featured american style Domino game in the AppStore that lets you play off the spinner!

FEATURES:

- one and two player modes
- two player Wi-Fi mode
- scoring and training modes
- beginners tutorial and in-game hints
- 9 boards and 7 tile sets
- 3 levels of difficulty (easy, medium, hard)
- start with 7 or 9 tiles
- start by highest double or by draw
- score by multiples of 5 (FIVE-UP)
- score up to 150, 250 or 500 points
- sound music and animation
- switch off game music for iPod audio (settings)
- option of rotative start, jail mode
- and much more ...
What's New in Version 2.2.1
- AI improvements
iPhone Screenshots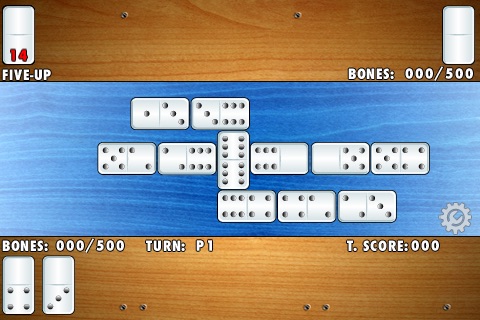 Customer Reviews
Pretty good; could be better
While I've enjoyed playing this game, it could use a few improvements. The game is set to "landscape", which makes sense, but one of the most annoying things is having to move the board back and forth when the string of plays gets too long to fit in the window. There is an icon in the lower right of the field of play for that brings up a "Cancel" window and it is sometimes in the way and you can't see the domino on the right end of play. Another example, if you choose to play a domino from your rack, you can't change your mind. If there is only one place to play the domino, it plays it right away. But if there are multiple places to play it, arrows point to the various options. If you decide that wasn't the best one to play ... tough. One final thing; in playing real dominos, for strategy moves I sometimes draw from the bone pile even if I have a play. I assume this is legal because you're taking the risk of getting caught with extra dominos, giving the opponent points. But, this won't let you do that. It seems you can only draw when you don't have anything to play. On the positive side, it won't let you draw a domino when you have a play that you didn't see. Hope that helps.
Dominologist
I've played Dominos for a very long time and I rarely come across anyone or program I lose to very often. I felt like I was playing my 9 bones against the computer's choice of the rest of the yard. The computer scores at will regardless of what is played and, as mentioned below, almost always gives you doubles when drawing. How is it that I can pull six of one suit, drop the double and the computer have the only other bone and have that happen numerous times

If the computer pulls from the boneyard, 8 out of 10 times it pulls once and plays, 8 out of 10 times it will score on the draw, 8 out of 10 times you will pull more than twice each time in the yard, & 9 out of 10 times you will pull at least one double on your first pull each time in the yard. Those facts, though true, should be about as unrealistic as beating the computer with a 9 bone hand scoring 250 to 0...which I did...but only once.

To those below, if your screen doesn't allow you to scroll or you wish to choose a different domino to place down while the arrows are blinking, simply exit the game and reenter. Do not restart, just exit the game and reenter.
It's killing me not to give it a 5 but...
Let me start by saying this is still the best domino app that's offered and probably the #1 game I play overall, but there are still a lot of improvements that need to be made to improve the overall game play. 1st, the artificial intelligence needs help. Why would the computer play double 2 when it needs 5 points to win and has big 5 in it's hand? 2nd, whenever you're sent to the boneyard, you pull so many bones and more times than not will get 2 or 3 doubles in a row. 3rd, when you have more dominoes than you're screen allows, it's hard to swipe to view all the dominoes without accidentally playing one of them. Lastly, I would love to sees some kind of score and win/loss record keeping included. Thanks in advance.
View in iTunes
$1.99

Category:

Games

Updated:

Apr 27, 2009

Version:

2.2.1

Size:

8.0 MB

Language:

English

Seller:

Rogobete Christian
Compatibility: Requires iOS 2.1 or later. Compatible with iPhone, iPad, and iPod touch.
More iPhone Apps by Rogobete Christian