Anchor Pointer — GPS Compass (Find your parked car)
By Alexander Deplov
Open iTunes to buy and download apps.
Description
Anchor Pointer — Find your way back by compass.

# ABOUT
Anchor Pointer is an iPhone app, that allows you to store GPS positions and find those back using a compass. Use it to re-find your car wherever it was that you parked it.

This application also allows you to meet up with friends in open areas, such as large parks without using maps, moreover it will help you to find your car at a parking lot.

"Anchor Pointer is beautifully designed and works like a charm."
— Paul Sawers, The Next Web.

"Anchor Point is a handy tool for adventures and travelers."
— John-Michael Bond, TUAW.

"Anchor Pointer doesn't bother with mapping facilities, it just works as a compass for locations that one wants to go to."
— Jennifer Allen, 148apps.com


# A LOT OF OPPORTUNITIES

1. Add an anchor. By adding a GPS anchor, you can set the name of the current location and assign an icon to it from the predefined set of icons.

2. Favorite locations list. While accessing the list you will see all the previously saved anchors and those ones that are within 55 yd will appear in green.

3. The function "meet a friend". If you need to meet someone in a large open space, activate "meet a friend" and establish communication with the one friend. When the connection is established, both your compasses will point at each other. The odometer you will show you how far away you are from each other.

4. Using Anchor Pointer you can save your parking position and later find your car by following the compass arrow, there is no easier or faster solution on the market!


# EXAMPLES OF USAGE

Walking outdoors. Anchor Pointer allows you to save the location of places where no man has gone before, even where no detailed maps exist. For example, you can save the coordinates of the most remote location in a beautiful forest, snow-covered mountain peaks with a magnificent view, an oasis in the desert or your favorite place in the national park.

Use Anchor Pointer at sea! If you like fishing or sailing, you can save your location and come back later to the exact same point. Anchor Pointer stores the current latitude, longitude and altitude.

Anchor Pointer is also convenient in the city: save the location of favorite cafes, restaurants, hot dog shop, favorite places in parks or friends homes. Your imagination is the limit!

# AUTOMATIC NIGHT MODE

Human eyes don't see well when it's dark around you. Blinding them with bright screen of the phone makes it hard to see the road ahead. Instead of making you decrease the brightness of the screen - we've created night mode in Anchor Pointer, which automatically switches to dark theme at night time.

ATTENTION: Apple Watch users keep in mind that because of Apple Watch limitation we don't able to show compass with direction and distance on the Apple Watch. Such feature can be added to the app only when digital compass will be added to the Apple Watch.

Compass doesn't work? Please make sure that your GPS calibration turned on in the iOS Settings / Privacy / Location Services / System Services / Compass calibration.

Dear car owners, please keep in mind that because of GPS technology limitation you don't able to find your car on underground parking. Please use the app only in an outdoor parking lot.

# FUNCTIONS

· Keep any GPS coordinates without reference to a map
· Drop anchor on map and follow by compass
· Use a compass which indicates the direction to your GPS point, distance, and the difference in altitude
· Use the function "meet a friend" in the park or any public place. Required Facebook account.
· Park and find car with one tap
· Automatic night-time interface
· Metric and imperial system for measures
What's New in Version 1.2.1
Hi, my name is Alex and here is what's new:

— Anchor Pointer now support Apple Watch
— Danish language localization
— iPhone 6 and iPhone 6 Plus support
— New mushroom icon

Improved:
— You can now delete anchor from the edit mode.
— Minor improvements

Please rate the Anchor Pointer on the App Store, your positive rating will inspire us to keep improving it.

Follow me on Twitter: http://twitter.com/pleeq_com
Or Instagram: https://www.instagram.com/pleeq_com/
iPhone Screenshot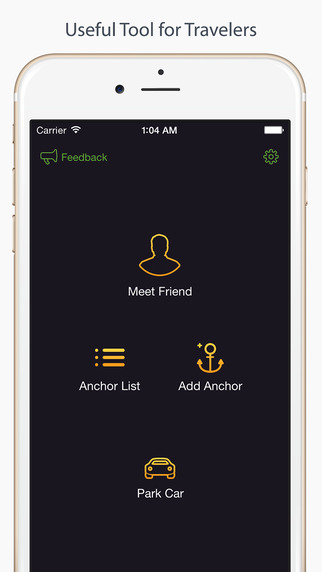 Apple Watch
Customer Reviews
One of my top 5 essential traveling apps
I travel extensively, and while I have apps for trains, metros, busses, when I'm walking, I almost always rely on Anchor Pointer. You've discovered a great restaurant or shop, drop an anchor. Aren't sure how to get back to the metro station, drop an anchor. I spent the summer in Florence, Italy. Anchor helped me find my way quickly along the twisting streets and alleys. Now in Paris, it's doing the same thing.

Two suggestions to improve it just a little more:
1. I would love a way to organize my Anchors. Currently, the default is last entered, first one to show up in the list. I tag my anchors and would like to organize them, e.g., Paris - great bakery in the 11th. Now I have to scroll down the list (which has gotten pretty long) to find this Paris entry.
2. Sometimes the app needs to recalibrate. No problem; it's quick. It would be nice to "force" a recalibration sometimes, for example, when you're coming out of a underground metro.
Simple, Easy, and Fast!
The app loads up quickly and is so simple! You must have some intuition in your own in order to understand the commands...because they are very SIMPLE!

After a quick demo (flashing arrows showing you where to click) on how to put a pointer (or pin) down and save it, you then see how far your phone is from that pin. You can then edit or delete it or go back and add new. Very basic GPS coordinating system with a genius GUI that mixes old GPS technology with new technology.

Also, if you are heading somewhere and only want to know the "general heading" this can help you find that and save you from using your battery for GPS turn by turn.

All in all...awesome! Especially for off-roaders, hikers, and the like!
Navigation: the total package
Easy to use— just click on add anchor when you are at any location you frequent. Includes detailed map of location area and directions. Minimal data input required of user!

Could use explanation of on-screen items. Definitely need to be able to alphabetized Anchor List.
View In iTunes
Offers Apple Watch App for iPhone
$3.99

Category:

Navigation

Updated:

Apr 15, 2015

Version:

1.2.1

Size:

10.8 MB

Apple Watch:

Yes

Languages:

English, Czech, Danish, Dutch, French, German, Italian, Japanese, Korean, Malay, Polish, Portuguese, Russian, Simplified Chinese, Spanish, Swedish, Thai

Seller:

Alexander Deplov
Compatibility: Requires iOS 8.2 or later. Compatible with iPhone, iPad 2 Wi-Fi + 3G, iPad Wi-Fi + Cellular (3rd generation), iPad Wi-Fi + Cellular (4th generation), iPad mini Wi-Fi + Cellular, iPad Air Wi-Fi + Cellular, iPad mini 2 Wi-Fi + Cellular, iPad Air 2 Wi-Fi + Cellular, iPad mini 3 Wi-Fi + Cellular, iPad mini 4 Wi-Fi + Cellular, 12.9-inch iPad Pro Wi-Fi + Cellular, and 9.7-inch iPad Pro Wi-Fi + Cellular.