Lighten - Brainstorming & Mind Mapping by XMind
By XMind Ltd.
Open the Mac App Store to buy and download apps.
Description
Proudly Presented by XMind

Lighten is a mind mapping app for the best way to clarify thinking, boost productivity, brainstorm, and visualize concepts on your iPhone and iPad.It offers a perfect balance between powerful features and ease of use.

Lighten is designed to be simple, but it has strong features. You can use it with iCloud to save and sync your mind maps. Lighten is a great choice to organize your mind, write notes, adjust plans and so on.

Feature highlights:

- create mind maps by simple taps
- many business style themes to choose
- highlight topics with stars
- add notes
- create to-do lists with tri-state checkboxes
- add relationship between topics
- share mind maps by .lighten file, text, Markdown, image, PDF and .XMind
- import XMind files*
- support iCloud Drive
- and more...


Capture Ideas Instantly

Not only does mind mapping unleash your imagination, but also capture it for you. Lighten for Mac records your ideas and sparkles on the go into your mind maps, not letting them escape! Have fun!

Take Meeting Notes Conveniently

Elites always encounter information overwhelm in a lot of meetings. Lighten help you brainstorm, clarify thinking and note important things down on your Mac during the meeting, and share your meeting mind maps to colleagues.

Pretty Themes and Business Styles

With many different themes, Lighten help you make pretty mind maps quickly. Simple click lead you to choose among various types of themes. Business style themes assist you to make professional mind maps for work.

Lighten Up

In a big mind map, a star easily stands out. In Lighten, you can star the topic to highlight it, to make it eye-catching and easy to remember and understand!

Mind Mapping with To-do lists

To-do lists with tri-state checkboxes are embedded into Lighten to help you make schedules and do task management, boost your productivity and save your time. Lighten, seamlessly working with your imagination, makes your work more efficiently than ever.

Lighten for iOS

Lighten also provide application for iOS. Therefore, you can use Lighten both in Mac and iPhone/iPad conveniently. All the maps can automatically sync to all devices by using iCloud. You can download iOS version from App Store.

*Some additional elements of XMind files are not supported yet. Lighten's new beautiful themes will automatically apply to the imported mind maps.

Send us feedbacks: lighten-support@xmind.net
What's New in Version 1.1
1.1

-Fix some bugs
-Add export to Single File

Lighten can open 'Lighten files' which are exported from XMind as well.
And also, the Lighten website looks fresh this time:)Welcome to visit: http://lighten.xmind.net
Screenshots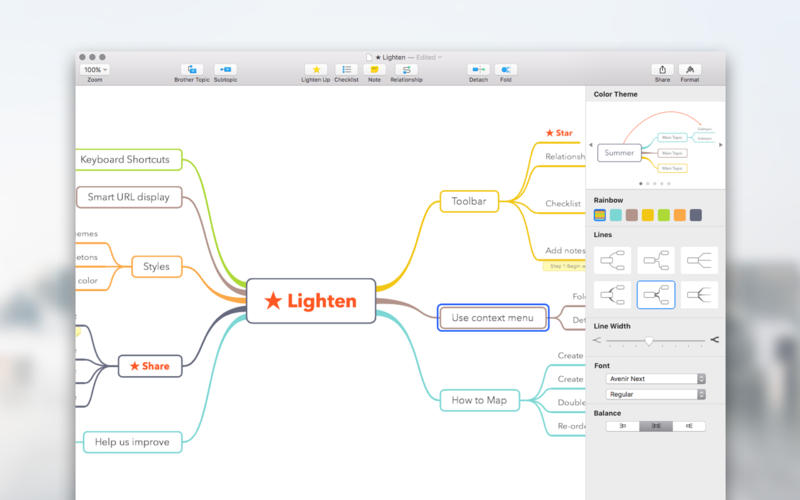 Customer Reviews
It's a quick and easy braninstorming app
I wrote in content creation, and that includes writing articles for clients. After you wait for a client for a year or so, it gets hard to create new topics to write about. With Lighten, I mainly use it to branch out areas for the company, and keep branching out until I find something I like to write an article about. I also do it for some general brainstorming, finding ideas for a client's marketing and lead gen, but mainly I use it for the article creation.

The price is a bit high, I'll admit. It's not really all that feature packed, instead going for a more simplistic layout. Maybe $5 or $10 would have been more apprioate. But it's still a useful app, and I don't regret the $15 I paid for it.

I do wish there was a way to share the maps in real time. You can download them and send them to people, but if my whole office could add ideas to their map and have it show up on everyone else's, it would really help the workflow. Maybe in a future update they will add that.
Rigid, Laggy, Annoying and Ugly
The worst thing is the fact that it locks all the topics in place where it wants to. It's laggy and actions such as changing the line colors take about 3 seconds to update. Also there is no way to fold and unfold without right clicking or clicking a menu button. When you do fold or unfold it takes literally 5 seconds to update or just doesn't work at all, randomly. The lines are pixelated and do not line up evenly to other connected lines. If you make a floating topic, it is then difficult to select focus of that topic, sometimes you must click it several times just to get the focus, which is an enormous hideous blue rounded rectangle. If you switch the balance from left to right or vice versa, everything will be a jumbled mess and not spaced evenly, but rather overlapped. Dragging a topic from one side of the main topic to the other will make the selected topic glitch in the opposite direction you are moving the mouse, and move further away, then finally move in the right direction.

This is a very disappointing purchase that I made. The developers should feel ashamed for rushing out a buggy app that has dozens of bugs which I discovered within the first 5 mins of attempting to use the app.
Limited Functionality and Slow
I bought this to map out a website plan and it's mostly useless because of the limited features, e.g., no hyperlinking, no images, no ability to mark items as planned or completed. Except for the box title, text can only be added on a post-it note style pop out, which also has limited functionality (one font, no styling). The app itself doesn't seem to be powerful enough to support these features anyway as it struggles to function at a workable speed even with its current features. The functionality isn't any different to just putting a pen to paper and drawing a very simple map. Not worth $15.

I agree with other reviews, it's extremely laggy and it becomes very slow and cumbersome to use when you have multiple items in level 3 or 4. I've had to actually create separate maps for items when I reach level 4 because it just runs too slow. It also doesn't have as flexible a layout compared to other solutions. You can connect common items with lines, but it's visually very messy as the layout is so rigid that lines are overlapping.

Three things that would have the same or more functionality:

1. Free apps, they seem to do the same thing or even have more features
2. Use any app/program that allows you to connect boxes with lines and add comments to boxes, e.g. PowerPoint
3. Old fashioned pen and paper - yes, this would even work better, since you wouldn't have the horrible lag
View in Mac App Store
$14.99

Category:

Productivity

Updated:

Apr 01, 2017

Version:

1.1

Size:

2.2 MB

Languages:

English, French, German, Simplified Chinese, Traditional Chinese

Seller:

XMind Ltd.
Compatibility: OS X 10.10 or later, 64-bit processor