iGigBook Sheet Music Manager
By Black & White Software LLC
Open iTunes to buy and download apps.
Description
Say goodbye to multiple 3 ring binders, suitcases full of books, and time wasted trying to find that song that you need. iGigBook manages all of your PDF sheet music resources; real books, fake books, chord charts that transpose, single sheets of music and full blown scores. All of your music at your fingertips, in real time, on any gig.

Designed by gigging musicians for gigging musicians, iGigBook features a powerful search engine that lets you instantly find the one song that you need among the thousands contained in your sheet music collection. Show up to any gig confident that when the tune is called, you'll have it ready while others fumble and flip through pages.

iGigBook works like the powerful search engines that you've used for finding stuff on the web. Start typing in the name of a song and search results from over 70 books appear so that you can choose the best arrangement that you have available. Only iGigBook can allow you to find, in seconds, all versions of "Autumn Leaves" or all of the songs by Antonio Carlos Jobim.

Now is the perfect time to get your hands on the perfect jam session tool and the only app that allows you to find in seconds that needle in a haystack tune buried deep inside your vast sheet music collection.

Take a look at the features:

• Integrated metronome with tap tempo and rhythm patterns.

• iPad Pro ready, view 2 pages side by side in landscape mode.

• Over 70 fake and real book indexes makes searching a breeze.

• Import PDF files from iCloud, Dropbox and Google Drive.

• Add notes to any score, highlight repeats, D.S., D.C., Coda, etc.

• Transpose between Bb, C, Eb and Bass clef versions of the same PDF.

• Manage scores of any size, 1 page to thousands of pages.

• Quickly locate the song you need by typing in the title.

• Looking for all of the tunes by Miles Davis? iGigBook can find them!

• Powerful Set List Manager lets you create, arrange, sort, combine and rename.

• Email set lists to band members and include a PDF of the songs in the set.

• Print a hard copy via AirPrint, of the music contained in a set.

• Import bookmarks present in your PDF documents.

• Send MIDI commands to your MIDI devices from any page.

• Turn pages hands free with an iPod 5th Gen/iPhone 4S or greater.

FREE BONUS! Over 1,300 chord charts of your favorite Jazz Standards that you can transpose to any key!

* iGigBook DOES NOT PROVIDE PDF BOOKS FOR DOWNLOAD.

Got questions? Ask them before you buy. If you're not sure what this app does or whether or not it will do what you want, visit forum.igigbook.com and ask questions, we will help you.
What's New in Version 5.2
Improved metronome tap tempo accuracy.
Expanded notes functionality with access to over 100 common music symbols and precise positioning.
Low light mode for chord charts, black background with white text.
Various bug fixes.
iPad Screenshots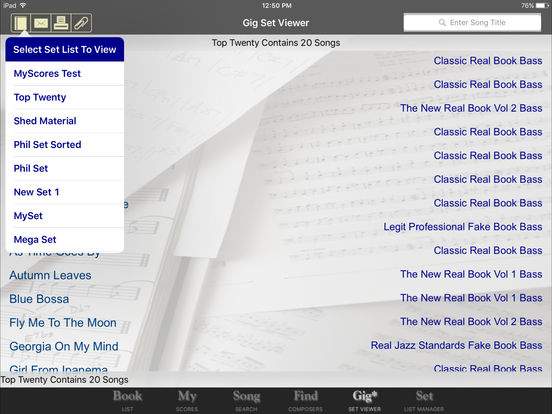 Customer Reviews
I Love iGig Book
It takes a bit of time and effort to get iGig Book set up, but, once you do, you can leave all your bulky fake books at home! I Love it.
Good App, looking forward to improvements!
I purchased this app soon after receiving my 9.7 inch iPad Pro.

If you are expecting to find all of the real books listed in the description included in the download, you are mistaken. Only the INDICES of the books are included. You will need to provide scans of the books in PDFs yourself.

Since Apple doesn't provide a simple way to get documents to your iPad, the app allows you to link your pdfs to the corresponding predefined index via Dropbox or iCloud Drive.

I spent a better part of a weekend afternoon getting the app set up and synchronized with the pdfs I already had. The timing was great because I had a gig that Sunday night and I was looking forward to trying it out.

One of my unexpected favorite features of this app is the construction of set lists. You can do a song search and drop the song into a set list or you can browse through a book and add a given song to a set list. If a song is more than one page, all pages make it into the set list.

When I got to my first gig, I was not sure how this was going to work so I brought my books as "backup" but they were totally unnecessary. I didn't have to think about what song was next. I didn't have to turn pages to find it, I just tapped the bottom of the screen and the next tune was ready to go. No more playing an "alphabetic" set list or paging through hoping to find something in the remaining minutes of a set.

UPDATE - I have played several gigs with this now and added a foot pedal to advance pages. This is a must when reading off charts > 1 page!

I needed to contact support once about an issue I had with a built in index. Support was very responsive and was able to address the issue within minutes.

Improvements I would love to see:
* A smarter way to turn pages. Now that I have the pedal, this isn't an issue for me, but it has been frustrating to tap the screen expecting a page turn but instead getting the top menu. In the heat of the battle, it's hard to be accurate with where you poke the screen.
* You would think editing a page, like adding a missing chord symbol or something would be very simple. The editing interface is such an awful mystery. Very unintuitive. The ability to use the Apple Pencil (or even your finger!) to draw notes, make corrections directly on the page and save them back to a set list or the actual PDF is an obvious improvement to me and should be highly prioritized.
* The ability to advance pages even when the current page is "zoomed." In portrait view, scans do not always fill the screen. It would be nice if when resized, pages could still be advanced (especially with a pedal).
* The ability to set a default zoom per page (or at least per book) and have that zoom setting to songs in set lists. Some scans have fairly wide margins and when working on a 9.7 inch device, there's plenty of room to increase the zoom, thereby filling the page with the chart, but there's no way to make it stick (and no way to turn the page when it's zoomed).
* The addition of a Key column in the song index. Imagine you have a dozen or so scans of fake books. It is likely that you will have more than one instance of a tune. It is also likely that you will have the same tunes in multiple keys. I think it would be nice to see the addition of a Key column, even if it is not in the default index, but some way to add it in yourself. This would be helpful when working with a vocalist or instrumentalist. - For now it would have to be added in a set list, but by the time its in a set list you known what the key is.
* The ability to browse ALL your songs without first needing to do a search.
* The removal of the tool tips on every link on the web interface (this is a personal preference)
* Make the composer field optional on custom pdfs from the web interface. (It used to be an optional field)
* After playing with ForScore, I love the feature of turning the iPad into landscape and the page fills edge to edge left and right, showing the top half of the page. When I advance with the pedal, the page view shifts down, keeping the same nice and full width and showing the bottom half of the page. Hit the pedal again and it advances to the top of the next half of the page. I would use this all the time--it's so much easier to read on a 9.7 inch screen. Instead what happens in iGigBook, is the portrait sized page shrinks to fit on the whole screen. You get two pages side by side. Nice if you have a 12 inch iPad but useless if you have a "regular sized" iPad. Also the zoom in this view is awful.

Overall - while there is room for improvement, the best thing about this app has been the amazing reduction of all the "stuff" I have to bring to a gig. I can put this up on the piano and I have all my charts with me. The manual entry of song titles in your own book is handy but extremely tedious, and easy for book indexes to get "off." I don't know what a solution to that would be. There is no way to reindex the default Fake books so your scans better have all the pages, including the pictures. This is a shortcoming, in my opinion.
What "derjazzmeister" said!
This is a great app for taking heavy books to a gig or even practicing at home or on trips as that is how I use the app. I do not play out but have the same needs as pro and semi-pro performers. "Derjazzmeister"'s comments on improvements written approximately 16 May 2017 (mother's day in the U.S.) are right on the money for the next round of improvements.
View in iTunes
$14.99

Category:

Music

Updated:

May 02, 2017

Version:

5.2

Size:

21.3 MB

Languages:

English, Spanish

Seller:

Black & White Software LLC
Compatibility: Requires iOS 8.0 or later. Compatible with iPad.