Audio Books by Audiobooks
By RB Audiobooks USA LLC
This app is only available on the App Store for iOS devices.
Description
Wish you could read more but don't have the time? You'll love audiobooks!

Audiobooks.com is the best free audiobook app to download and instantly stream more than 100,000 premium audiobooks. Read more books and get more done with our most stable, feature-filled app ever.

Everything you need is right within the app: claim credits on titles, access your audio book wishlist, view your library, and play your audio books without ever having to visit the website. We add hundreds of new books every week, and your first premium audiobook is free! Plus, we have a library of 7,000 free audio titles for everyone to enjoy.

Our top features include:
• Your audio book library is yours to keep, forever
• Variable narration speed at 1.25x, 1.5x, 1.75x and 2x original pace
• Easy navigation with quick touch actions and a large visual interface
• My Recommendations tool to generate customized suggestions for your next listen
• Live Chat with our Customer Service team for instant assistance
• My Achievements section that tracks member listening stats and rewards you when you hit targets
• Notes tool to create custom bookmarks with memos
• Detailed series information so you can browse popular series or easily find your next audio book
• Member Deals make your credits go further with member exclusive audiobook bundles
• Stream audiobooks anytime, anywhere over Wi-Fi and mobile data to enjoy your entire library without taking up device storage space, or download in full for offline listening
• High quality mp3 sound

The Audiobooks.com app has wide compatibility:
• Download audible books directly to any Apple device, including iPad, iPhone, and iPod Touch. The Audiobooks.com Apple Watch app allows you to easily control selection and playback of audiobooks from your library. Audiobooks.com is also the only audiobook app available natively for the new Apple TV.
• Enjoy audiobooks on the road with CarPlay and select manufacturer's in-car infotainment systems, including GM, Jaguar and Land Rover vehicles
• Listen in your home with Sonos, the smart speaker system – Audiobooks.com is the only audiobook service that integrates with Sonos

You'll love listening to these New York Times bestsellers and recently added new releases:
• The Glass Castle: A Memoir by Jeannette Walls
• Y is for Yesterday by Sue Grafton
• Before We Were Yours: A Novel by Lisa Wingate
• Astrophysics for People in a Hurry by Neil DeGrasse Tyson

You can also browse and listen from a wide selection of genres:
• Fiction favorites including romance novels, literary short stories, mystery, and science fiction
• Textbooks and reference titles for MCAT and other exams and courses
• Make this your go-to Bible app for full-length audio versions of the King James Bible and other religious audio books, meditations and prayer books, including the Quran
• Learn a new language with hundreds of new educational audio courses for 45+ different languages
• Huge selection of family-friendly books for kids, toddlers, and teens

Check out our top current book lists:
• New York Times Non-Fiction
• Oprah's Book Club Classics
• Perfect First Listens

Don't be stuck in the past with ebooks or books on tape. Digital audiobooks make audible stories come to life when you're commuting, working out, cleaning the house, knitting, cooking and more! Make the most of your limited time and rekindle your love of reading with audiobooks from Audiobooks.com.

Featured user reviews:

LeSante says, "This app is great! Easy to use, lots of free audiobooks too. I listen to books on this app in the car all the time."

Lephreaux says, "Super easy to use, and I love that they give you the option to download the book so you can listen offline. Fantastic."

erac1210 says, "I am an avid audiobook and podcast listener, and I was thrilled to discover audiobooks.com and their convenient app. Love the selection of books and the easy-to-use app, in particular being able to speed up playback."
What's New in Version 5.11.2
Thanks for using Audiobooks.com! To make your user experience better, we regularly bring updates to the App Store. This update includes minor bug fixes.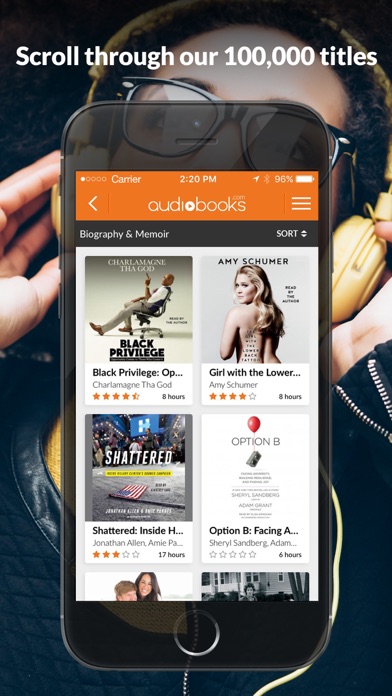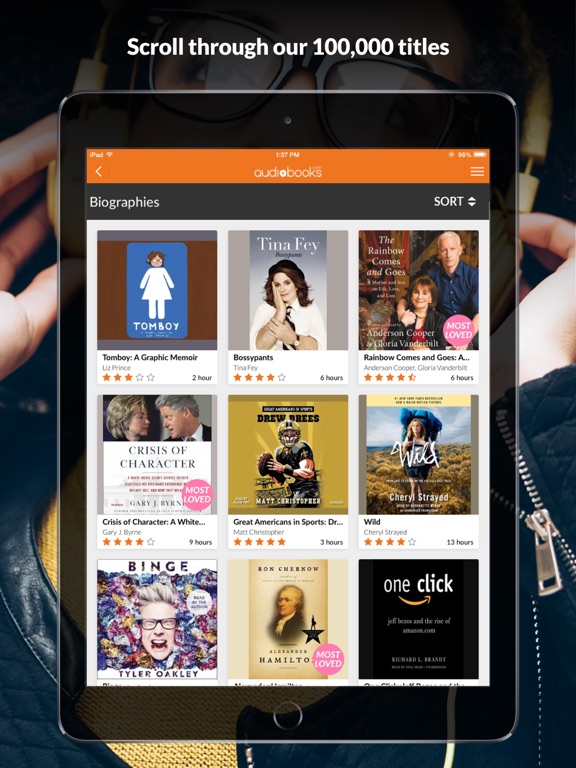 Customer Reviews
Audiobooks Makes My Morning Commute Easy!
I'm from Houston, and traffic is a pain. Every morning, I drive at least an hour and 15-30 mins to work, and I drive the same back. So I spend about 3hrs in the car JUST driving to and from work. Before I found Audiobooks, I listened to Podcasts. I started having trouble finding ones I liked, or the ones I liked didn't update enough to meet the needs of my 3hrs daily. So I downloaded Audiobooks because I saw some were 10+ hours long, and I love to read anyway. I got the book, "The Glass Castle" because I feel like although I prefer reading myself, I like when people tell stories, so I could listen to a personal narrative without wanting to be reading a physical book. After the first part of my commute the first day, I was so thankful I downloaded it! I'm definitely going to keep at it. At this rate, I'll listen to a book once every 3-4 days, so I have to find a way to afford it. That's the only downside. I purchase a lot of books in print, and I wish they came with automatic downloads or something. In the meantime, I'm going to try to get as many credits as I can to make it cost efficient for me.
So far so good
I just got this app yesterday but so far so good. There is one feature I can't seem to find and am slightly annoyed by. However that doesn't mean it doesn't exist, but if it does I wish it was easier to figure out. Here it is, it seems like you get to select a playback option in the settings (for example mine is 30 seconds) but after you choose it seems you're stuck with just that option. Sure change it again but I'd like to be able to go back 30 seconds AND go back a chapter. There doesn't seem to be an easy way to restart a chapter or select a chapter specifically. Now like I said I haven't spent any time looking for any tips or instructions for using this app, so maybe it's right there and I haven't realized it yet. But if that's the case then I'd say this app is quite similar to audible, but not as user friendly in that way. Still, I'd recommend this app for anyone wanting to listen to audiobooks. The playback thing is minor and may not bother most people so clearly they're doing everything else ok, so worth a download if you're interested in audiobooks.
Audiobook
I was pleasantly surprised with this app! It's nice to have options when it comes to listening to audiobooks, I feel like there aren't many reputable ones besides audible. My only complaint is that the search option isn't as simple and the categories aren't as helpful/specific. I found audiobooks online by accident when searching for a specific book-but then finding that book within the app was very difficult. I found the book I wanted (that was advertised on the website) only after searching within the app endlessly...failing to find it and then using my credit on another book. The search feature should lead you right to it! I wasn't spelling the title or the author incorrectly and I searched both multiple times.
Right now I'm reading the power of habit by Charles duhigg.
View in iTunes
This app is designed for both iPhone and iPad
Offers Apple Watch App for iPhone
Free

Category:

Books

Updated:

Sep 08, 2017

Version:

5.11.2

Size:

41.7 MB

Apple Watch:

Yes

Language:

English

Seller:

RB Audiobooks USA LLC
Compatibility: Requires iOS 8.0 or later. Compatible with iPhone, iPad, and iPod touch.
Apple TV:
Yes
More by RB Audiobooks USA LLC