propertyfinder - real estate for rent & for sale
By Propertyfinder FZ-LLC
Open iTunes to buy and download apps.
Description
propertyfinder is the home of real estate in the Middle East.

The propertyfinder iOS app lets you quickly & easily browse through 1000s of properties for rent & for sale in UAE, Bahrain, Qatar, Egypt & Lebanon.

We work with the best agents to bring you accurate property listings with high quality photos which you can view anywhere, anytime.

Key features:

√ Full English and Arabic support.
√ Filter down to popular cities like Dubai, Abu Dhabi, Doha, Manama, Beirut and Cairo.
√ Search for communities, sub communities, towers and buildings in each location.
√ Find plenty of different properties from apartments to villas; from offices to plots of land.
√ Customise your property search using filters like property type, number of bedrooms, price, size and availability of amenities.
√ Filter your search by property type, number of bedrooms, price, size and amenities.
√ Find both residential and commercial properties.
√ Find properties with a bird's eye view using the Map Search feature
√ "Search Near Me" lets you discover properties around you.
√ Switch between currencies and view pricing on a daily, weekly, monthly or yearly basis.
√ View properties in list view or map view.
√ Large, high quality photos of each property viewable in full screen.
√ Switch between Standard, Satellite or Street View* modes when viewing property locations. *Street View not available in some locations.
√ Contact agents via Phone, SMS or Email.
√ Save properties for later viewing across all devices.
√ Share properties via SMS, email and social media.
√ Apple Watch support: search and view properties around your specific location.
√ Full iPad & Retina display support.
√ Intuitive iOS navigation.

-----

بروبرتي فايندر هو دليلك الأول للبحث عن العقارات في الشرق الأوسط
بروبرتي فايندر هو مُلتقى عقارات الشرق الأوسط

إيجاد منزل أحلامك أصبح سهلًا الآن مع تطبيق بروبرتي فايندر! حيث يُمكنك التطبيق الخاص بنظام تشغيل ال IOS من تصفح آلاف العقارات المعروضة للبيع أو للإيجار في الإمارات والبحرين وقطر ومصر ولبنان بسهولة ويُسر.



الميزات الرئيسية:

√ العثور على الآف العقارات المعروضة للإيجار أو للبيع في جميع أنحاء الإمارات العربية المتحدة، قطر، البحرين، لبنان أو مصر.

√ تحديد البحث بحسب المدن الأكثر شعبية مثل مثل دبي، أبو ظبي، الدوحة، المنامة، بيروت والقاهرة او البحث عن المجتمعات المحلية والفرعية وحتى الأبراج والمباني في جميع المواقع

العثور على الكثير من العقارات المختلفة من شقق وفيلات، او مكاتب ؛ و حتى قطع أرض √

√ تمتع بتجربة البحث العقاري التي تلائم احتياجاتك الخاصة باستخدام عوامل تحديد البحث مثل نوع العقار، عدد غرف النوم، السعر،الحجم ومدى توفر وسائل الراحة

يمكنك العثور على كلّ من العقارات السكنية والتجارية من جميع الأحجام لتتناسب مع أي ميزانية √

غير متاكد من كيفية البحث؟ استعمل ميزة البحث على خريطتنا واعثر على العقارات المناسبة فى اي مكان √

البحث "بالقرب منى" يخولك اكتشاف العقارات القريبة من حولك √

إبحث في التطبيق بشكل مريح من خلال إستخدام اللغة التى تختارها فالتطبيق مدعوم باللغتين الانكليزية والعربية √

يمكن التحويل بين العملات بسهولة وعرض الأسعار على أساس يومي، أسبوعي، شهري، أو سنوي √

صور كبيرة ذات جودة عالية لكل عقار كما انها قابلة للعرض على ملء الشاشة √

√ إمكانية التبديل في أسلوب العرض؛ عرض الخريطة القياسية، عرض بواسطة الاقمار الصناعية او التجول ثلاثي الابعاد *التجول الثلاثي الأبعاد غير متوفر في بعض المواقع*.

هل وجدت عقار أعجبك؟ إتصل بالعميل عبر الهاتف، الرسائل القصيرة أو البريد الإلكتروني √

إحفظ عقاراتك المفضلة عبر جميع الأجهزة الخاصة بك لمشاهدتها لاحقا - لا تنساهم ابدا √

√ تشارك العقارات بسهولة مع أي شخص عبر الرسائل القصيرة، البريد الإلكتروني وجميع شبكات وسائل الإعلام الاجتماعية الكبرى

التصفح البديهي يجعل العثور على أفضل العقارات عملية سريعة، سهلة وبسيطة √


√ دعم أبل واتش: البحث وعرض عقارات حول موقعك المحدد.

√ دعم العرض الكامل "لأي باد" و "ريتينا" - فدائمًا يبدو رائعاً على أي جهاز.
What's New in Version 4.0
Propertyfinder is committed to making searching for properties in the Middle East as easy as possible. The propertyfinder iOS app is regularly updated for speed and reliability and all new features will be highlighted within the app.

---------------

تسعى شركة بروبرتي فايندر بجعل عملية البحث عن عقارات في الشرق الأوسط سهلة وممتعة، لذلك دائمًا ما يخضع التطبيق لعمليات تحديث مستمرة تضمن لك سرعة تصفح مثالية ودقة بحث متناهية، وسيتم دائمًا الإعلان على الخصائص الجديدة في التطبيق.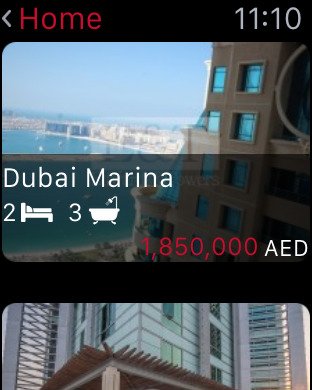 Customer Reviews
Shameful
It's a shame to create an app and not be able to make an online registration!!! Who does this?!
View in iTunes
This app is designed for both iPhone and iPad
Offers Apple Watch App for iPhone
Free

Category:

Shopping

Updated:

Nov 06, 2016

Version:

4.0

Size:

47.4 MB

Apple Watch:

Yes

Languages:

English, Arabic, French

Seller:

REA GROUP FZ-LLC
Compatibility: Requires iOS 9.0 or later. Compatible with iPhone, iPad, and iPod touch.