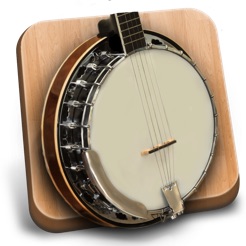 Description
--33% DISCOUNT FOR A LIMITED TIME--

Banjo Rolls Trainer will help you learn all the important five-string banjo rolls, improve your speed and accuracy.

"All in all, this is a very effective roll trainer, just as the name implies."
- John Lawless, bluegrasstoday.com

"So if you're working on learning the rolls and how they relate to what the rest of the band does, or looking for an audio tool to help plug away at the right hand exercise, this could be a great tool for you."
- Kyle Tuttle, Banjo Newsletter Magazine


It is a library, a player and a maker of five-string banjo rolls which will help you practice your right hand technique and improve your performance. 

It is so much better to have your training accompanied by the upright bass, guitar and metronome.

Banjo Rolls Trainer can also accelerate gradually the speed of your training. It will help you during warm-up or building up your right hand speed.

Don´t be afraid to experiment and create your own rolls in the Rollmaker.

Features:

• 15 basic banjo rolls, Clawhammer Bum-Ditty and ¾ rolls included
• background music in keys G major, C major, D major and 7 different G-C-D based chord patterns
• Speed Up function automatically increases the speed after a set number of bars
• create and save your own rolls in the Rollmaker
• individual volume setting of upright bass, guitar, banjo and metronome. It is also possible to set different metronome, bass and guitar sounds
• support of six-string Guitar Banjo – tune the sound of the fifth string two octaves down to open G tuning.

Try it now!
Ratings and Reviews
Thank You!
It works perfectly. If you have a banjo or a guitar you should just get it. I think for $10 bucks though we should get some additional features in future updates. I have one idea…I don't know if you can copy what Mavis Beacon does with typing practice. There is a picture of a keyboard on the screen so you don't have to look at your own. I would suggest showing the fretboard and right hand along with the practice tool.
Agrees with Jay Lord
I had the banjo for about a year and this thing is a pretty cool learning tool. I havent used it for very long (the app i mean) but i feel it could help me alot if the app could include a second measure as Jay Lord suggested. I can play the rolls pretty quickly now but i feel learning the transitions between rolls can be learned more effectiveley.
Information
Seller

Jiri Markalous

Size

24.5 MB

Category

Age Rating

Rated 4+

Copyright

© 2013, Jiri Markalous

Price

$9.99
Supports
Family Sharing

With Family Sharing set up, up to six family members can use this app.