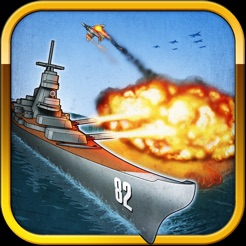 Description
The near future. A pirate conglomeration equipped with the latest military hardware wages an unopposed war of plunder within the vital trade routes of the world. A naval force of modern warships drawn from a unified community of free nations is assembled to meet this growing threat. You are their commander.

******************************
iFanzine 2011 iOS Developer Achievements
Achievement for Best Gameplay in a Genre-Defined Title - Winner
Achievement for Outstanding Audio Engineering - Winner
Achievement for Outstanding Trailer - Runner Up

Freeplay Independant Game Awards
Best Game Audio - Finalist

"A perfectly crafted rail shooter, Battle Group is a must-have for shoot 'em up fans" - 5/5 - ifanzine.com
"Battle Group is fast becoming one of the best games that I've played on the iPhone all year" - 5/5 - nineoverten.com
"...entirely unique and challenging in a way that teases you to play just one more level" - 4/5 - Appspy.com
"...the action is never less then rivetingly tense and backed with finely tuned controls. " - 8/10 - pocketgamer.co.uk
"App of the Day" - cnet.com.au
"Great graphics mixed with that important great fun and addictive gameplay featuring some truly great blasting action" - 5/5 - iphonegameruk
"...the gameplay is exciting and challenging" - indiegamemag.com
"Highly Recommended! " - indie-gamers.com
"...just the amount of care given to Battle Group makes it worth checking out. " - 4/5 - 148apps.com
"...those hankering for a cleanly presented touch-screen blaster with brains will find much to enjoy" – 3.5/5 - dpadmagazine.com

******************************

Join our growing community on Facebook (www.facebook.com/BattleGroupGame) to discover the latest Battle Group news, talk to the developers or suggest ideas for future updates. Want bigger and badder Battleships? Let us know!

Please use the app store review system and let us know what you liked so that we can continually improve the experience.

******************************

◆ TACTICAL ACTION / MODERN NAVAL WARFARE

Fight off waves of air, land and sea based opponents. A simple to use control method lets you get straight into the action.

◆ USE ADVANCED ARMAMENTS

Control the devastating power of modern naval weaponry including anti-air missiles, naval guns and jump jet interceptors.

◆CUSTOMISE YOUR FLEET

Select from a diverse range of ship types including Patrol Boats, Guided Missile Frigates, Aircraft Carriers, Battleships and more.

◆ UNLOCK NEW SHIPS AND SPECIAL ABILITIES

A reward system for exceptional performance allows you to purchase new ship classes. Gain experience in battle to unlock abilities specific to each ship.

◆ IMMERSIVE STORYLINE

Who are these pirates? What are their true motivations? And is everything as it seems? Uncover the sinister plot as told through the dialogue of veteran video gaming voice actor Bob Carter.

◆ FULL GAME CENTER INTEGRATION

Earn achievements and dominate the online leaderboards. Check out your battle statistics as you progress through the your naval career.

◆ AUTHENTIC EXPERIENCE

Researched and developed in consultation with actual ex-serving naval personnel.

◆ MUCH MORE COMING SOON

A new game mode has already been released and upcoming expansions will include new ship classes, campaign missions, enemies, further play modes and multiplayer.
- iCloud support. Share save games between all your iCloud enabled devices
- New "Survival" game mode. Score as many points as you can before dying
- Option to remove horizontal raster lines (see in-game pause menu)
- Lots of small bug fixes
Ratings and Reviews
Great game
Great buy from all games I have on my phone by far. Only thing is it would be nice if could buy stars to upgrade ships and weapons. I like the different ships and what they can bring to the fight. I hope to see more updates with ships and weapons and levels. This is a game to just keep going. Be great if can buy more stars to buy bigger and better ships not just by winning next level.
Entertaining, but not polished.
This game could've really been something incredible. However, annoying, repetitive audio, a silly plot and mediocre graphics really keep this from being a home run. It's basically missile command with rails motion, which is fine, but it takes itself too seriously and doesn't deliver a serious feel. Detailed graphics with better animation and shadowing, a varied and quality soundtrack, and an inventive plot are welcome.

But I guess it's only .99. So there's that.
Best battleship game on the market + idea
This is one of the best games on the market
And also before release of the update coming plz add the Missouri it's stronger than the Iowa and the submarines should have a option where you can surfice and dive and it should be a flagship.
Ps. The update is kinda big and they are working
hard so wait
Information
Seller

Bane Games Pty Ltd

Size

102.3 MB

Category

Compatibility

Requires iOS 3.2 or later. Compatible with iPhone, iPad, and iPod touch.

Age Rating

Rated 4+

Copyright

© Copyright 2011 Bane Games

Price

$1.99
Supports
Game Center

Challenge friends and check leaderboards and achievements.

Family Sharing

With Family Sharing set up, up to six family members can use this app.