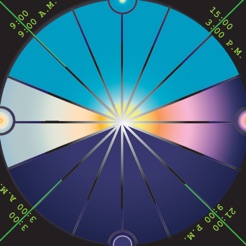 Description
Wake up refreshed and ready for action.

Stop endless snooze fests.

Save money on coffee in the morning.

Fall asleep faster

Catch beautiful sunrises and sunsets.

Frolic under full moon.

Feel the joy of life.



Your wonderful body already has a free clock to help it adjust to the daylight cycle. It is called circadian rhythm or internal biological clock. This clock is linked to the light/dark cycle, more precisely twilight and morning.



With the free Bio2Real Time app, you can see what time it is for your circadian cycle. Most of the time this biological clock is off/phase with the real clock! The app uses GPS and timezone to estimate sunrise, sunset and twilight times for your location, allowing for the translation between real-daylight savings time versus your internal biological clock.



By selecting one of the offered (6 hour, 7.5 hour or 9 hour) sleep times, you will be able to wake up at the same time every morning, without an alarm, feeling on top of the world!

Using Bio2Real Time you would be able to eliminate that morning cup of coffee that you so required for your ride to work in as little as 1 week! This is because your body would wake up naturally after an end of a sleep cycle. Consistently waking up at the end of a sleep cycle allows you to remember colorful dreams and have more energy for the upcoming day.

The morning sluggishness, caused by violently being awakened in one of the deeper sleep stages causes millions of people to hit the "snooze" button, because the body is simply not ready to wake up! It takes an iron will to get out of bed at an inappropriate time. And then you pour yourself a cup of coffee to awaken your brain for the morning commute. Experience how easy it is to get out of bed by going to sleep and waking up at a pre-determined time, linked to your internal biological clock. The need for coffee disappears completely!



Every night your body prepares for sleep by releasing melatonin, a sleep regulating hormone. Its release is linked to inactivity and low light. Everyone is familiar with the situation where you lay in bed, thinking about all kinds of things and seemingly unable to fall asleep. This is because you went to bed in the part of the sleep cycle where you would normally be in REM sleep or other "light" phase of sleep. Or your sleep cycle has been disrupted by caffeine. Your body tries to go to sleep, but it physically cannot do so!



By properly selecting one of the pre the pre-determined circadian cycle based times to bed, you would be able to hop on to your next sleep cycle, when your body is most ready for sleep. This means you will spend less time dealing with anxious thoughts and more time sleeping! This could save you about 20 minutes of tossing and turning in bed each night. Check the app's site for details.



Combined together, the use of this app would allow you to spend more time awake, being more aware, consume less caffeine and letting your body regulate itself! Try it for a week, your body would reward you with more energy and stamina!
Fixed a couple rotation bugs.

The app now refreshes when restarted
Ratings and Reviews
Poorly Designed
A decent idea but very poorly executed to the point of uselessness. First the dial itself makes no sense being grounded with the 4 corners at 9am, 3pm, etc because they do not correspond at all to the light & dark cycles of the dial. Plus then it throws off placement if the sun in the dial (example the sun at 11am should be in the early part of the day on the dial but tying it to the 3pm meridian puts it in the evening part of the dial). So the dial in itself is useless. Worse still the app decides for you the best time to wake up in the morning - for me now that is 10:15am. This cannot be altered within the app. This is completely pointless unless I live the life if a Kardashian. Stupid.
Seems neat, but the "optimal wake time" is impossible
Neat idea, but it says my optimal wake time is 9:56am. Not possible for me (or most people, I'd imagine!) No apparent way to adjust the wake time (even by the 90min blacks) and get a bedtime suggested based on that. When the optimal wake time isn't an option for you, there seems to be nothing useful left about the app.
App won't open
I have not been able to use the app yet, it stays open for maybe 3 seconds then closes. :( I would love to try it when it works.
Information
Seller

Alexander Stone

Size

1.4 MB

Category

Compatibility

Requires iOS 5.0 or later. Compatible with iPhone, iPad, and iPod touch.

Age Rating

Rated 4+

Copyright

© (C) 2011 Alexander Stone

Price

Free
Supports
Family Sharing

With Family Sharing set up, up to six family members can use this app.