Bitdefender Virus Scanner
By Bitdefender SRL
Open the Mac App Store to buy and download apps.
Description
Essential security for your Mac!

Bitdefender Virus Scanner finds Mac malware as well as Windows viruses with ease. Virus Scanner will detect any infected files that you downloaded or got in your inbox, so your Mac will be safe and you won't pass anything bad to your friends' computer.

Grant Bitdefender Virus Scanner access to the locations on your computer that you want to scan against malware. Choose 'Deep System Scan' or 'Scan Critical Locations' to scan. The award-winning Bitdefender engines will find that piece of malware. For free!


Make sure your Mac is free of infected files. Don't put your friends and family at risk by unknowingly passing along malware.


Features: 
- Detects both OS X malware and Windows viruses;
- Before a scan, it updates to detect the latest malware;
- Searches for malware even in archives and inside various types of files such as pdf, pkg, zip, rar, etc.;
- Critical locations scan - rapidly scans system areas that are prone to infections.
- Award-winning Bitdefender antivirus engines;

Also:
- Quarantines dangerous files;
- Deep system scan for all the locations the user has granted access to;
- Drag-and-drop scan of files or folders;
- Option to exclude files and folders from scan (i.e. Time Machine backups, etc.) 
- Easy-to-use interface.

Constraints: 
- Due to sandboxing in the App Store, the app has access only to the locations that the user has explicitly granted access to. Grant access to the entire disk for increased protection;
- Disinfection limited by the privileges of the user running the app;
- Doesn't scan programs stored in memory.
What's New in Version 3.5
Bug fixes

Plus all the great fixes from the previous version:
* better memory management
* improvement: restore from quarantine in a new location if the original path is no longer available
* 64bit application support
* performance improvements
Screenshots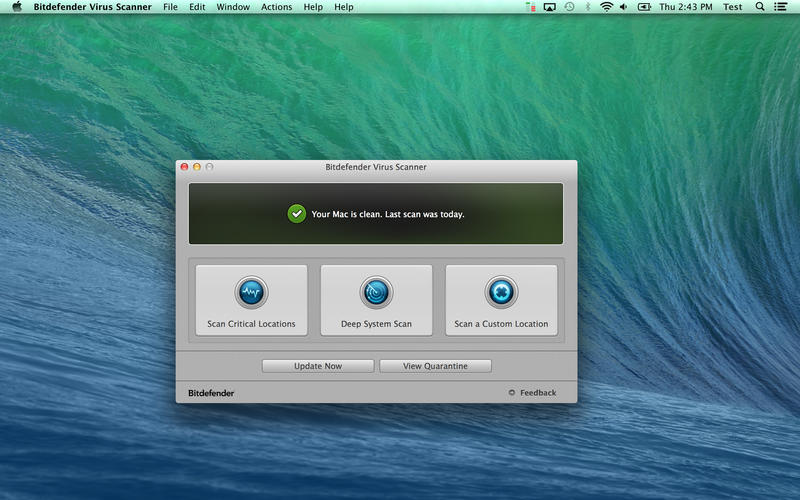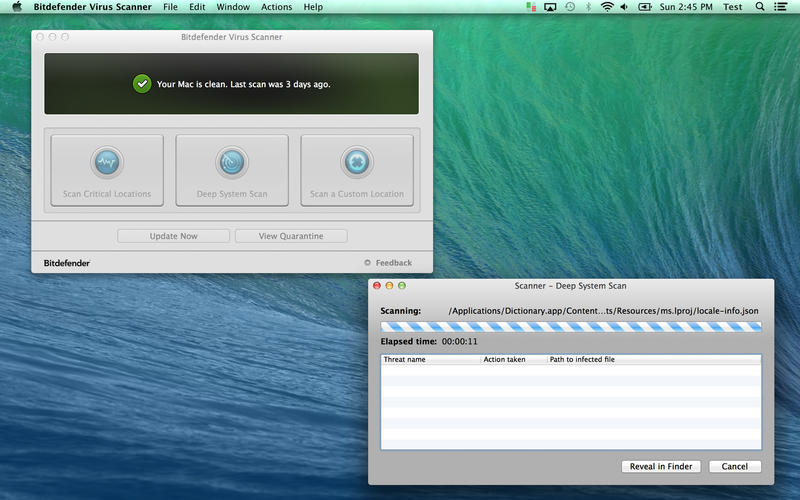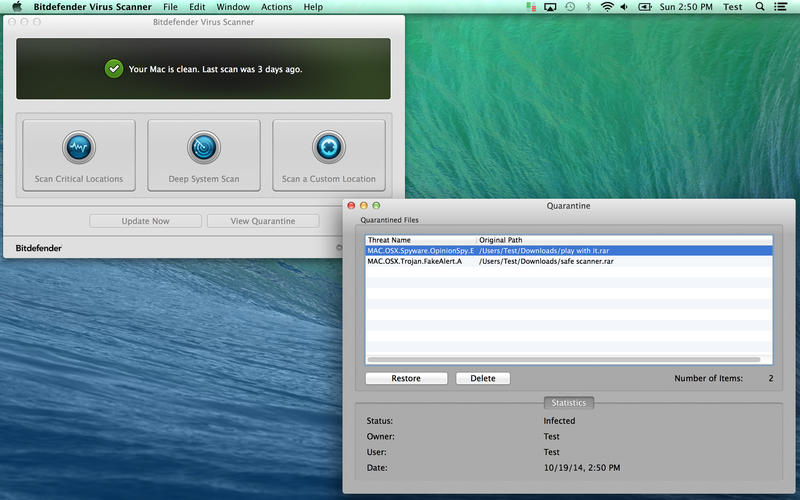 Customer Reviews
Not sure how I feel about this app.
Pros - This app will detect viruses, trojans and adware. It will delete a number of them, what it cannot delete it will try to place in quarantine. Downloaded free from the app store.

Cons - It isn't able to delete all the bad stuff, nor even able to quarantine all of what's left over. It affects how you can obtain information on the web, it pops up a window telling you that it's dedecting adware, and you have to quit and relaunch your browser - in some instances there are places you no longer can access, such as wikipedia. It does a great job of suppressing pop-up ads, except it's own, which constantly pops up. It does not have itself, built in, an ability to delete adware. It tells you to download a free app for that, however that app, once downloaded tells you that there is no adware on your computer - but it does let you know about other products you may purchase. What really burns me it that it constantly is telling me that my PC is running slow because there may be malware or adware on it - but I have an iMac, not a PC.

Summary - This app will work, it seems to be powerful, but it's a real pain in the you know where to deal with.
it worked for me
ive had a issue for a long time now, i couldnt click on anything on the internet without getting a pop up or a new window opening, taking me to a " buy this" page. i downloaded bit defender, ran a scan, and it said i had a virus. while running the scan bitdefender has a button to download bitdefenders virus removal tool for free. i was a little annoyed by this at first, not sure why you wouldnt include the removal with the scanner, but either way my computer works just fine now. and the remvoal tool took longer to downlaod than it did to remvoe the Vsearch virus, took all of 2 min to download :) all in all it did the job no more pop ups so i have no reason to complain, i'd have no problem recomending this to someone
My Mac works now, YAY!
Ok, so my Mac has been having issues with crashing and being WAY SLOWER than it used to, so I thought "Maybe Malware…" So, I downloaded this app, ran it, it took 40 minutes to scan my whole computer, at it said no malware. The next day, I had four Word documents open at once for 4 hours without my computer crashing (which hasn't happened in MONTHS), so I'm like "Yay!" Also, I am now able to play games again on my computer, and my computer hasn't lagged or frozen since the app installation. (In fact, now it takes 5 minutes to do a system scan, so obviously SOMETHING happened) Thanks Bitdefender for either scaring off the malware or getting rid of it. :)
View in Mac App Store
Free

Category:

Utilities

Updated:

Mar 03, 2015

Version:

3.5

Size:

146 MB

Language:

English

Seller:

Bitdefender SRL
Compatibility: OS X 10.7 or later, 64-bit processor