Brain Power | AmbiScience™ • Binaural & Isochronic Ambient Mind Utility
By Tesla Audio Sciences
This app is only available on the App Store for iOS devices.
Description
Get all *3 Apps* in Bundle Pack #1 *PLUS* new Preset Features (layer 4 sounds) and Save!

*** The Best Selling Line of Brainwave Apps on the Store - Since 2008. ***

PRAISED BY APPLE, MACWORLD.com, TUAW.com, iPHONE LIFE, INFORMATION WEEK AND 148APPS.com SEEN IN PUBLICATIONS AROUND THE GLOBE. OVER 600,000 USERS WORLDWIDE.
** Type 'Tesla Audio' in search today **

Let AmbiScience™ take you on a sonic journey with a combination of ambient electronica and a variety several effective programs that attune your brain to desired states of mind using the BEST entrainment frequencies. Tune your mind to help you sleep, relax, focus or meditate.

HOW DOES IT WORK?
Once you choose a particular frequency, such as the 'sleep' frequency, this state is then more quickly achieved than normal. This is done by a mixing of tones sent to each ear - the difference between the two tones, that your brain creates, is called binaural entrainment. We also include isochronic entrainment, which is a different form, using a single pulsating tone in each ear - people who don't respond to binaurals, often respond to isochronics.

THE ONLY APP
AmbiScience is the only app, which includes binaurals and isochronics in ONE.

PROGRESSIVE ENTRAINMENT
This app also offers Progressive entrainment, which is a gradual inducement to your chosen entrainment, and this is done by starting at the waking state frequency and gradually moving the user down to his/her chosen frequency.

FEATURES:

- 11 LONG Professional Ambient Tracks
ALL TRACKS are several minutes in length
• 3 Noise Tracks
• 9 Entrainment Tracks:
-- 5 Isochronic Entrainment Tracks
-- 4 Binaural Entrainment Tracks
• Create your own custom programs
• MULTITASKING background audio available!
• PERFECT Seamless Loops
• Full-Featured presets / Multi-Track Save
• Countdown timer with fader
• Countdown end chime
• Alarm with Snooze option
• Auto Quit/Exit feature
• Adjustable independent volumes
• The smallest available files
• Highest quality audio
• Easy to use interface
• Easy Instructions
• Free Updates

BRAINWAVE/ENTRAINMENT PROGRAMS:
(headphones/earbuds or 2.1 speakers are RECOMMENDED - the iPhone/iPod speaker is not able to produce some of the frequencies below)
- 10 Entrainment Programs:
• Focus program
• 2 Meditation programs: Binaural and
Isochronic
• 2 Sleep programs: Binaural and
Isochronic
• 2 Deep Sleep programs: Binaural and
Isochronic
• 2 Relaxation programs: Binaural and
Isochronic
• 3min Progressive Caffeine Program w/10 sec fade in

• Isochronic - headphones not required.
• Binaural - requires headphones.
-- Full instructions in app.

AMBIENT MUSIC TRACKS:

- 11 BEAUTIFUL Ambient Tracks:
• High Plains Asia
• Tesla's Lab
• Gone Fishing
• Buddhist Rain
• Desert Sunrise
• A Calming Stream
• The Power Plant
• The Fountain of Raw
• A Visit to Olympus Mons
• Angel Ascension
• The Android's Dream

PLUS! 3 NOISE TRACKS (white, pink and brown)

"THE AMBISCIENCE™ SERIES FROM TESLA, IN MY OPINION, IS THE BEST OF THE BUNCH."
- EDITOR TUAW.COM

AUTO-LOCK must be set to 'Never' for alarm to function, and be sure to enable
AIRPLANE MODE to avoid interruptions.

NOTE: If you experience performance issues (missing tracks, no sound etc), you may have gotten an 'incomplete' download and should re-install the app.

Go to teslasoftware.com for a VIDEO tutorial. Type 'TESLA AUDIO' in search today.

Follow us at http://twitter.com/TeslaSoft
What's New in Version 2.0
*NEW/IMPROVED* Binaural Entrainment Tracks
iPhone Screenshots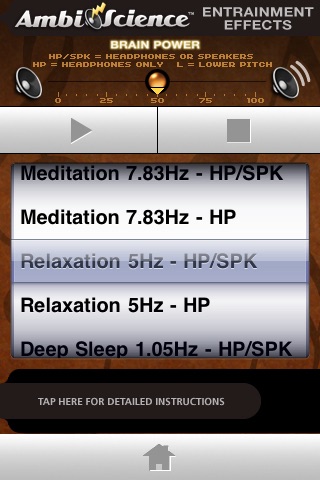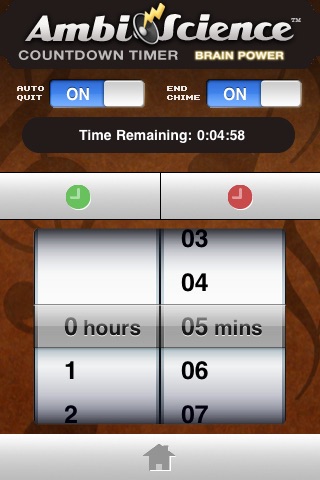 Customer Reviews
I'm addicted
I use this app on the Deep Sleep setting, and I find I have the absolute best sleep ever! In fact, it's so wonderful, that I don't think I could sleep as well without it. Not only that, but I am dreaming again. Or, rather, remembering my dreams now! And when I get sleepy at work, I get the caffeine setting out and play it, and I'm good to go for the rest of the afternoon. I LOVE this app, and I can finally say it's the BEST app I have ever purchased and downloaded.
Great for sleep too
I've been using the Deep Sleep setting with Brown Noise and I find it helps me get to sleep faster and masks unwanted noise in the environment. It's even better than having a fan or air filter running. The other effects are cool too. I'm thinking about getting their premium sleep app as well but this does such a good job it's tough to beat. The full version is a lot better than the free one BTW and worth the price.
Don't buy the bundles - they will NOT be UPDATED
I asked several times to have the "Zen Master" bundle that has nice tones and features to be updated to be consistent with the presets and other nice upgrades that the main app has and it has STILL NOT HAPPENED.

Overall, the app is good and I'm an almost daily user. They just really let me down with the failure to update the bundle, even when specifically asked.

I have tried a few others and think this is the best of breed.
View in iTunes
$0.99

Category:

Health & Fitness

Updated:

Sep 09, 2010

Version:

2.0

Size:

78.3 MB

Language:

English

Seller:

Tesla Software, LLC
Compatibility: Requires iOS 3.0 or later. Compatible with iPhone, iPad, and iPod touch.