BrainBaths
By DubeyTunes Studios
This app is only available on the App Store for iOS devices.
Description
Relax, focus, inspire...

Immerse yourself in a sound bath of mind enhancing frequencies that tune your brain to deeper states of relaxation, focus, and peak performance.

BrainBaths' pristine 3D sound environments are created using a specialized recording technique that reproduces the way we humans hear. Much has to do with how sounds interact with the little flaps on your ears. When played back through stereo earphones, your brain perceives the sounds like a sonic hologram, surrounding and even traveling through your head.

Next we add some magic elixir: BrainWaves, also known as Binaural Beats. From peaceful sleep and meditation to enhanced learning and energized focus, these tones contain specific frequencies that gently entrain your brain into deeper states of awareness.

Select and stir in favorite music from your library to create the perfect BrainBath wherever you go. Enhance your home or workspace with soothing sounds using Airplay.

Need a quick mental pick-me-up or help falling to sleep? Set the timer to automatically turn off your BrainBath or play gentle wind chimes at the end of your session.

Features:
We've prepared an assortment of revitalizing and rejuvenating sonic immersions for a variety of healthful results. Submerge yourself into a virtual paradise as you choose from a collection of pristine ambiences, including:

- Brain Bath
- Blow Dry
- Breezy Chimes
- Bubblebath
- By the Road
- Campfire by the Creek
- Crickets
- Dock of the Bay
- Fan Ambience
- Fireworks
- Green Pastures
- Jungle
- Lapping Lake
- Laughter
- Lift Off
- Mountain Brook
- Mountain Rapids
- Mountain River
- Mountain Stream
- Peaceful Rain
- Rain in Meadow
- Rainforest Dawn
- Rainy Day
- Rainy Porch
- Rolling Thunder
- Sailing
- Spring Meadow
- Summer Rain
- Swamp
- Walk in the Park
- Waterfall
- Waves
- Waves and Seagulls
- Wetland Loons
- Whale Calls
- Windy Trees
- Your Ovation

Next, select your BrainWave from our specially crafted collection… each designed to gently entrain your brain into deeper states of awareness, focus and relaxation...

- Brain Latte
- Blissful Sleep
- Clear Insights
- Creativity
- Deep Meditation
- Deeper Meditation
- Headache Soother
- Peaceful Sleep
- Relaxation
- Superlearning
- Tension Melter

So relax and let yourself go… for a quick dip or a luxurious soak… Enjoy!
What's New in Version 2.0
Release Notes for BrainBaths 2.0

- Completely redesigned UI and functionality.
- New 3D audio Environments and Binaural Beat selection pages.
- Added ability to select and play music from user's music library.
- Added ability to run in the background.
- Added ability to send audio to other Apple devices via Airplay.
- Fully compatible with iOS 7 and 64-bit devices.
iPhone Screenshots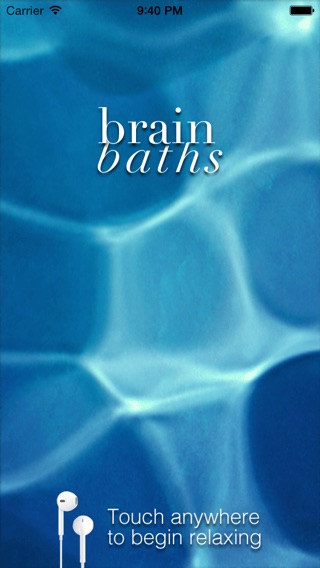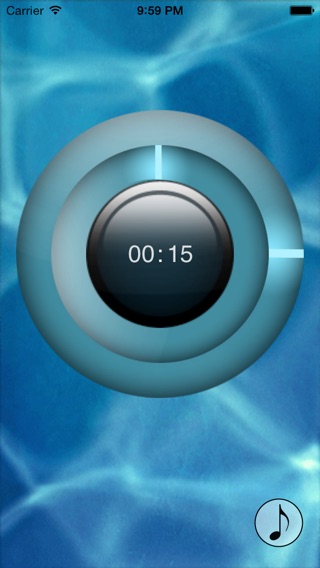 Customer Reviews
Beautiful App With Great Audio But Unable to Run in the Background
November 2015 Update: the app no longer plays in the background. It crashes and closes after a few minutes. I tried setting my iPhone to never automatically lock, but the app keeps on crashing regardless.

Definitely not recommended.

May 2014 update: the developers have finally updated this app! It now works flawlessly! I have been waiting for this update for a long time. Thanks for keeping the app fresh and current with the new operating system and new devices. Highly recommended.

This app is unable to run in the background while other apps are open. Otherwise, the 3D sounds are amazing! The variety of sounds included are numerous. They all were recorded very realistically. The selection of beats, however, is limited to about seven or so. I still have issues with the timer function not working correctly every so often. This app needs a tech update with some TLC to fix these little problems. I hope the developers pay attention and keep this app at a high level of quality over time.
An Relaxation Oasis in Your Pocket
As a therapist I make hypnotic relaxation inductions for people. I think BrainBaths is going to make a big difference in people's lives and with the new version it is even better. The sonic quality is amazing. I didn't know my iPhone could sound so good! I am immediately immersed in another world of relaxation and ultimately upon coming out of it, refreshment. It's like carrying around a personal oasis in your pocket. I would recommend this program to anyone.
Prefer the original version
The original (or the version before current) was a five star meditation app. This version is clumsy, selection don't often stay select and my timer does not work at all. Anyone I recommended the earlier version to, should probably delete this version until it is returned to the great meditation app it was. Such a disappointment!
View in iTunes
$1.99

Category:

Health & Fitness

Updated:

Mar 27, 2014

Version:

2.0

Size:

59.9 MB

Language:

English

Seller:

DubeyTunes Studios
Compatibility: Requires iOS 6.1 or later. Compatible with iPhone, iPad, and iPod touch.