Call of Duty: Zombies HD
By Activision Publishing, Inc.
This app is only available on the App Store for iOS devices.
Description
Featuring 2 incredible Zombie maps and a host of iPad-specific improvements, Call of Duty®: World at War: Zombies for iPad brings one of the most successful iPhone games to the iPad and is a remarkable example of what can be done on the platform.

"Call of Duty: World at War: Zombies takes portable gaming to a whole new level." - TotalApps.com

Call of Duty®: World at War: Zombies for iPad features:
• Two terrifying Zombie maps, "Nacht der Untoten" (Night of the Undead) and "Verrückt" (Zombie Asylum)
• Stunning HD visuals and graphics improvements specifically for the iPad
• Sensational audio enhancements will provide an even more startling experience
• Streamlined controls and interface customized for the iPad
• 4-Player Co-op Zombie-slaying via WiFi
• Multiple control options for ease of play
• Unlimited Zombies! Unlimited gameplay!

ABOUT CALL OF DUTY®: WORLD AT WAR: ZOMBIES FOR IPAD
Call of Duty®: World at War: Zombies for iPad brings the classic Call of Duty®: World at War zombie-slaying game mode to the iPad. Featuring the original zombie map "Nacht der Untoten" (Night of the Undead) and "Verrückt" (Zombie Asylum), fight to survive in two adrenaline-pumping levels – and you can bring along up to 3 of your friends (4-player co-op via WiFi) to help push back the endless waves of attacking zombies!
Highlights include:
• Call of Duty®: World at War: Zombies for iPad supports up to four players via Wi-Fi/Internet. Play with your friends in the same room, on the other side of town, and even across the globe. With the option of either private or open matchmaking, where there's a Wi-Fi connection, there's a friend to go Zombie-hunting with.*
• This is the Zombie experience from Call of Duty: World at War. "Nacht der Untoten" has been fully realized on the iPhone™ in a silky smooth 3D environment, along with the return of your favorite guns and killer power ups.
• "Verrückt" is an expansive insane asylum on the outskirts of Berlin that features an array of new weapons, life-saving Perks-a-Cola machines, and zombie-crisping Electroshock defenses.
• Three different control schemes are available to suit your style. Take advantage of the iPad's tilt capabilities or, for Zombie vets, use the virtual analog sticks to fend off the undead.
• Call of Duty: World at War: Zombies for iPad features a full list of Achievements.
• Leaderboard support awards the best of the best, accessed directly through your iPad. Become the top zombie slayer and prove your standings to the world!

*Wi-Fi support only at this time, play unavailable on cellular networks.
Note: In-game language is English

***** CHECK OUT MORE GAMES FROM ACTIVISION! *****
Call of Duty: Zombies, Guitar Hero, Crash Bandicoot Nitro Kart 3D, Crash Bandicoot Nitro Kart 2, Tony Hawk's Pro Skater 2, Cabela's Dangerous Hunts, Rapala Pro Bass Fishing, Geometry Wars: Touch, and Pix Maze
What's New in Version 1.3.3
Added support for iOS4
iPad Screenshots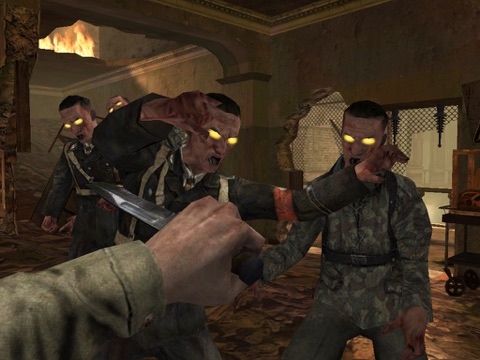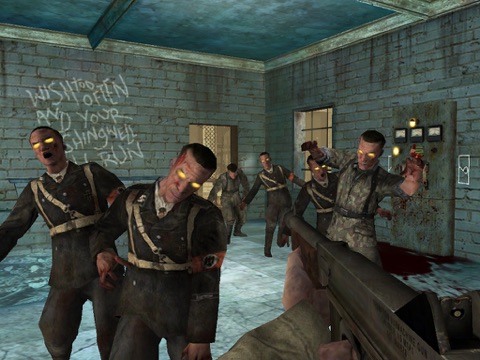 Customer Reviews
Great game, but please add more maps
Of all the zombie games out there, COD world at war is the best because it has a good feel when you shoot, it's just easier to aim. I'm spoiled with this game. I wish black ops and the other one were as good as this one. I usually play the iPhone version on my iPad, as opposed to HD. The resolution isn't as good, but they have all four maps and there seems to be more players. It's nice to see current reviews; it means that people like me still enjoy this game. The other thing is I hate when hackers play. This game is about teamwork and strategy not who can beat the system. What hackers usually do is get all the best weapons, get bored and leave after a few rounds. How can that be any fun? And then I have to look for another game. I think three players is the best or four if you're committed to playing. I like playing old school and having fun and trying to survive as long as possible. Look me up on the other version. I play every night between 10 and midnight CA time. IntenseOne.
Pretty Good
This game is the "BOMB!" but the only thing I don't like is, "I WANT MORE ******* MAPS!!" "2" maps? You gotta be kidding me. And another thing is, when I throw a grenade (bettys bomb) it ends up not throwing and killing me (only happened on single player and hardly happens)! 5 stars if you give us more maps (I want BLACK OPS maps!) And ANOTHER thing, I think you guys should make terrorist zombies cause "Usama, (Osama)" just got killed! It would be pretty freaky to see Zombie Osama coming toward you. Also, I think you guys should add a new zombie that vomits acid on you when it gets close too you, and the laser beam at the map,"Zombie Verüüct" on the doors to keep zombies out kills you if you touch it, Make it not! The guy couldn't revive me he was too late! And on multiplayer, of no one is online, you should be able to do a auto match with the computer or something (auto match should let you pick how many auto-players you want).
PLEASE UPDATE!!!!!!!!
I love This game but hasn't been updated for over a year now!! Common don't be lazy!! I love this game but has so many problems first of all the thing that gets me annoyed the most is that there is always a zombie that gets stuck or we can't find on mostly every level and gets real annoying! Second is that the zombies sometimes just go right through the walls and windows! Third is that IT IS TOO EASY! gets really boring! Should have in multiplayer with type of mode you want to play with and it can set you with the players that want the same difficulty! Fourth is that the automatic guns always stick when you try to shoot! HUUUHH. FITH is that there is only about three sayings for the zombies and the players gets annoying also and it would also be nice if you can see how much money the other players have instead of pausing the game to check. So as you can see this game has so many problems you should really update I mean really?! Over a year comon man! You need to UPDATE or I'll report!
View in iTunes
$4.99

Category:

Games

Updated:

Jan 07, 2011

Version:

1.3.3

Size:

35.6 MB

Language:

English

Seller:

Activision Publishing, Inc.
Compatibility: Requires iOS 3.2 or later. Compatible with iPad.
More iPad Apps by Activision Publishing, Inc.