CHRONO TRIGGER
By SQUARE ENIX INC
This app is only available on the App Store for iOS devices.
Description
CHRONO TRIGGER has arrived for the iPhone and iPod touch!

CHRONO TRIGGER is the timeless role-playing classic developed by the "Dream Team" of DRAGON QUEST creator Yuji Horii, Dragon Ball creator Akira Toriyama, and the creators of FINAL FANTASY.

Featuring revolutionary gameplay and an epic tale of time travel and high adventure, CHRONO TRIGGER captured the hearts of a gaming generation, selling over three-and-a-half million copies around the world.

With CHRONO TRIGGER for iPhone/iPod touch, you can experience the timeless story and dynamic battles of this beloved classic any time, anywhere—with intuitive touch screen controls making the experience smoother than ever. Venture also to the Dimensional Vortex and Lost Sanctum, two additional areas from the Nintendo DS remake of the game.

Journey to the forgotten past, the distant future, and even to the very End of Time. Whether you're a first-time player or a longtime fan, this epic quest to save a planet's future promises hours of enthralling adventure!

--------------------------------------------
○GAME FEATURES

- Includes the two additional areas from the Nintendo DS version of the game:
The Dimensional Vortex: A mysterious, ever-changing dungeon existing outside of space and time. What wonders await you at its center?
The Lost Sanctum: Enigmatic gates in prehistoric and medieval times will lead you to these forgotten chambers. Meet the challenges presented to you and long-lost secrets may be revealed...

- Intuitive touch screen controls make it easier than ever to navigate this vast world of adventure.
In battle, slide and tap to select targets and cut through your foes!

- Graphics optimzed especially for the iPhone/iPod touch.

- Employ a wide range of "techs" to dispatch your foes in thrilling battles.
Combine the powers of your party members to unleash two- and three-person combos.
Over fifty combinations total offer players nearly limitless options in combat!
--------------------------------------------
○STORY

A chance encounter amid the festivities of Guardia's Millennial Fair in Leene Square introduces our young hero, Crono, to a girl by the name of Marle.

Deciding to explore the fair together, the two soon find themselves at an exhibition of the Telepod, the latest invention by Crono's longtime friend Lucca.

Marle, fearless and brimming with curiosity, volunteers to assist in a demonstration. An unanticipated malfunction, however, sends her hurtling through a rift in the dimensions.

Taking hold of the girl's pendant, Crono bravely follows in pursuit. But the world into which he emerges is the one of four centuries before...

Journey to the forgotten past, the distant future, and even to the very End of Time. The epic quest to save a planet's future makes history once again.

--------------------------------------------
We have confirmed a bug that causes Chrono Trigger to sometimes close suddenly when played on an iPhone 4 running iOS 7.0 and later.
We apologize for any inconvenience this may cause, and ask players to please save often to avoid losing any progress.
--------------------------------------------
Requirements: Compatible with iPhone 4S or later. Requires iOS 7.0 or later.
What's New in Version 1.0.6
iOS9 are now supported.
iPhone Screenshots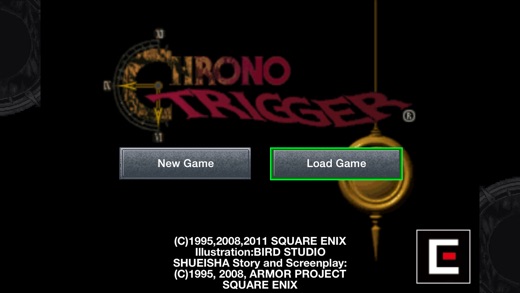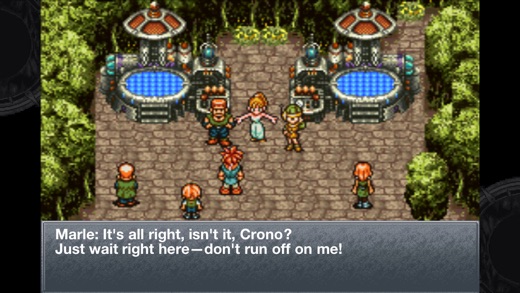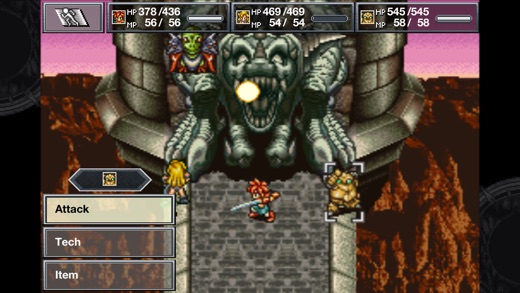 Customer Reviews
Timeless
I've never owned an SNES, so I had never played this game prior to getting this app. I had just heard that the game was great, and I saw that there was an iOS port of it, so I bought it for the generous price of $10. This game delivered much more than I was expecting. It has intriguing characters, an epic quest line, and some of the best (and most unique) mechanics I've ever seen in an RPG. You might hear some gripes about the controls, especially in Death Peak, and I will agree with those complaints, but those problems did nothing to limit how much I loved playing this game and how great this port is. Just be warned: This version of the game is more difficult than any other version, so you might have to grind a bit, but don't let that turn you off. Even with the added difficulty, this port is the reason why I now consider Chrono Trigger to be one of the best games of all time, and I could not recommend it more to anyone who is a fan of RPGs. I honestly don't regret not playing it on the SNES first because this game is timeless and is absolutely fantastic no matter how or when you play it.
Needs more support…
To be quite honest, I love this port so much! I was able to look past all of the lack of customization that it lacked from the original and DS counterparts and I was able to learn the basics once more rather quickly and my childhood favorite game was once again my main video game that I felt like an expert while playing.

But once the font changed on iOS, I feel that Square Enix hasn't really responded in kind. If you play the game on iOS 9/10, you'd see what I'm talking about. The font is too big for the combat screen and your HP doesn't fit into the windows or it becomes too smushed together to really see the game how it's supposed to be. The font change is welcome to stay, as long as SE fixes it so it can actually look nice and polished like it did when it first came out in iOS.

Please fix this! I just can't bear to play the game knowing these glitches in text exist.
Not a solid port
Definitely has some bugs and issues. A major issue for me was with specious. When I returned to the end of time and fought him for his pack of tabs, he re-taught my party members magic as if they hadn't learned it yet and afterwards all of my main line of techs were gone and required to be re-learned. At this point I was level 50 and had all of them. Really shameful and a major glitch. What's worse is frog in particular after the incident is incapable of accumulating any new tech points making his lost magic now unlearnable even if you were to deal with the hassle of recollecting all those lost tp. Other minor glitches include issues with target selection, and magic icons in the middle of script. Wouldn't recommend this port until those issues are resolved. I had 30 hrs in when this happened and have lost the desire to continue playing. What's worse is I paid money for this horrible experience.
View in iTunes
$9.99

Category:

Games

Updated:

Oct 14, 2015

Version:

1.0.6

Size:

667 MB

Languages:

English, French, German, Italian, Japanese, Korean, Simplified Chinese, Spanish, Traditional Chinese

Seller:

SQUARE ENIX Co., Ltd.
Compatibility: Requires iOS 9.0 or later. Compatible with iPhone, iPad, and iPod touch.