Cisco WebEx Meetings
De Cisco
Esta app solo está disponible en App Store para dispositivos iOS.
Descripción
¡Lleve sus reuniones web a cualquier parte! Entre a cualquier conferencia web desde su Apple iPad, iPhone y Apple Watch. Cisco WebEx Meetings es una aplicación universal para Cisco WebEx Meeting Center, Cisco WebEx Training Center, Cisco WebEx Event Center, Cisco WebEx Meetings Server y Cisco WebEx Meetings. Reúnase en cualquier lugar, con cualquier persona, y obtenga más. Disfrute del vídeo de alta calidad en 2 vías en tabletas y teléfonos inteligentes. Ya sea para una sesión de generación de ideas o para una presentación, la conversión de su reunión en línea en una videoconferencia nunca ha sido tan sencilla. Características generales: • Entrar a reuniones a través de notificaciones de pantalla bloqueadas, de invitaciones de calendario o por correo electrónico, de entradas de número de reunión, de la dirección URL de la sala personal o de la lista Mis reuniones • Soporte de widgets para la pantalla Inicio • Entrar antes que el organizador de la reunión • Soporte para audio de banda ancha • Conectar automáticamente al audio (llamada entrante, devolución de llamada, llamada a través de Internet) • Audioconferencias y conferencias web de voz sobre IP integrada en Wi-Fi y 3G/4G/LTE • Número de conferencia personal (PCN) • Compartición de archivos desde iPhones y iPads: documentos de iWork (Keynote, Numbers, Pages), PDF, Word, Excel, PPT • Ver archivos de vídeo compartidos del presentador de escritorio en iPad y iPhone • Vídeo de alta calidad de pantalla completa y varios puntos • Vídeo de 2 vías con cambiador de cámaras • Cambio de vídeo activado por voz • Ver contenido y vídeo en forma simultánea • Compatibilidad con las salas de reuniones de colaboración híbridas de Cisco • Compatibilidad con la nube de salas de reuniones de colaboración de Cisco (se requiere WBS29.9+) • Devolución de llamada a un sistema de videoconferencias (se requiere WBS30+) • Visualización de reuniones en pantalla completa • Lista de asistentes • Ver el contenido compartido con anotaciones • Acercamiento y capacidad de exploración mediante pellizcos en la pantalla • Chat privado o grupal Características del organizador: • Planificar, iniciar o cancelar reuniones • Iniciar o pausar grabaciones • Invitar participantes • Silenciar participantes • Subir o rebajar de categoría a los panelistas (Training Center) • Responder preguntas en el panel Preguntas y respuestas (Training Center y Event Center) Características para Apple Watch: • Iniciar/Finalizar reuniones de sala personal • Silenciar/Cancelar el silencio • Ver lista de participantes Compatibilidad global y empresarial: • Iniciar sesión con su cuenta corporativa (para sitios con inicio de sesión único) • Entrada de usuarios a una reunión detrás del firewall mediante el soporte del proxy Wi-Fi • Cifrado de extremo a extremo • Disponible en 16 idiomas REQUISITOS Cualquiera puede asistir a una reunión de Cisco WebEx en forma gratuita seleccionando una de las siguientes opciones. Se requiere una cuenta de organizador de Cisco WebEx para planificar y organizar una reunión. - Acceda al mensaje de correo electrónico que contenga la invitación a la reunión de Cisco WebEx y seleccione el enlace de la reunión. - Inicie la aplicación Cisco WebEx Meetings en su iPad o iPhone e introduzca el número de reunión. Al instalar esta aplicación, usted acepta las Condiciones del servicio (http://www.webex.com/terms-of-service-text.html) y la Declaración de privacidad (https://www.cisco.com/web/siteassets/legal/privacy.html) y accede a recibir comunicaciones, actualizaciones y mejoras para los servicios de Cisco WebEx. Cisco WebEx puede recopilar información personal y datos de uso de las reuniones, como su dirección de correo electrónico, de su computadora o dispositivo.
Novedades de la versión 9.14.0
•Soporte de inicio de sesión con identificación táctil
•Soporte para iPad Pro 10.5"
•Soporte para iPod de sexta generación
•Mejoras de utilidad
•Correcciones de errores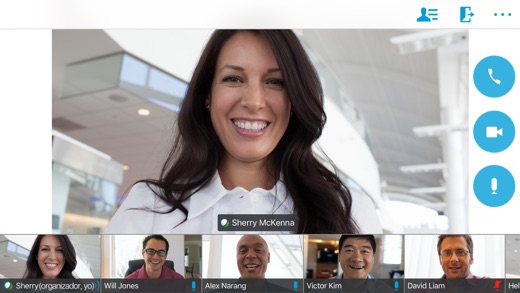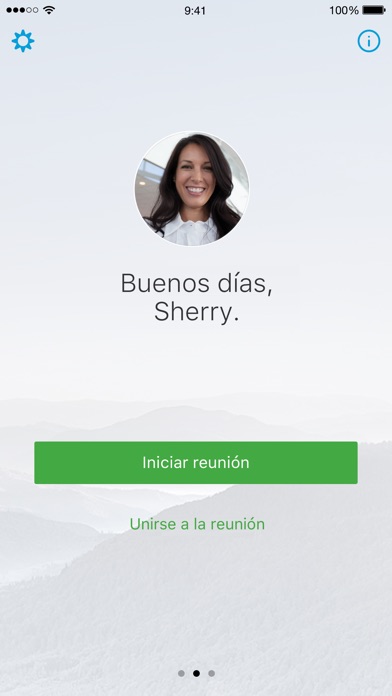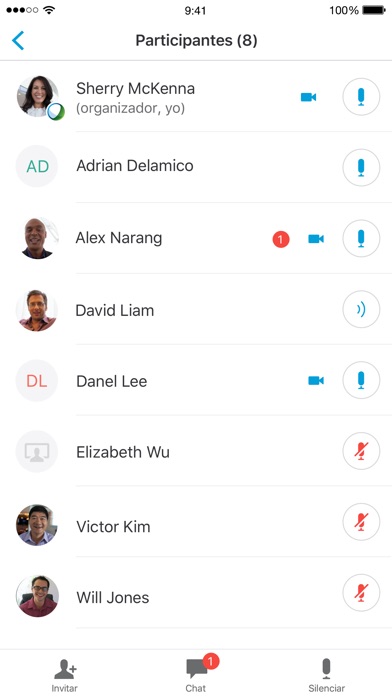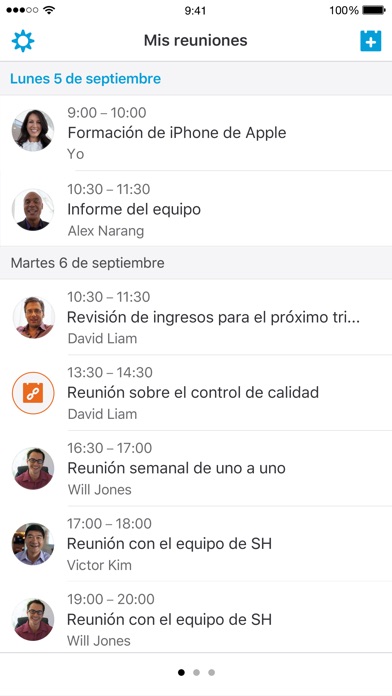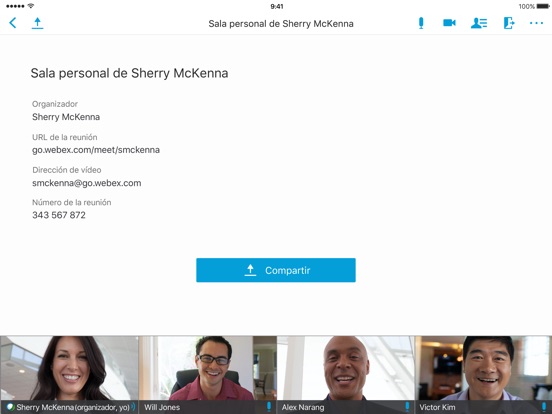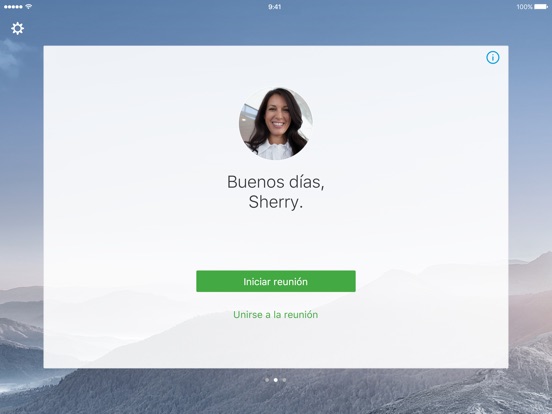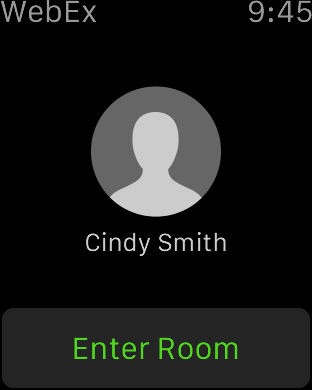 Reseñas de usuarios
Functional but too often requires repeating setup and sign-in
Once signed in and setup as desired, the mobile app is functional and useful, but the developers need to remember the primary use case of the mobile app (from my perspective at least) is to be able to join meetings while on the move (such as when driving to the office, etc.). When at the desk, I'll use the desktop/browser interface. The mobile app needs to be better optimized to not constantly require re-authentication and setting up. Security is important but as always needs to be designed in conjunction with usability. With the desktop interface, I am never/rarely re-prompted for my credentials because I saved them in my browser's password manager. With the mobile app, there is no such option. Fortunately, this app recently gained support for touchID, which improved usability immensely. However even with that improvement, I am forced to re-enter my account ID and phone number and my desired settings every time this app is updated, which seems to be every few weeks. Very inconvenient since that usually happens while I'm on the road and trying to join a meeting right away.
Needs participant response tools
Missing participant response tools like raising your hand to get moderators attention. Mute and unmute does not always work. I understand moderator can override the mute function but in an interactive session sometimes there is no way to get the attention of anyone except by turning on video and waving madly until someone notices you or holding up a sign. Very frustrating. Really would like to see the hand raising ability and even the coffee break icon.
Ability to log on is very good. Just need to be familiar with the initial set up when logging in. Specifically you need to answer if you are going to get your audio from your cell or through the internet. Use my first generation iPad Pro on weekly webinars and it works great and the ability to attend my webinars from anywhere is fabulous. Many times I am logged on in the early morning hours and use my Bluetooth apple AirPods and it makes life easier while lying comfortably in bed. Will rate it 4-5 when additional basic features of desktop version is implemented.
Good but not perfect
I use WebEx almost daily and like it. An area for improvement is to remove the annoying green menu bar and indicators of who is speaking from the display. They often cover up important slide content. Move them out of view either into a frame next the the slide or only have them slide in upon mouse hover.

Beyond this, technology to point to slide content needs improvement - I see that WebEx makes presenters deteriorate presentation skills such as pointing to what they talk about.

New in recent updates: Muting/unmuting has become more cumbersome and now requires several clicks. Not good not to see muting status without touching screen.
Ver en iTunes
Esta App esta diseñada para el iPhone y el iPad
Ofrece la app para Apple Watch para iPhone
Gratis

Categoría:

Negocios

Actualizado :

23/08/2017

Versión:

9.14.0

Tamaño:

116 MB

Apple Watch:

Sí

Idiomas:

Español, Alemán, Chino simplificado, Chino tradicional, Coreano, Danés, Francés, Inglés, Italiano, Japonés, Neerlandés, Portugués, Ruso, Sueco, Turco

Vendedor:

Cisco
Compatibilidad: Requiere iOS 8.0 o posterior. Compatible con iPhone, iPad y iPod touch.