Clear Day® - Weather HD formerly
By vimov, LLC
Open the Mac App Store to buy and download apps.
Description
Clear Day® (formerly Weather HD) presents extensive and accurate weather forecast data in a stunning way never found anywhere on the app store. Join more than 250,000 users and rest assured that you will enjoy the most reliable and feature-rich weather experience.

••• Featured by Apple as app of the week! •••
••• "The animations in Clear Day for Mac look simply stunning!" - TUAW •••
••• "Clear Day Will Change the Way You Get Your Forecast on the Mac" - CultofMac •••
••• "Clear Day actually makes me want to check my weather even more often" - The Next Web •••

Clear Day® (formerly Weather HD) provides you with detailed and accurate weather forecast from world-class weather provider through stunning videos. In addition, it provides you with animated NOAA radar maps, stunning moon phases, real-time severe weather alerts and quick access to weather info without opening the app through system top bar.

"Clear Day elevates the user, placing her at cloud level for a hushed real-time weather tableau that puts the web's goofy sunshine-rain-cloud icons to shame." - The New York Times in reviewing Clear Day for the iPad !!

FEATURES
• Accurate weather forecast all-around the world supporting more than 2.5 million locations
• Severe weather warnings right from National Weather Service and MeteoAlarm (USA & Europe)
• Get warned of severe conditions even if the app is closed
• Stunning high-definition animations that depict the weather conditions
• Animated NOAA Radar map in the contiguous US, Canada, Australia and Europe
• Animated NOAA Radar map widget*
• Clouds / Satellite weather maps
• Quick menu in the toolbar for quick access to the current weather conditions and alerts
• Detailed moon phases information including sunrise and sunset
• Customizable temperature notifications per city
• On-screen world clock showing every city's local time
• Weather data provided by world-class weather provider The Weather Underground
• iCloud Sync: Sync cities across your devices (iOS/Mac)

WEATHER DETAILS
• 7-day and 3-hourly forecasts
• Precipitation and Humidity details
• Wind Chill and Heat Index
• Sunrise and Sunset
• Fahrenheit/Celsius and Miles/Kilometers

INSTRUCTIONS
• To add a city, click on Preferences, and in the window that pops up, click the "Add New City" button below the list of cities.
• To set a notification, click on Preferences, choose a city and click "Edit" button.

SUPPORT
If you have any questions, suggestions or encounter problems, please contact us at support@vimov.com
Follow us on Twitter: www.twitter.com/ClearDay. Become a fan on Facebook: www.facebook.com/goClearDay.

* All users are offered free 3-month subscription in premium widget. Premium widget allows you to play radar right in the widget. After the 3-month period is over, you will need to purchase a yearly subscription to play radar in the Notification Center

If you like Clear Day, please leave us a review on the Mac App Store. Your support would greatly help.
What's New in Version 3.0.1
This version fixes the problem of the Renew button that appears on Radar map. Radar is ALWAYS free. The button is to enable the 'new' Radar WIDGET feature (accessible from Notification Center). Please accept our apology for the confusion.

Click on the Renew button to remove it. It will give you free 3 months subscription in Radar WIDGET as a gift for our users, it is NOT auto renewable.

If you can't see radar map in the app, just zoom out to a whole continent and wait for 10 seconds for the radar map to load. Make sure to choose 'Clouds' instead of 'Radar' if you have no radar in your area.

Still have problem? Never hesitate to contact us at support@vimov.com , we would love to help you and hear from you.


About Clear Day 3.0:

Clear Day® 3.0 has arrived! Clear Day® 3.0 provides an innovative widget that displays radar map (covering US, Canada, Australia and Europe) instantly in Notification Center supporting high zoom levels.

Make sure to update your OS to Mac OS X Yosemite to enjoy the widget. To enable the widget, tap on Notification Center icon and click Edit button.

All users are offered free 3-month subscription in premium widget. Premium widget allows you to play radar right in the widget. The radar an
Screenshots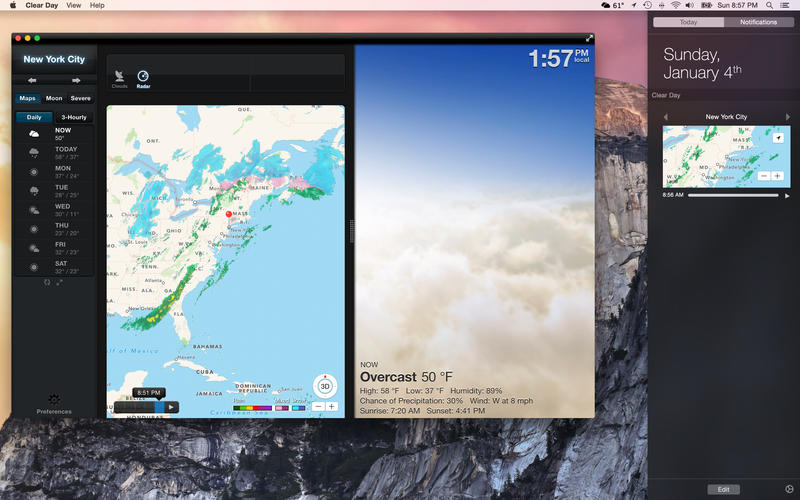 Customer Reviews
When I purchased this App - it was great . . but now . . . terrible!
When I opened upt the App to view a weather advisory report today, it suddenly thanked me for subscribing to some widget?. I have not subscribed to anything, I'm the sole user of my Mac, and I will followup with Apple Store immediately if this shows up on my credit card. I did not go through the steps of accetting a susbscription offer, and approving my understanding of adding it to my account. I'm not sure what's going on here - but now I"m removing Clear Day from all of my devices, including my Mac. I will not install, purchase, or try out any Apps made by the same developer either. How dare you attemp to charge someone for something he did not actively subscribe to. And as so many are starting to list here - how dare you charge us for the Premium Clear Day HD, only to solicit subscriptions?

This was the best, hands down, weather report experience which I've been using for the past few years on my Mac iPad, and iPhone. You just ruined that for me, and lost my respect.
Subscriptions? Subscriptions?? I already bought it.
I agree with MS-2014. If I could, I'd give this application no stars. The new use of subscriptions for an app that I was perfectly happy to have had previously is beyond my comprehension. Save your money, and consider a different weather app, one from a company which I think is less contemptuous of their customers.

I used to start this app up as soon as my system booted. No more. I really, really, really liked the prior version (I would have given it 5 stars). I'd already paid for it. Now I'm being asked to pay again?

Bye-bye Clear Day. Bye-bye vimov. It will be a long time before I ever even consider buying one of your apps again.

Added to the above review after the company responded with its claim that radar is still enabled. Well, I tried it, and the same problem is there. No radar. Case closed. I now am using two apps instead of the beautiful prior version of this one, but at least I don't feel any contempt.

And I tried with the company again. No response this time.

It was a great product. Once greed enters the equation, though, things change. They sure did with Clear Day. Fortunately, there are other weather apps out there.
Still missing Satelite view in radar
They "fixed the widget" — OK, I couldn't care less about that, I don't and won't use their stupid widget. Notification Center ALREADY HAS WEATHER!!

The thing that I want back that was taken away in the last update is SATELITE VIEW for radar and clouds. It used to be there, now it's gone, and all you have to look at is a crappy map view.

With the last update I truly started to regret buying this app, and this new version hasn't changed that.
View in Mac App Store
$2.99

Category:

Weather

Updated:

Feb 21, 2015

Version:

3.0.1

Size:

267 MB

Languages:

English, Chinese, Dutch, English, French, German, Italian, Japanese, Ko, Russian, Spanish

Seller:

vimov, LLC
Compatibility: OS X 10.9.0 or later, 64-bit processor
Top In-App Purchases
Animated Radar Widget (1 year)$1.99