CNN App for iPad
Por CNN Interactive Group, Inc.
Imprescindibles
Abre iTunes para comprar y descargar Apps.
Descripción
CNN connects you to the world, wherever you are.

- Stay informed with the latest headlines and original stories from from Capitol Hill and across the globe. Follow up-to-the-minute reporting with breaking news alerts and live video. Lead the conversation by sharing today's news and dig deeper into the stories that matter most to you.

-Get CNN news at a glance on your Apple Watch across 12 personalized categories
-Get breaking news alerts and follow top stories as they develop
-Watch live CNN TV events and shows (as available; check with your cable or satellite provider)
-Get in-depth coverage of international, politics, opinion, tech and entertainment stories
-Elections coverage: Follow up-to-the-minute live blogs, roundups, election results, analysis and commentary


Have questions or feedback on the CNN App? Email us at iPad@cnn.com with your suggestions on how we can create the best possible experience for you.
Novedades de la versión 4.2
Bug fixes
Minor performance enhancements
Captura de pantalla del iPad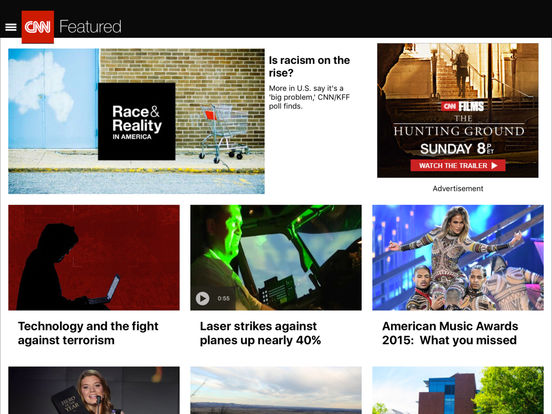 Reseñas de usuarios
Where'd you go?
This review is for your app on Apple TV. Basically it's stinks. I can't remember the last time I was able to watch your app on my Apple TV. I would watch it all the time since I've had my very first Apple TV. But now I have resigned myself to watch either Fox or CBS news because your website developers refuse to keep your app working properly. I have opened a few cases with Apple and have urged them to push back since your developers will not keep it up to working standards. The last case I opened with Apple I urged them to remove your app because of this problem. I get a message that says "an error has occurred" and that's all it says. There is the resolution to it and apples engineers have tried to help but it gets pushed back to your developers. I'm so disappointed that CNN has no interest in keeping this app working properly. I don't like the other news apps that I'm watching but it's all I've got. I have also come to the conclusion that there is absolutely nobody looking at these reviews. I think if there were there might be at least one person who might want to forward them on and try to do something about it. But CNN apparently hires developers you just want the job and don't want to quality.
Recycled news articles with weak writing
Why, with the US dominating in the olympics, is your top story the same story about Donald Trump and this Kahn guy??? Wasn't even a great story in the first place. I mean, it was just newly reported that the kid from the waterslide incident had his head decapitated or some dude climbed the Trump building to try and get a meeting. I mean come on. I always thought of CNN as the standard bearer for reputable news. Why aren't we seeing more about Hillary Clinton? I just read something about the Clinton foundation having ties to ISIS in a couple of different periodicals and can't seem to find it anywhere on CNN. THAT'S NEWS!!! Or how about these stories surfacing about Hillary having a doctor by her side constantly due to seizures. THAT'S NEWS!!! Are you guys getting scooped or just choosing not to report relevant news due to political affiliation? I see everything you report on plus some at Foxnews. Perhaps they have become the new standard bearer. So disappointed!
Global Leadership
The rules of the road are up for grabs in Asia. If we don't pass this agreement and write those rules, competitors will set weak rules of the road, threatening American jobs and workers while undermining U.S. leadership in Asia.
Bloated with commercials, slow, sleazy renaming of articles
This app is pathetic both in how it runs and CNN's content. Every time you try to scroll, it locks up--having to wait several minutes for it to function again. You constantly get full-page pop ups that you have to deal with. CNN renames the same old article to recycle it. Their titles are not what the articles are but some catchy (sleazy) way to get you to click on them. Takes forever to update to current content. If you want to see the very same video over, you have to watch the attendant commercial again. Plus the commercials never change (same woman talking about her love for fracking!).
Then many times they head lines are miss leading just to get you to click on them. A lot of times the heading will not match the video and the video is totally unrelated to the text content. Just really sleazy.
Finally the worse thing is the articles are not objective but slanted to CNN's liberal agenda--and I'm NOT a Fox fan! The ONLY value is that you find out that something happened somewhere--that's it!
Ver en iTunes
Gratis

Categoría:

Noticias

Actualizado :

16/06/2016

Versión:

4.2

Tamaño:

55.6 MB

Idioma:

Inglés

Vendedor:

CNN Interactive Group, Inc.
Compatibilidad: Requiere iOS 8.0 o posterior. Compatible con iPad.