Dino Safari 2
By Liga Andina
Open the Mac App Store to buy and download apps.
Description
Prehistoric dino mayhem, with jurassic deadly dinosaur Carnivores. You become the hunted in this third person/FPS/Sniper free roam one of the top simulator games in the app store.

Prehistoric mayhem collides into existence when a time traveling palaeontologist gets to work on some fresh dinosaur bones…

You are a palaeontologist on a huge jurassic island which is populated by an army of deadly dinosaur predators. You must conquer the great beasts and get your work done.

To help achieve this this you have an assortment of weapons, a jeep, motorbike and a faithful horse.

Get ready to encounter predators or carnivores as you battle between you as the hunter and you as the hunted. READY?

WEAPONS
Handgun/Compound Bow/Pistol Crossbow(Explosive Arrows)/Rifle.
Proximity Mines/Gas Canisters.

TRANSPORT
Motorbike, Boat, Jeep with Power Zoom Rifle.
Horse your faithful friend - Whistle to Call.
Mirror Portal - Use to teleport out of danger.
Zip Line Fast Escape.

3D DINOSAURS :
TRex, Spinosaurus, Raptors, Triceratops, Velociraptors, Euoplocephalus, Pterodactyl, Dilophosaurus, Parasaurolophus. Brontosaurus, Gigantic Worm, Plesiosaur, Dunkleosteus and Sarcosuchus

ENVIRONMENT
Huge open 3D Environment to roam/explore.
Day/Night/Rain.
NightTime scary action - Night Vision Googles.
Build Campfires/Collect Logs.

GAME FEATURES
Bone collection Extra XP Bonus.
Treasure Chest/Parachute - Pick up Bonus
Fuel/Gun Clips/Medi Kits/Explosive pickups.
Tutorial/Rewards/Unlimited Quests.
Map/Radar/Tracker.

STYLE
FPS free roam epic action Simulation/Simulator.
HD console-quality graphics and gameplay.
Stunning Deep Visuals, Soundtrack & Sounds.
Full 3D - 360 Degrees Action.

In-game Language Translations: English, Chinese, Japanese, German, Portuguese, Russian, French, Spanish, Italian.

This game offers In-app purchases to instantly unlock Animals/Weapons/Items, all these can be unlocked by playing and progressing through the game by collecting our in-game currency Sunga's.

Plus more…
What's New in Version 7.2.0
Compsognathus
Stegosaurus
Allosaurus
New Sale Shop Prices!
Boat
Gigantic Worm
Plesiosaur Sea Creature
Water Snake
In-game Language Translations: English, Chinese, Japanese, German, Portuguese, Russian, French, Spanish, Italian
Build Camp Fire & Collect logs
Night Vision Googles
Real Night Time scary action
Rain
Joystick Options
Bugs & Tweaks.
Screenshots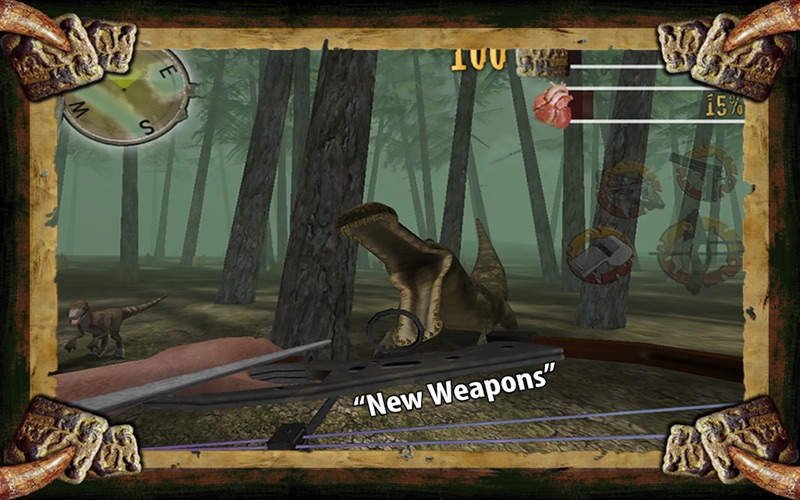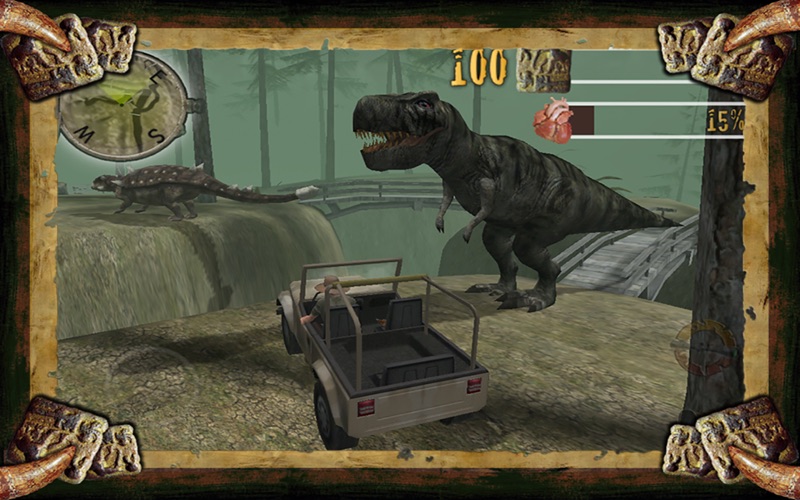 Customer Reviews
Newest update.
The good: Graphics are much better, new dinosaurs to contend with, a boat to putt around in and a giant worm that pops out of the ground. Think 'Tremors'. And the zip line finally works properly.

The not so good: Once again, there are new things to work with but no idea how to use them. For example, it appears you can make a camp fire. As you move around the islands, you pick up logs. But, at this point in time, I still can't make a campfire. There doesn't seem to be a keystroke for it. Even once it gets dark, which is very different from what it was like before, I can't get one started. It's mentioned in the help within the game but not how to make one. There are night vision goggles that I purchased, but again, no obvious way to wear/use them. I've hit every key and nothing. There are bottles that are floating just off shore, but I've tried everything to retrieve one without being killed by the sea monster and can't pick one up. I've waded, rode the horse and used the boat to get to it, to no avail. Very frustrating.

Then there are some sound issues. T-Rex and Spinosaur sound like they are walking slow even when you can see them at a full run. Their footsteps never change. Impossible to know if they are chasing you unless you turn around to see what they are doing.

And then there is, what I call, change for the sake of change. The dinosaurs no longer will cross water. So if you're being chased, run into the water and you're somewhat safer. You still have to contend with the fish and a new water snake. Also, the horse no longer comes to you when you call, unless you are on the same island as it is. You can ride it across water but it won't cross by itself. At one point, I was chasing a Parasaurolophus from one island to another. After I shot it, I turned around expecting to see my horse on the opposite shore, but it had vanished. I had to cross the water and whistle for it where it eventually came back. Another new addition is rain, but I can't seem to find a reason for it. Unless it was included to put out the campfire, which is a moot point if you can't start a fire in the first place. It's also weird to be hiding in the tent during the rain and it's like the tent isn't even there.

Hopefully, there will be another update to fix some of these problems or even a better help system that explains how to use things. Until then, I can only give 3 stars.

Fun game up to a point. There doesn't appear to be any keyboard map to what controls there are. It was trial and error to find out what I could. WASD are the movement keys, the mouse is used to look around. The tutorial in the game is close to useless. It doesn't tell you how to change from a gun to a crossbow, 1 and 2 keys. The 3 key is some kind of crossbow bomb but nowhere is this listed. When I pressed the 4 key, a horse appeared but that was all. There was no way to get on him and ride. At least I haven't been able to find the keystroke to do that yet. Got enough points/rocks? to buy motorcycle. But, when I finally got on it, I fell over and couldn't get up. Sounds like a tv commercial. I figured out it was the right mouse button to get up but when I went to get back on, I was immediately in the down rider position. Still can't figure out how to fix that. Would've been nice to know that the crossbow is unlimited arrows as well and that you can shoot the bugs that come out of the ground.

It's a good start for this game but it still has a way to go.
View in Mac App Store
Free

Category:

Games

Updated:

Feb 08, 2017

Version:

7.2.0

Size:

89.8 MB

Language:

English

Seller:

Liga Andina
Compatibility: OS X 10.6.6 or later
Top In-App Purchases
Chest of Sunga's - 100$4.99
Handful of Sunga's - 10$0.99
Backpack of Sunga's - 45$1.99
Satchel of Sunga's - 20$1.99
Golden Bone$2.99
Cart of Sunga's - 300$2.99
Shed of Sunga's - 3000$3.99