DIRECTV App for iPad
By DIRECTV, Inc.
Open iTunes to buy and download apps.
Description
DIRECTV's new iPad app. Now your favorite shows, movies and sports are just a tap away.
Available for customers in the USA only.

FEATURES
- Highly customizable remote control functionality right on your iPad.
- Browse and discover movies, shows and sports - without interrupting the show you are currently watching on TV.
- Set recordings or channel tune instantly, and access more information on shows, cast & crew, with parental ratings.
- Access sports scores and schedules and set your favorite teams.

HOME SCREEN (Customizable modules)
- What's Hot – Displays the most popular shows, movies and sports people are watching on DIRECTV right now.
- Currently Watching – More information about the show you are watching now and suggestions for similar shows.
- Guide Favorites – List of favorite channels selected through the Guide.
- Channel Guide – Displays up to 14 days of upcoming shows for a selected channel.
- Favorite Channels – Create user preferred lists of channels (by category, his or her list, etc.)
- QuickTune – One-touch selection of your favorite channels by name or icon.
- News Channels – All the news channels in one module.
- Kids & Family – All the kids & family friendly channels in one module.
- Sports – Browse available sports events and scores by game or favorite teams.

DEDICATED TABS (Playlist, Guide, Movies and Sports)
- Organize and view all of your recorded content by poster or list view.
- View list of recorded content for each receiver.
- Search listings up to 14 days in advance by traditional grid view or selected channel.
- View show descriptions, Cast & Crew, Photos, Suggestions & Parental Information.
- Share your favorite shows with friends on Facebook and Twitter.
- Select shows from Facebook/Twitter that your friends are watching and instantly launch the DIRECTV app to see more information and set recordings.
- Change channels, set recordings and get more information.
- Customize the guide by favorite channels.
- View current sports matchups and scores by league, with the option to watch or record.
- Record On Demand Movies.

- Recording and remote control functionality is available to DIRECTV customers only.
- DIRECTV customers must have a residential home account registered on directv.com http://directv.com to access recording & remote functionality.
- Recording requires a Wi-Fi, Edge or 3G network connection to schedule. Remote control requires a Wi-Fi connection to your home network.
- In rare instances, scheduled recording(s) may not be recognized.
- Available for customers in the USA only.
- Remote scheduling requires DIRECTV PLUS DVR (models R15, R16, R22), DIRECTV PLUS HD DVR (models HR20, HR21, HR22, HR23, HR24) or TiVo® Series 2 receivers with 6.4a software. Receivers do not require phone or broadband connection to schedule a recording.
- On Demand scheduling requires DIRECTV PLUS HD DVR (models HR20, HR21, HR22, HR23, HR24, and R22) connected to a broadband internet connection.
- Remote control requires DIRECTV PLUS HD DVR (models R22, HR20, HR21, HR22, HR23, HR24 and H21, H23, H24, H25) connected to a broadband connection.

- For Tips, Tricks and Customer Support, please visit: http://forums.directv.com

Use of the DIRECTV iPad Application by DIRECTV customers is subject to DIRECTV's Customer Agreement and Privacy Policy (available at directv.com.)
What's New in Version 3.3.6
Bug and stability fixes
iPad Screenshots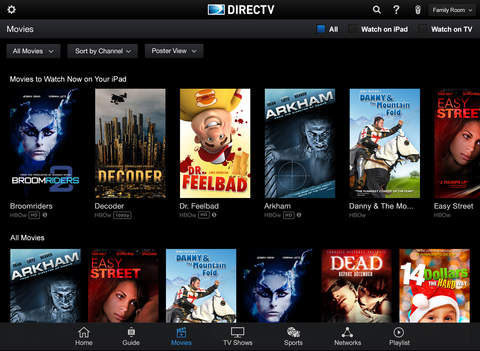 Customer Reviews
Reviews Are Being Censored!
I have tried numerous times to submit a review that compares this App against it's competitors. They have been wiped out. This App takes over 889 Gig on your IPAD! This is without delivering an App that can let you stream your recorded shows, allow you to fully manage your recordings and clean itself of shows you've watched. Competitors, that I am not allowed to mention, can stream, manage recordings, deliver content in regular bandwidth and share content in much more efficient manners. Updates for this App have been superficial and subpar compared to major competitors. Too bad I am not allowed to really spell it out because the differences are dramatic. Just in case your good at filling in the blanks, check out T*vo, D*sh, V*du and N*tflix. They all are superior in every way D TV isn't. Tick-tock D TV, time is running out.

Update: Directv now takes 913 Mg of space and it keeps growing. The IOS 8 update, which I refuse to install, is 993 Mg by comparison. Aside from my music, that is the only thing bigger than Directv's App. Bloatware plain and simple.
Direct tv app
A very simple app to use. I acknowledge that you cannot stream your own recorded shows on your iPad, but that is not my objective. I am confident that feature will ultimately be available. I use the app as a supplement to my direct tv. Stuck in an airport? Want a movie? Want a mindless show that you are familiar with? Want to start a series on HBO that you haven't seen, or curious to start? This app is remarkably simple, convenient and far more than I expected when I signed up for cable. I highly recommend the app for all direct tv customers.... AND ITS FREE TOO.!
It works, but
It's buggier than hell.. My Genie is connect to my router via solid core copper coax to an Ethernet converter, installed by DirecTV. The GenieGO is plugged directly into my router as well. Yet for some unknown reason, I lose connectivity for no reason at all. Power cycling the GenieGO usually fixes it, but sometimes I have to power cycle the Genie, run all the network checks, and then cycle the GenieGO a again before I get all three blue lights and the party can start.

I give it a three out of five because there is no two and a half.

It does what it's supposed to do, but unless you're easily impressed, it's not that impressive.
View In iTunes
Free

Category:

Entertainment

Updated:

Feb 02, 2015

Version:

3.3.6

Size:

103 MB

Language:

English

Seller:

DIRECTV
Compatibility: Requires iOS 7.0 or later. Compatible with iPad.
More iPad Apps by DIRECTV, Inc.